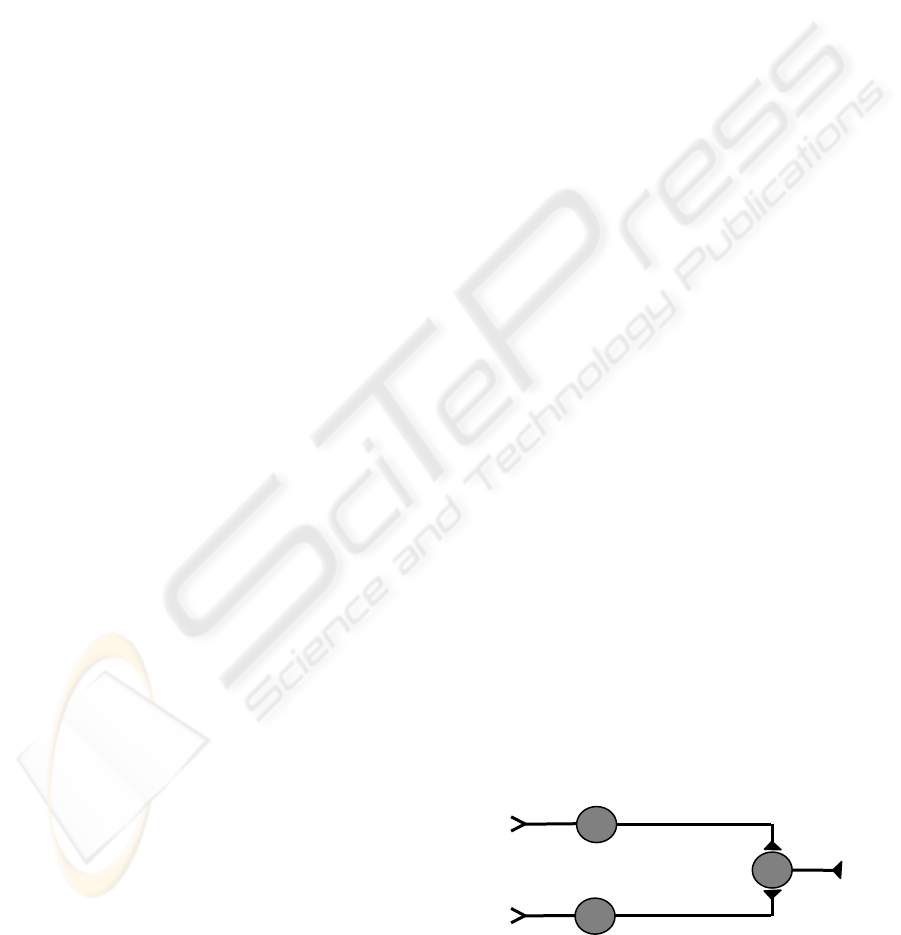 algorithmic, numerical
specification. Section 4
describes how different types of reduction relations
can be defined to relate the two types of knowledge
specification. Furthermore, in Section 5 it is shown
in this example how the interpretation mapping
approach to reduction can
be automated, including
checking the fulfilment of reduction conditions. The
paper concludes with a discussion in Section 6.
2
SOME OF THE MAIN ISSUES
The status of Cognitive Science has since long been
the subject of debate within the philosophical
literature; e.g. (Bickle, 1998; Kim, 1996; Kim,
2005). Among the issues questioned are the
existence and status of higher-level cognitive laws,
and the connection of a high
er-level specification to
reality. Within the philosophical literature on
reduction since a long time much effort has been
invested to address these issues, with partial success;
e.g., (Nagel, 1961). In response to the severe
criticisms, alternative views have been explored.
In recent years much attention has been paid to
explore the possibilities of the notion of
mechanism
within Philosophy of Science; e.g., (Craver, 2001;
Glennan, 1996). One of the issues addressed by
mechanisms is how a
certain (higher-level)
capability is realised by organised (lower-level)
operations. This paper shows how certain aspects
addressed by mechanisms can also be addressed by
refinements of approaches to reduction, such as the
bridge law approach, the functional approach, and
the interpretation mapping approach.
Before going into the details, first some of the
central claims from the literature in Philosophy of
Mind are illustrated for an example case study:
(a)
Cognitive laws are not genuine laws but depend on
circumstances, for example, in the form of an
organism's makeup.
(b)
Cognitive laws can not be related (in a truth-
preserving manner) to phys
ical or biological laws.
(c)
Cognitive concepts and laws cannot be related to
reality in a principled manner, but, if at all, in
different manners depe
nding on circumstances.
A central issue in these claims is the observation
that the relationship between a higher-level
conceptualisation and reality has a dependency on
the context of the physical
or biological makeup of
individuals and species, and this dependency
remains unaddressed and hidden in the classical
reduction approaches. Pe
rhaps one of the success
factors of the approaches
based on mechanisms is
that referring to a mechan
ism can be viewed as a
way to make this context-dependency explicit.
To get more insight in the issue, an example case
study is used concerning functionality for adaptive
behaviour, as occurs, in conditioning processes in
the sea hare
Aplysia
. For

Aplysia

underlying neural
mechanisms of learning are well understood, based
on long term changes in the synapses between
neurons; see, for example, (Gleitman, 2004).
Aplysia
is able to learn based on the (co)occurrence of
certain stimuli; for example; see (Gleitman, 2004).
The example functionality for adaptive
behaviour is described from a global external
viewpoint as follows. Before
a learning phase a tail
shock leads to a response (contraction), but a light
touch on its siphon is insufficient to trigger such a
response. Suppose a training period with the
following protocol is undertaken: in each trial the
subject is touched lightly on its siphon and then
immediately shocked on its tail. After a number of
trials the behaviour has changed: the subject also
shows a response (contraction) to a siphon touch.
From an external viewpoint, the overall behaviour
can be summarised by the specification of a
relationship between stimuli and (re)actions
involving a number of time points:
If a number of times a siphon touch occurs, immediately
followed by a tail shock, and after that a siphon touch
occurs, then contraction will take place.
To obtain a higher-level description of the
functionality of this adaptive behaviour, a sensitivity
state for stimulus-action pairs
s-a
is assumed that
can have levels low, medium and high, where high
sensitivity entails that stimulus
s
results in action a

,
and lower sensitivities do not entail this response:
If s-a sensitivity is high and stimulus s occurs, then
action a occurs.
If stimulus stim1 and stimul
us stim2 occur and stim1-a
sensitivity is high, and stim
2-a sensitivity is not high,
then stim2-a sensitivity becomes one level higher.
As a next step, it is considered how the mechanism
behind the higher-level description works at the
biological level for
Aplysia

.
mechanism for
Aplysia
's conditioning can be
depicted as in Fig. 1, following (Gleitman, 2004).
Figure 1: A neural mechanis
m for adaptive functionality.
siphon
touch
tail
shock
contraction
MN
SN2
S1
S2
SN1
ICAART 2009 - International Conference on Agents and Artificial Intelligence
30