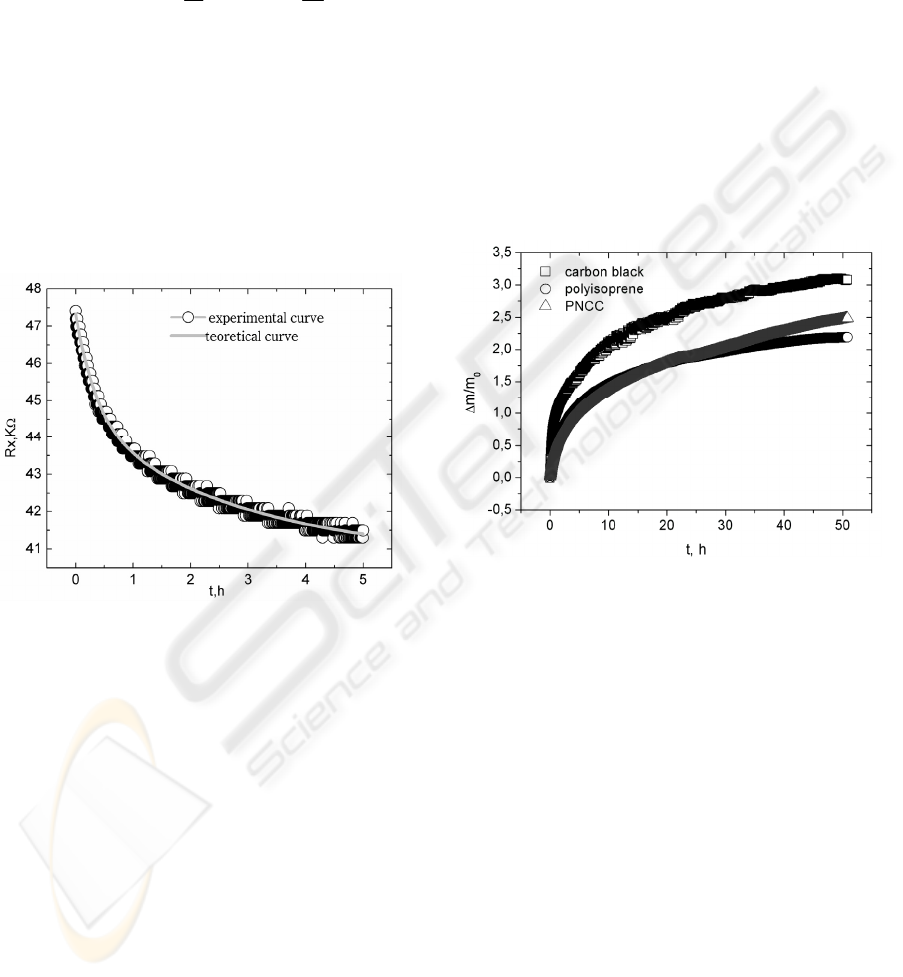 process in air were carried out. Typical PNCC
sample with thickness 1mm relaxation process is
Experimentally obtained data were fitted with
theoretical curve which can be characterised by
equation:
12
tt
τ
(1)
, where
R
0
– initial electrical resistance
R – transient electrical resistance
A
1
, A
2
– constants
τ
1
2
– relaxation time (h).
From equation (1) we calculated relaxation time
τ
1
2
. For all tested organic solvent vapour the
relaxation process can be divided into fast and slow
processes.
Figure 3: Electrical resistance relaxation of specimen in
open air. The sample was exibited to tetrahydrofuran for
30s.
In the case of 250
μ
m thick samples electrical
resistance relaxation process is about one hour if the
sample has been exposed to 108,7 ppm toluene
vapour concentration.
2.3
Mass – sorption Experiments
Experiments of the change of the sample mass as a
function of time the sample is kept in organic
solvent vapour were used to find out the mechanism
of the change of resistance. For example, specimens
of pure polyisoprene, PNCC, and a pellet of
compressed high-structured carbon black powder
were held in toluene vapour for ~ 48 hours and a
mass as a function of time (sorption curve) was
recorded (Fig. 4.). Sorption of vapour in carbon filler
in the initial period (first 15 min) is approximately
three times (approximately 1,5 times after up to 104
min) as big as that of pure polyisoprene rubber. Yet
the sorption of vapour in PNCC material in the
initial period is around 1,3 times shorter if
compared
with pure polyisoprene rubber, although it seems
that carbon filler should increase the vapour sorption
in the PNCC material. That
can be explained, firstly,
by the fact that in th
e PNCC composition there are
only 10 mass parts of carbon and, secondly, in
processing (mixing and vulcanizing) the PNCC
compounds insulating polyisoprene layers are
formed between the carbon nano-particles. So, even
near the percolation threshold (10 mass parts of
carbon), when electro-conductive channels are
formed, very thin polyisop
rene intermediate layers
between the nano-particles still exist and tunnelling
currents may emerge be
tween the channels.
Figure 4: The change of mass for three materials
(polyisoprene rubber, HS
CB and its composite) as
functions of the time of exposure to toluene vapour.
Only after approximately 28 h the sorption of vapour
by the PNCC material noticeably exceeds the
sorption by polyisoprene rubber, which indicates
that only after this period of time the sorption in the
filler begins to play substantial role. Consequently,
1) the obtained result indirectly proves the existence
of quantum effect – tunnelling currents in the PNCC
material, 2) sorption of vapour in the polyisoprene
matrix plays absolutely uppermost role in effect of
gas sensing (due to sorption of vapour molecules
and swelling of the matrix the distance between
carbon nano-particles in
creases and tunnelling
currents rapidly decrease)
(Knite, Shakale 2007).
POLYISOPRENE – NANOSTRUCTURED CARBON COMPOSITE (PNCC) MATERIAL FOR VOLATILE ORGANIC
COMPOUND DETECTION
119