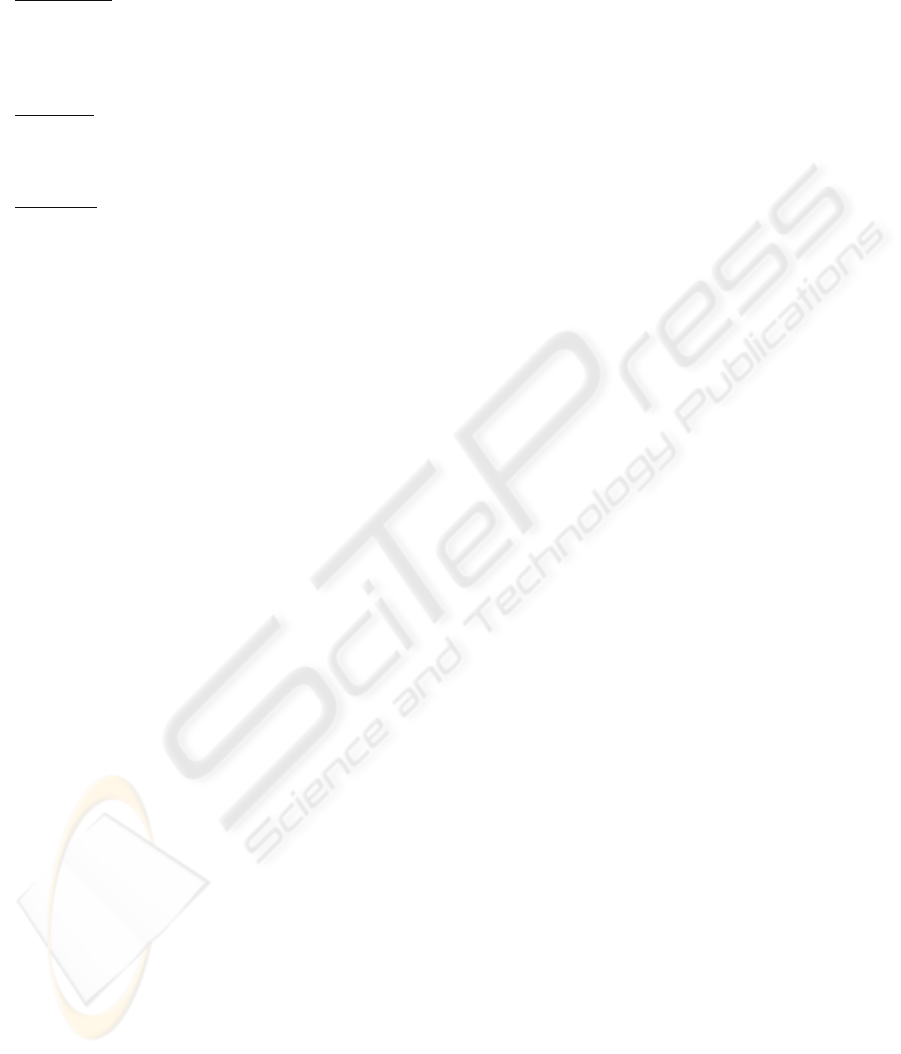 moreover, the services need
to profoundly change
the way a tourist does or experience something – and
to the better (Harkke 2007).
MobiPortal
is a mobile version of an information
portal www.visitaland.com which is the official
tourist site of the Åland Islands. The portal includes
search for events, restaurants etc., a map service and
facts on the Åland Islands.
TraveLog
is a mobile community for incoming
tourists to share experien
ces from the Åland Islands
with each other. The virt
ual meeting place includes
stories, pictures, tips and interactions.
MobiTour
is a guide for attractions such as the
Bomarsund fortress which is downloadable /
streamable to the visitors' own devices. The guide
includes voice and/or video guidance.
All these three services ought to expand the
limits of a tourist to the Åland Islands according to
the Braudel rule by enabling 1) instant access to
local information, 2) enhanced communications with
other people with the same interests and 3)
experience enhancement for certain unmanned
attractions. Especially experience enhancement
features are generally seen as key drivers for
successful customer satisf
action in tourism (Pine &
Gilmore 1999). The determinants for consumer
usage of mobile tourism services are, however, a
complex issue which will be discussed next.
Several models of technology adoption have been
developed. One of the most used models is the
technology acceptance model (TAM) by Davis
(1989) which is based on the theory of reason action
(TRA) by Fishbein et al. (1975). Other often used
models in technology adoption research are the
diffusion of innovations theories (DIT) by Rogers
(1995) and the unified th
eory for the acceptance and
use of technology (UTAUT
) by Venkatech et al.
(2003) which combines TA
M with other acceptance
model e.g. DIT. Here diff
erent components of these
models will be discussed, together with relevant
research theories for adoption of electronic and
mobile services, to identify possible determinants for
consumer intentions to use mobile tourism services.
The TAM model proposes two determinants,
perceived usefulness and perceived ease of use,
which impact the acceptance of technology and
adoption behavior as a result (Davis 1989).
Perceived usefulness is defined as "the degree to
which a person believes that using a particular
system would enhance his or her performance".
Perceived ease of use is defined as "the degree to
which a person believes that using a particular
system would be free of effort". The two TAM
determinants are proposed to identify the intended
usage behavior of a system and are widely used as a
backbone for research in adoption of technology.
However, the first TAM variable perceived
usefulness is foremost designed to research work
performance improvements in organizational
contexts. In consumer markets consumer behavior is
also influenced by other factors. It is typical that
non-efficiency factors imp
act consumer adoption of
technology, e.g. good tour
ist technologies are not
only those that make tourists more efficient, but that
also make tourism more enjoyable. Thus tourism can
be characterized as wandering, where tourists
attempt to enjoy the city environment and chance
upon things of interest, rather than optimizing
(Brown & Chalmers 2003). As the mobility (on the
move) capability is generally seen as the key value
driver in m-commerce (Anc
kar & Eriksson 2003),
mobile technology clearly has the potential to
support the wandering aspect of tourism. A word
like flexibility has commonly been used to describe
the independence of time and space that is provided
by mobile technology. According to Kim et al.
(2005) the hedonic motivation or the enjoyment
aspect of tourism has, however, not been clearly
defined in mobile technology acceptance models.
The perceived type and degree of perceived value of
a mobile service depend on the other hand on the
situation or context of usage (Mallat et al 2006, Lee
& Jun, 2005). Anckar & Dincau (2002) introduced
an analytical framework that identifies the potential
value creating features of
mobile commerce. Mobile
value elements in the framework for consumers on
the move are: Time-critical arrangements,
Spontaneous needs, Entertai
nment needs, Efficiency
ambitions and Mobile situations. Time-critical
arrangements refer to applications for situations
where immediacy is desirable (arise from external
events), e.g. receive aler
ts of a changed transport
schedule while on tour. Spontaneous needs are
internally awakened and not a result of external
events, e.g. find a suitable restaurant while
wandering around. Entertainment needs, killing
time/having fun, especially in situations when not
being able to access wired entertainment appliances,
e.g. kill or fill time in transportation. Efficiency
ambitions aim at productivity, e.g. use dead spots
during a travel to optimize time usage. Mobile
situations refer to applications that in essence are of
value only through a mobile medium (e.g.
localization services), which ought to be the core of
ICE-B 2008 - International Conference on e-Business
116