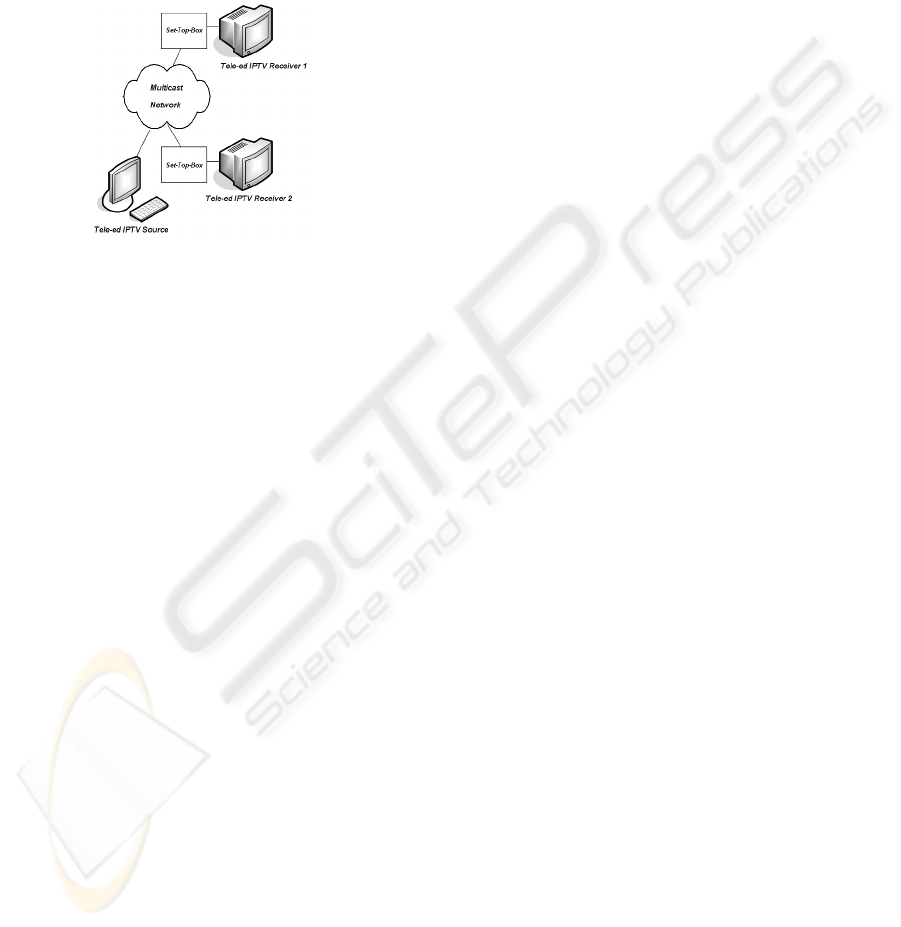 Concretely, Tele-ed IPTV matches different
multicast addresses according to each video content
delivery. Figure 5 shows a simple testbed scenario
where Tele-ed IPTV has be
en tested successfully.
This figure shows how Tele-ed IPTV source
distributes video contents through a multicast
campus network. Alternatively, receivers are TV
devices which are able to
receive this multicast
traffic through their Set-Top-Box (STB).
Figure 5: Testbed scenar
io for Tele-ed IPTV.
STB (Amino, 2008), is a
device that connects to
a TV. Then, an external source of signal (in this
work an Ethernet cable) turns the signal into content
which is then displayed on the TV set. Besides, each
STB has been configured to
receive multicast traffic,
i.e., TV channels have been configured with a
multicast address for each Tele-ed IPTV content.
4 CONCLUSIONS
In this position paper, the authors have tried to
present an arguable opinion
about a specific issue,
i.e., close future field of multimedia distributed
systems. Therefore, main
goal has been to convince
the audience that IPTV framework has been
appeared as a hot topic (Alfonsi, B., 2005, Comms,
2008, O'Driscoll, 2008) to take into account for next
multimedia distributed systems. Authors have tried
to support their argument with evidence to ensure
the validity of their claim. Concretely, they have
presented Tele-ed IPTV as a promising framework
for next generation of multimedia distributed
systems. To conclude, authors maintain that IPTV
frameworks are a challenge task to design
multimedia distributed sy
stems. About work in
progress, authors are configuring Tele-ed IPTV as a
real Content Distribution Network. More to the
point, they maintain that the transition in learning
system design and learning resource plan from
traditional web-based learning platforms to IPTV-
based learning one is not trivial.
REFERENCES
Alfonsi, B., 2005, IEEE Dist
ributed Systems. I Want My
IPTV: Internet Protocol
Television Predicted a
Winner. IEEE Computer Society, Vol. 6, Issue 2.
Akamai, 2008, http://
www.akamai.com
Amino, 2008. Aminet 125 Set Top Box. Technical. On
line available at http:/
/www.aminocom.com
Arberg, P., et al, 2007, Netw
ork infrastructure for IPTV,
Ericsson Company, Technical Report, Number 3.
http://www.ericsson.com/ericsson/corpinfo/publicatio
ns/review/2007_03/02.shtml
Bates, P. J., 2003, t-learning study: A Study into TV-based
Interactive Learning to the Home. Retrieved from
http://www.pjb.co.uk/tlearning
Birman, K., 2005,
Reliable Distribut

ed Systems:
Technologies, Web Services, and Applications
,
Springer Ed., ISBN: 0-387-21509-3
Birman, K. et al., 2007. S
calable Multicast Platforms for
a New Generation of Robust
Distributed Applications.
nd
International Conference on
Communication Systems Software and Middleware
. 7-
12 Jan. Pages: 1-8. ISBN: 1-4244-0614-5.
Comms, 2008, IEEE Communications Magazine, special
issue for IPTV, vol. 46, no. 2.
Coulouris, G., et al., 2000,
Distributed Systems – Concepts
rd
Edition, Addison-Wesley.
Ellis, L., 2006, IPTV: Still Too New To Define,
Multichannel News, no. 25.
Eubanks, M., 2007, Multicast
Standards and IPTV, Middle
East Network Operators Group Meeting (MENOG),
3-5 April 2007 - Manama, Bahrain
International Telecommunication Union, 2008, Multicast
Frameworks, Focus Group on IPTV. On line available
at http://ties.itu.int/ ftp/public/itut/fgiptv/readonly/
Previous_Meetings/20070723_Geneva/Contributions/
FG%20IPTV-C-0702e.doc
Jennehag, U., 2007, Band
width Efficient IPTV
Distribution, Doctoral Thesis, Dep. of Information
Technology and Media, Mid Sweden University.
Mattern, F., Sturm, P., 2003, From Distributed Systems to
Ubiquitous Computing - The State of the Art, Trends,
and Prospects of Future Networked Systems,
Proceeding of KIVS 2003, pp. 3-25, Springer-Verlag.
Minoli, D., 2008, IP Multicast w
ith Applications to IPTV
and Mobile DVB-H, Wiley
-Interscience Publisher.
O'Driscoll, G., 2008, Next Generation IPTV Services and
Technologies, Publisher Wile
y-Interscience, ISBN-13:
978-0470163726.
Rey-López, M., et al., 2006,
Interaction Experiences:
Engaging Viewers in Education through TV Programs.
4
th
European Conference on Interactive Television
(EuroITV 2006), Athens, Greece, pp. 310-319.
VideoLan, 2008. Video La
n Proyect. Technical
information on line available at http://
www.videolan.org.
Verna, D., 2002,
Content Distribution Networks, an
engineering approach
, John Wiley, New York.
YouTube, 2008, on line available at http://
www.youtube.com/.
ICSOFT 2008 - International Conference on Software and Data Technologies
232