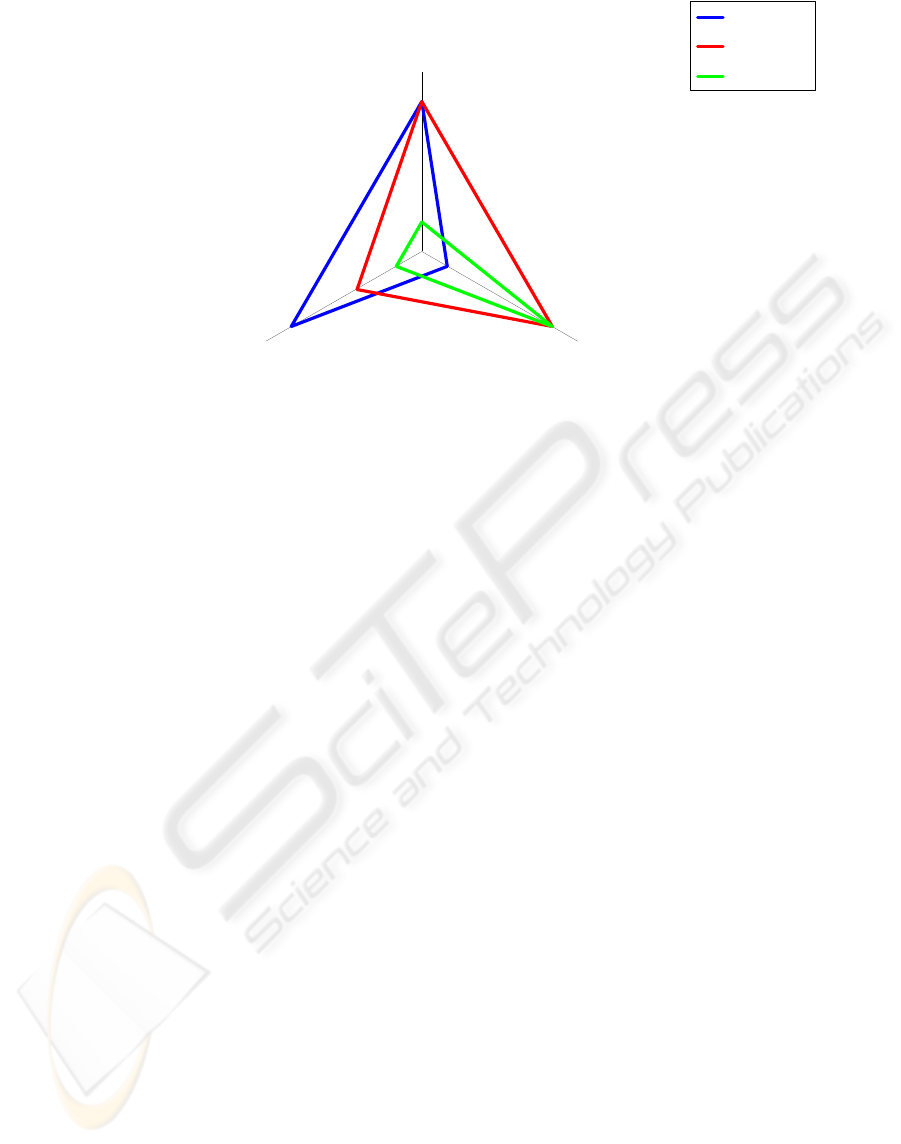 Generality
Normative capacity
Completeness of
domains
BSP/ISP
BSC
eTOM
Figure 1: Approaches comparison.
This approach provides a cross-organisational
view and enables the identification of global
information requirements. These methods are
effective to define inter-functional requirements. An
old timer and very popular in Eighties is
Business
Systems Planning
(BSP

), that uses extensively
double entry grids. BSP identifies data classes and
associates processes and data classes in a grid, that
shows which data are used by which process. BSP is
a comprehensive but time consuming methodology,
and, specifically, does not provide a normative
framework to define what data classes consider. The
subsequent
Information Strategy Planning (ISP

)
by James Martin dominated the Eighties and
Nineties; it is an integration of BSP, ER modelling
and DFD and other requirements engineering
models. The integration is based also on specific
CASE. Therefore, ISP extended but did not give a
normative approach for strategic information
requirements.
In the Nineties and New Century the success of
ERP (Enterprise Resource Planning) and CRM
(Customer Relationship Management) software
suites has generated normative models both for IT
processes and database schemas. Enterprise buy a
solution, that can be customized by high level tools
as workflow etc.
ARIS
is a well known example of
an integrated analysis methodology developed for
ERP that models data, organization and business
processes. At a more strategic level, normative
industry models have grown. Specifically
eTOM
-
Shared Information Data Model (SID)
addresses
information needs of shared information/data in
telecommunications industry. SID uses within a real
strategic view the Business
Entities and Attributes concepts. A Business Entity
is a thing of interest to the business, while Attributes
are facts that describe the entity. eTOM meta-model
is very promising, but it is not general, since it is
exclusively oriented on
telecommunications, nor
provides an axiomatic approach to identify Entities.
Last not least business and management oriented
approaches have the objective of selecting key
information needs. In Eighties and Nineties
Critical
Success Factor
(CSF

) has been a popular approach
to spot information for management. In the Nineties
and in New Century,
Balanced Score Card
(BSC)
and
6Sigma
had an enormous success not only as
models for overall strategic and management control
but also as models for management information
needs. However, these models
are partial, since they
analyze the management side and not the operations.
The orientation of these approaches modelling
are represented on three axes (
generality represents the suitability of the approach
to the whole range of industries: the wider the range
the higher the generality. The axis of normative
capacity measures the ability to suggest the "right"
information requirements. The axis of completeness
of domains shows the capacity of considering all
information uses, namely management, analytic, and
operational. Each approach family excels on some
axis, but does not offer a comprehensive coverage.
This is specifically the aim of our approach.
ICEIS 2008 - International Conference on Enterprise Information Systems
376