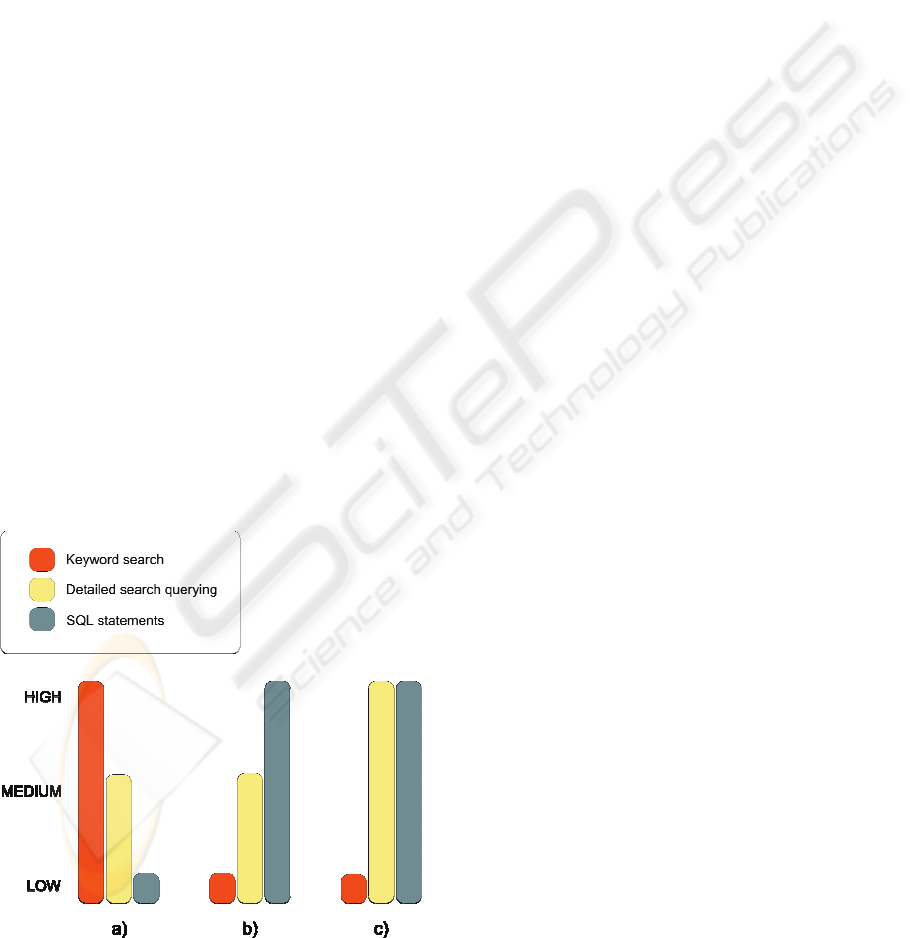 of the operation chains
and narrow the focus of
further investigations.
In the second case, search was used to retrieve
two alternative paths for executing the process. The
search results were converted to datasets that were
merged and analyzed. Investigation of alternative
process executions is not limited to process paths.
The same approach could also be applied to
investigate and compare pr
ocess executions where
different vendors, departments, or other business
objects are involved.
Search provides a simple interface to business
process information. An alte
rnative to search indices
and keyword queries is more traditional solutions
with database tables and Structured Query Language
(SQL) statements. Figure 7 shows a comparison
between keyword search, detailed search querying,
and SQL. By keyword search, we mean search
queries where the user only type a set of relevant
keywords that should occur in the result set items.
Detailed search querying, on the other hand,
addresses query terms in sp
ecific index fields. The
comparison involves the following aspects:
•
Data Access Simplicity

: How quick and
easy is it to formulate a query?
•
Required Data Structure Knowledge

:
How much knowledge about underlying data
structures is required from the user?
•
Result-Set Quality
:

To which extent is the
result-set matching the user request? Is the
user getting the information requested, and
how much of the result-set is relevant?
Figure 7: Comparison of alternative approaches for
accessing data sources: a) Data access simplicity, b)
Required data structure knowledg
e, c) Result set quality.
As visualized in Figure 7, the approaches that
require some background knowledge of the
underlying data structures also have the highest
result-set quality. However, in the user environment
there are trade-offs between the three dimensions. In
analysis work like process mining, we have users,
like process owners, that often possess limited
technical knowledge. As we want to explore the data
interactively, it is also a big gain if the user can dig
into and investigate perspectives and data subsets
quickly. In such settings, search is preferable. As the
technical knowledge of process mining users varies,
it is favourable if both simple keyword search and
detailed search querying is supported.
5 RELATED WORK
According to Forrester Research the leaders and
strong performers of
the ETL market are IBM,
Informatica, Business Objects, Oracle, Ab Initio,
SAS Institute, Microsoft, IWAY Software, and
Pervasive Software (Karel, 2007). These software
vendors incorporate ETL as parts of their data
warehousing and business intelligence solutions.
Lately, these software vendors have given
considerable attention to enterprise search and
search engine technologies. Many ETL vendors have
purchased or established partnerships with vendors
of enterprise search solutions (Brown, 2006)
There are several motivations behind the
merging of the two areas. At one hand, search can be
applied to retrieve complete business intelligence
reports. On the other hand
search can also be applied
in the process of investigating data and revealing
unknown patterns (Priebe & Pernul, 2003). Here,
search represents a paradigm shift in business
intelligence. The benefits of using search
technologies on structured data sets have been
emphasized by commercial companies like Fast
Search & Transfer and Autonomy Inc (Olstad,
2005)(Brown, 2006).
At an even more ambitious level, search can be
applied to formulate and answer questions directly.
Here, we require semantic understandings of both
user requests and data ava
ilable (Gulla, et al., 2006).
Within several domains, efforts are done to integrate
semantics, in form of ontologies, in information
retrieval systems (Guha, et al., 2003). The
ontological information is used both to extend the
query language and annotate the contents of
available documents (Sheth & Ramakrishnan, 2003).
(Medeiros, et al., 2007) discusses several
directions for the development of semantic process
ICEIS 2008 - International Conference on Enterprise Information Systems
346