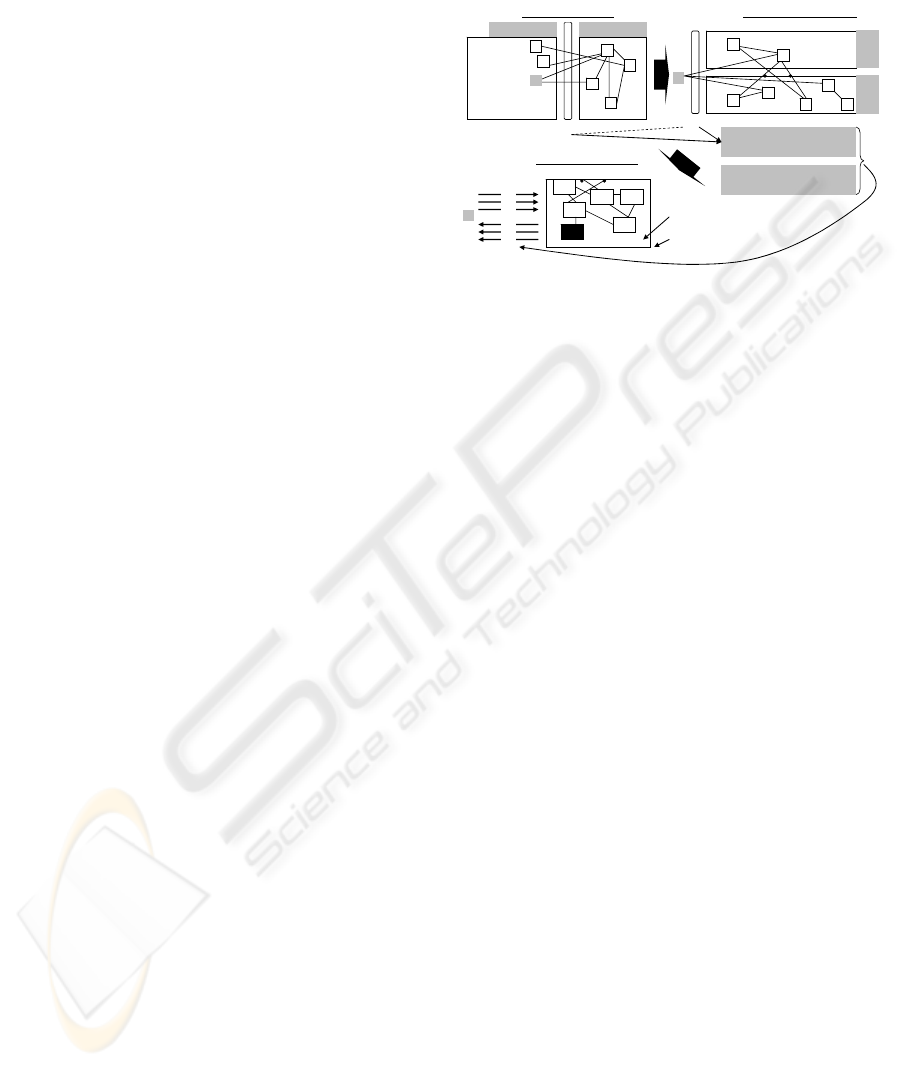 is close to the architectural domain would be
suitable for high level behavior specification,
whereas for the aim of analysis, a language that
allows automated evaluation of the properties of
concern should be chosen. Hence, the design process
would comprise transformations between design
models and analysis models, in addition to
transformations between levels of abstraction. In
such complex modeling, it is essential to know
which exactly are the challenges and which
techniques are suitable for approaching them. We
take in this work only the perspective of a Norm
Analysis elaboration (Liu, 2000) to high-level
behavior models including such ones that reflect
context-driven behavior (characterized by alternative
processes).
Hence, the main contribution of the current paper
comprises an adaptability-driven methodological
support to the design of CA applications, inspired by
our addressing in combination several key issues
that concern such a design. Such issues are the
context-driven service delivery, the related
(alternative) application behaviors, as well as the
'switching' among different alternative behaviors.
The paper's outline is as follows: Sect. 2
considers the design of
CA applications. Sect. 3
addressed the added value of Norm Analysis in
elaborating application behavior modeling. Sect. 4
presents the conclusion and outlines further research.
APPLICATIONS
We will present our CA-application-design views on
top of a more general modeling background
concerning the specification of an automated
(software) system. Such a specification is claimed to
typically stem from a corresponding business model
(Shishkov et al., 2006
b
). Thus, we will firstly
consider the challenge of specifying an application,
based on business modeling, and we are going to
study secondly what else needs to be added for
achieving context-awareness.
2.1 Business-modeling-driven Software
Specification
Producing a sound relevant business model is
claimed to be a
must
in specifying an automated
(software) system (Shishkov et al., 2006
a
), and
considering from this perspective the notions of
system
(the entities of main interest to us and their
relations) and
environment
(the other entities and
their relations) seems useful (Shishkov & Quartel,
2006).
R
I
R
c
c
c
c
c
application
environment
business requirements
1
2
3
s
…
bus. partner
gov. agency
ncbe
cbe
c
technical requirements
current situation
new business model
Figure 1: From business m
odeling to appl. modeling.
We have represented this in Figure 1 (1), as the
'current situation'. There, we have, 'within the
system', some entities (entities could be humans,
could be machines, could be anything), represented
as squares. The entities have some relations among
themselves – this is represented by solid lines.
Assuming that the entities belonging to the system,
deliver some service to the
outside (just as a broker,
an insurance company, or a hospital deliver services
to the outside), we consider all the outside entities as
belonging to the system environment; we might
identify there the entity(s) 'consuming' the service,
labelled as 'primary consumer' (represented as a
grey square), entities that have partnership relations
with entities belonging to the system, labelled as
'business partners', entities that have controlling
functions, such as government agencies, for
example, and so on. All
these entities belong to the
environment, have relations among themselves, and
what is more important – they have relations with
the system, in particular – relations to entities
belonging to the system. These relations concern the
service(s) that the system provides to its
environment. These service(s) are restricted by
corresponding system/environmental demands, such
as quality standards, working hours, legal issues,
which demands are labelled as
imposed
requirements
– represented as 'R'. It should be noted
that no automation is yet envisioned. Deciding to
introduce such automation,
the system architect
typically abstracts from
most entities belonging to
the environment and mainly focuses on the primary
consumer that turns out to become the main
environmental entity, while the service delivered to
the primary consumer is to essentially drive the
further design activities. Hence, the primary
consumer should 'face' all entities belonging to the
NORM ANALYSIS SUPPORTING THE DESIGN OF CONTEXT-AWARE APPLICATIONS
335