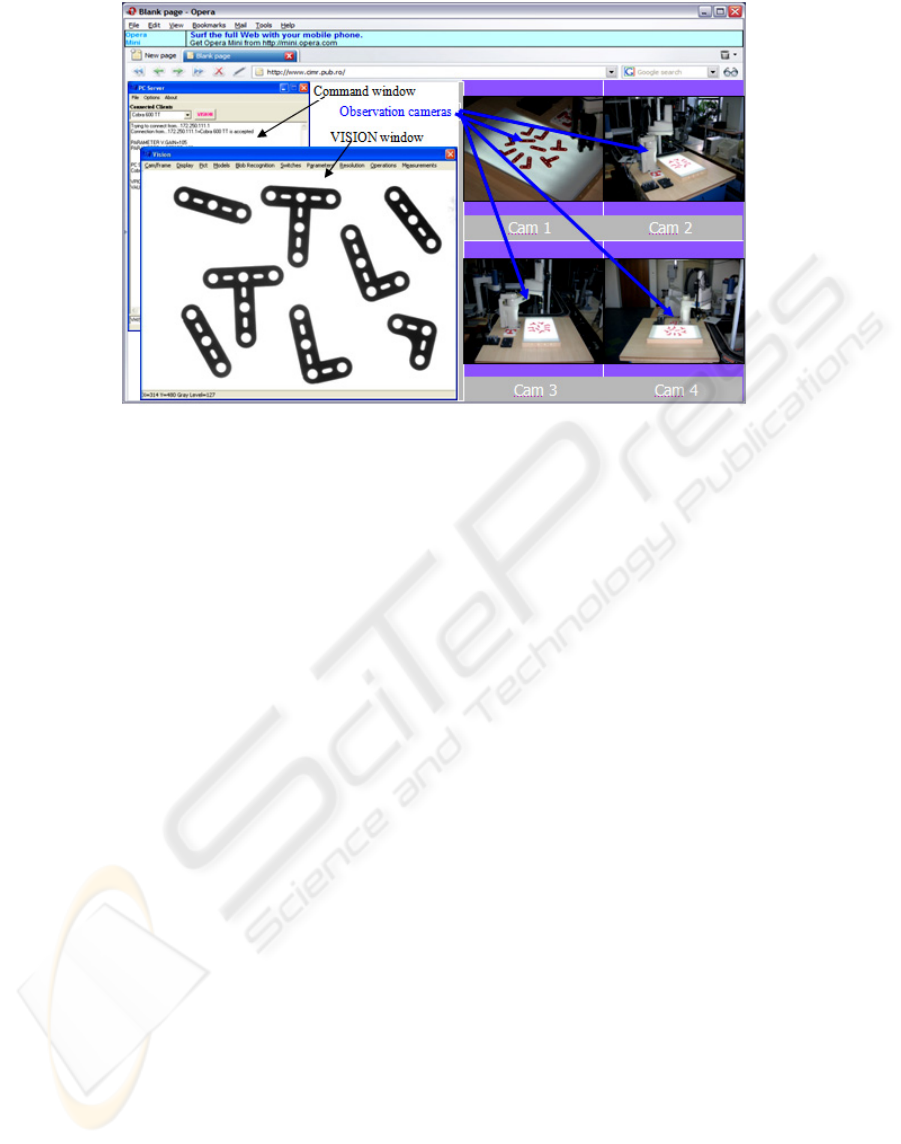 Figure 2: Accessing the system.
4 SOLUTION IMPLEMENTING
FOR NETWORKED ROBOTS
In order to implement the solution on a network of
robots, first a shared storage is needed, which must
be reached by any robot co
ntroller from the cluster.
The file system from the storage is limited to
NFS by the operating system of the robots. Five
Adept robot manipulators were considered, each one
having its own multitasking controller.
For the proposed architecture, there is no option
to use a directly connected shared storage, because
Adept robot controllers do not support a Fiber
Channel Host Bus Adapter (HBA). Also the storage
must be high available, because it is a single point of
failure for the Fabrication Cluster (FC).
Due to these constraints, the solution was to use
a High Availability cluster to provide the shared
storage option (NFS Cluster), and another cluster
composed by Adept Controllers which will use the
NFS service provided by the NFS Cluster (Figure 3).
The NFS cluster is composed by two identical IBM
xSeries 345 servers, and a DS4100 storage.
The storage contains a volume named Quorum
which is used by the NFS cluster for communication
between nodes, and a NFS volume which is exported
by the NFS service which runs in the NFS cluster.
The servers have each interface (network, serial, and
HBA) duplicated to assure redundancy (Anton
et al

.,
2006; Borangiu
et al
., 2006).
There are three communication routes: the first
route is the Ethernet network, the second is the
Quorum volume and the last communication route is
the serial line. If the NFS cluster detects a
malfunction of one of the nodes and if this node was
the node which served the NFS service the cluster is
reconfiguring as follows:
1.
The server which is still running writes in the
Quorum volume which is taking the functions of
the NFS server, then
2.
Mounts the NFS volume, then
3.
Takes the IP of the other server and
4.
Starts the NFS service.
The Fabrication Cluster can be composed by at
least two robot controllers (nodes) –
group leader
(GL) and a common node. The nodes have resources
like: robot manipulators (with attributes like:
collision detection, current
robot position, etc...),
serial lines, Ethernet adap
ter, variables, programs,
NFS file system. The NFS file system is used to
store programs, log files and status files. The
programs are stored on NFS to make them available
to all controllers, the log files are used to discover
the causes of failure and the status files are used to
know the last state of a controller.
In the event of a node failure, the production
flow is interrupted. In this case, if there is a
connection between the affected node and the group
leader, the leader will be informed and the GL takes
the necessary actions to re
move the node from the
cluster. The GL also reconfigures the cluster so the
fabrication process will continue.
REMOTE ROBOT CONTROL AND HIGH AVAILABILITY
231