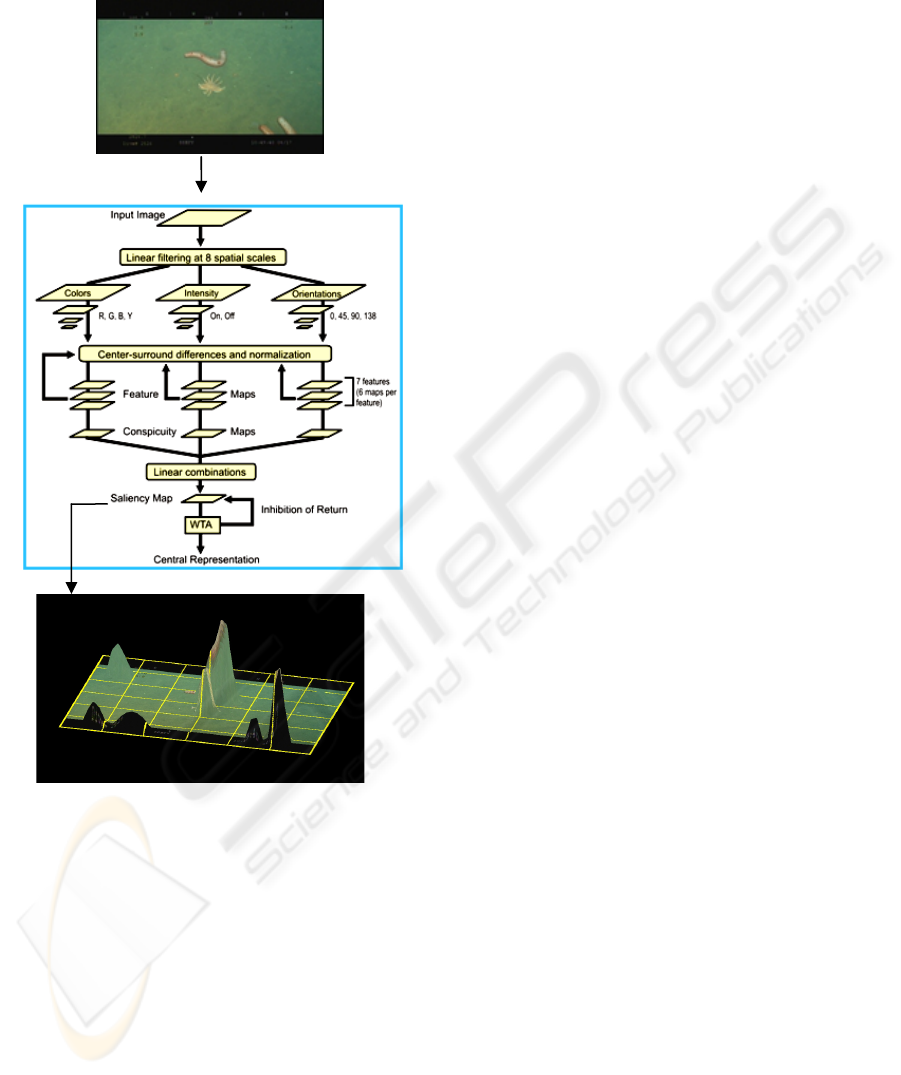 rs1100 dual XEON 2.4 GHz servers configured as a
Beowulf cluster.
Figure 2: Saliency map from the iLab toolkit warped onto
a 3-D map. Peaks in the map show points of high visual
attention in the center of the image where the
Rathbunaster and Leukothele are.
Underwater video often contains artifacts like lens
glare, visual obstructs
such as instrumentation
equipment, or introduced artifacts such as time code
video overlays. Some simple algorithms are
employed to remove these artifacts. To remove the
lens glare and transient equipment, a simple
background subtraction sche
me is used whereby the
average from a running image cache is subtracted
from the input image. To remove time code overlays
or stationary equipment in a scene, a simple mask is
applied that removes the areas before the detection
and tracking steps.
2.2
Detection and Tracking
2.2.1
Neuromorphic Event Detection
Central to the AVED software design is the
detection step, where candida
te events are identified
using a neuromorphic vision algorithm developed by
the Itti and Koch (Itti, 1998). In the saliency model,
each input video frame is decomposed into seven
channels (intensity, contrast, red/green and
blue/yellow double colo
r opponencies, and four
canonical, spatial orientations at six spatial scales,
yielding 42 feature maps. After iterative spatial
competition for saliency within each map, maps are
then combined to form a unique saliency map. This
saliency map is then scanned for the topmost salient
locations using a winner-take-all neural network.
Figure 2 illustrates and example saliency map
from the iLab toolkit warped onto a 3-D map for a
single underwater video frame. Peaks in the map
show points of high visual attention. Objects are
then segmented around thes
e peak points and then
tracked frame-by-frame to form a visual event.
Events that can be tracked over several frames are
stored as "interesting"; otherwise they are
designated as "boring" and removed from tracking.
This AVED saliency-based detection algorithm
and many of the basic image processing algorithms
used in AVED are provided by the iLab
Neuromorphic Vision C++ from the University of
2.2.2
Fixed Camera Object Tracking
In the case of a fixed observatory camera with
minimum pan and tilt or zoom movement such as
the EITS camera, an aver
age from a running image
cache is used with a gra
ph cut-based (Howe, 2004)
algorithm to extract fore
ground objects from the
video. Only pixels determined to be background
versus detected foreground objects are included in
this image cache, thereby removing the objects
weight on the background computation. This
segmentation scheme results in better segmentation
of faint objects. To track
visual events, a nearest
neighbor tracking algorithm is used.
AN AUTOMATED VISUAL EVENT DETECTION SYSTEM FOR CABLED OBSERVATORY VIDEO
197