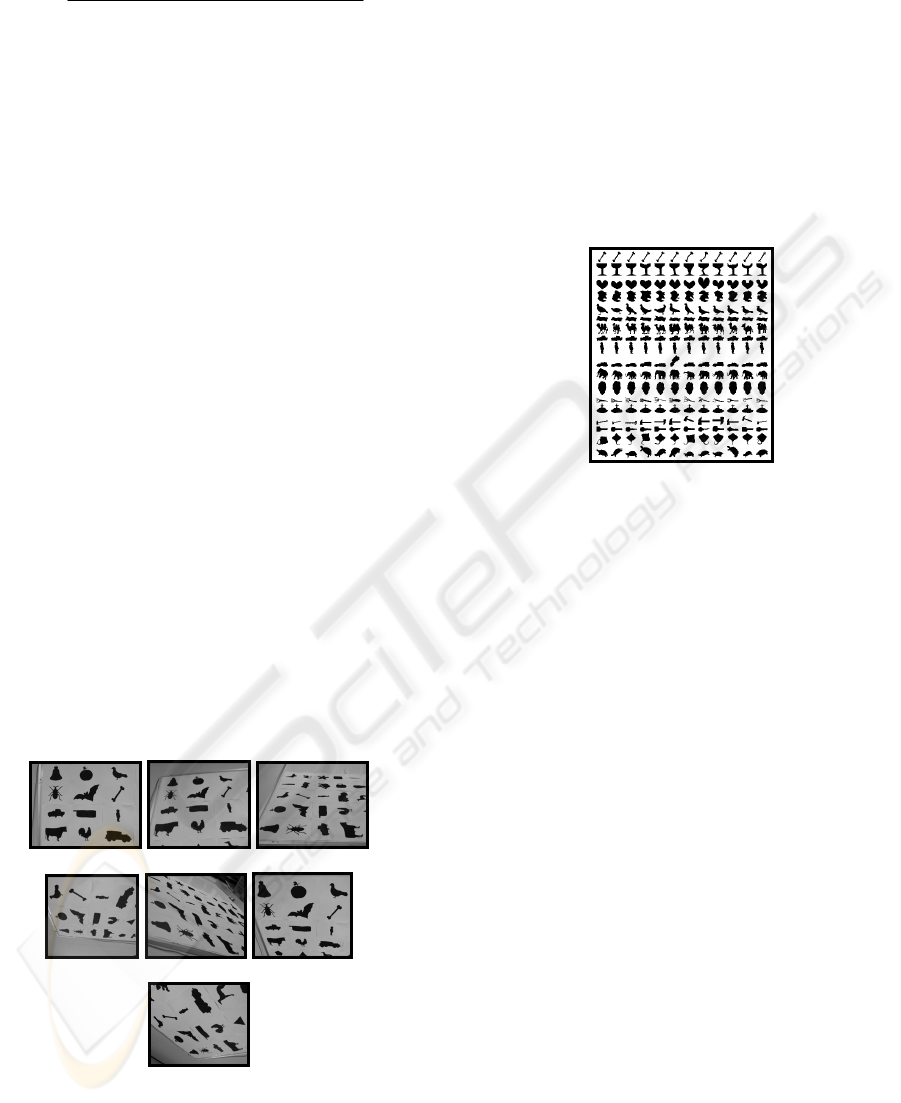 ()
2/3
22
,,
),(),(),(),(
),(
σσ
σκ
sYsX
sYsYsYsX
s
ss
ssssss
+
−
=
(7)
The CSS descriptor extraction algorithm is
described in (Abassi and al., 2000; Mokhtarian and
al., 2002). The CSS descriptor vector represents a
multiscale organization
of the curvature zero-
crossing points of a planar curve. In this sense, the
descriptor dimension varies for different shapes, thus
a special matching algorithm is necessary to
compare two CSS descriptors. We implemented the
Matlab prototype presented in (Ming, 1999).
3
A COMPARATIVE STUDY FOR
SHAPE-BASED RETRIEVAL
3.1 Test Setup
-
Multiview Curve Dataset (MCD) (Zuliani,
2004): This dataset comprises 40 shape
categories, each corresponding to a shape
drawn from an MPEG-7 shape category. Each
category in the new dataset contains 7 curve
samples that correspond to different
perspective distortions of the original shape.
The original MPEG-7 sh
apes were printed on
white paper and 7 samples were taken using a
digital camera from various angles (Figure 1).
The contours were extracted from the iso-
intensity level set decomposition of the images
(Lisani, 2001).
(a) (b) (c)
(d) (e) (f)
(g)
Figure 1: Some Examples of Images from the MCD
database acquired from different
viewpoints; (a) : Central
(b) Bottom (c) Left (d) Right, (e) Top (f) Top-left, (g)
Bottom- Right.
-
MPEG-7 contour shape database CE-1 Part B:
this set takes into consideration of common
shape distortions in nature and the inaccuracy
nature of shape boundaries from segmented
shapes. Set B is for testing of similarity-based
retrieval or for testing shape descriptors'
robustness to various arbitrary shape
distortions. In our experiments we have used a
sample from the MPEG-7 database (216
shapes) (Figure 2). This dataset contains
eighteen categories with twelve shapes in each
category.
Figure 2: The 216 shapes from MPEG-7 contour shape
database CE-1 Part B.
3.2 Retrieval Results
The performance of the retrieval is evaluated using
precision and recall pair (PRP) which give the
percentage of retrieved information that is relevant
as a function of the percentage of relevant
information retrieved (Bimbo, 1999). For each
query, the precision of the
retrieval at each level of
the recall is obtained. The result precision of
retrieval is the average precision of all the query
retrievals. The average pr
ecision-recall of retrieval
using the three shape descriptors on each dataset are
shown in Fig. 3(a)-(b). Some screen shots of
retrieval are shown in Fig.
4 and Fig. 5. In all the
screen shots, the top left
shape is the query shape.
The retrieved shapes are ranked in descending order
of similarity to the query shape.
It is clear from the precisi
on-recall charts that the
retrieval performance using AIFD is the best among
the three. Although the affine FD is designed to
particularly target affined shape description it is
expected to work fine for polygonal shape under
affine transformation. CSSD robustness to boundary
variations is very limited. It is not robust to common
boundary variations such as defections and arbitrary
distortions. On average, FD is better than CSSD,
while FD is much easier to derive, match, normalize
and more compact compared with affine CSSD.
CONTENT-BASED SHAPE RETRIEVAL USING DIFFERENT AFFINE SHAPE DESCRIPTORS
499