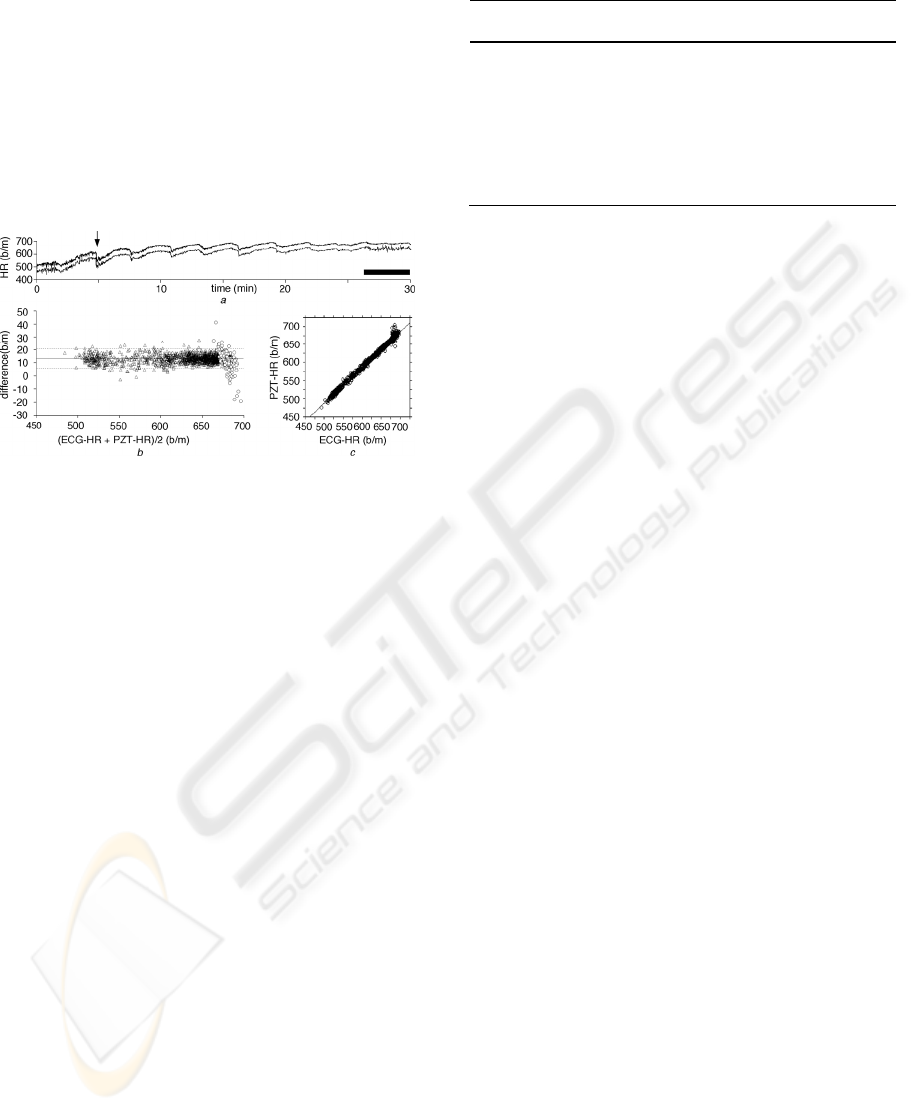 in airway with airway secretion, still remained and
induced errors in S1-S1 interval detection for heart
rate calculation. Discrimination between S1 and S2
is also required for the heart rate calculation. I made
a microprocessor program to overcome these
problems. The major algorithms adopted in the
program are; (1) to calculate the correct HR by
selecting four S1-S1 intervals of less error from
eight consecutive intervals and (2) to set a non-
detection period of 75 ms after a S1 (or S2) for the
discrimination of S1 from S2 (Sato et al., 2006).
Figure 7: Comparison between the heart rate calculated by
the PZT system and ECG for 30 min. Output of the PZT
system (lower trace) and the heart rate calculated from the
R-R intervals in ECG (upper trace) (a), their difference
plot (b) and cross-correlogram (c). Black bar in (a)
indicates the duration where large-amplitude respiratory
noise appeared. Lower trace in (a) is lowered to show
almost complete agreement between the two traces.
3 RESULT
Heart rate output from
D/A converter in the PZT
system (PZT-HR) and that calculated from ECG
reading (ECG-HR) averaged over every 1 s were
compared using 6 anesthetized adult C57BL/6 mice.
The PZT-HR and the ECG-HR were highly
correlated (Fig. 7a). Difference plot between them
also showed good correlation (Fig. 7b) even during
the period when large-am
plitude respiratory noise
appeared (open circles; Fig. 7b). The difference plot
demonstrated the highly reliable detection of HR by
the PZT system; 96.2% (1,729/1,798) of total points
fell within ±2 SD of the mean value. The PZT-HR
also closely followed a rapid decrease in HR at a
rate of 33 b/m/s (arrow in Fig. 7a). Cross-correlation
coefficient between PZ
T-HR and ECG-HR was
0.995
±
0.003 (mean
±
SD, n = 6; Table 1, Fig. 7c).
Table 1: Correlation betw
een PZT-HR and ECG-HR.
4 DISCUSSIONS
Since the high-frequency component of S1 is
comprised of multi peaks of vibrating signal, the
program code for heart rate calculation would be a
complex one in the case without the use of the
cardiac beat detector although recent developments
in digital signal processing of the phonocardiogram
have been reported (Durand and Pibarot, 1995;
Wang et al, 2001). All intervals between peaks of S1
and S2 in addition to respiration sound noises, which
are all composed of mu
lti-peaked signal and
fluctuate in interval and/or in magnitude, should be
measured quickly and the initial point of the S1
should be properly identified almost instantaneously
during each heart cycle of less than 100 ms. In
contrast to such considerably complex digital signal
processing, making the quasi-digital pulse from
vibrating S1 signal with enhancing S/N ratio using
the cardiac beat detector ensures the easier digital
conversion of the S1 signal for the heart rate
calculation.
In conclusion, the present study demonstrated
that the cardiac beat detector has a performance
suitable for the non-invasive detection of S1 in the
heart sounds of small animals. It should be noted
that the cardiac beat detector
is available not only for
anesthetized small animals but also unanesthetized
animals and humans at sleep or rest. Indeed, the PZT
system can be applied to unanesthetized newborn
mice (Sato et al., 2007), hu
man infants (Sato et al.,
2006) or bedridden patients after some alteration to
the sensor construction. As the cardiac beat detector
greatly reduces the program code for S1 detection, it
would help us to create novel phonocardiogram-
based equipments for a wide range of fields in
clinical and basic sciences in medicine.
CARDIAC BEAT DETECTOR - A Novel Analogue Circuitry for the First Heart Sound Discrimination
139