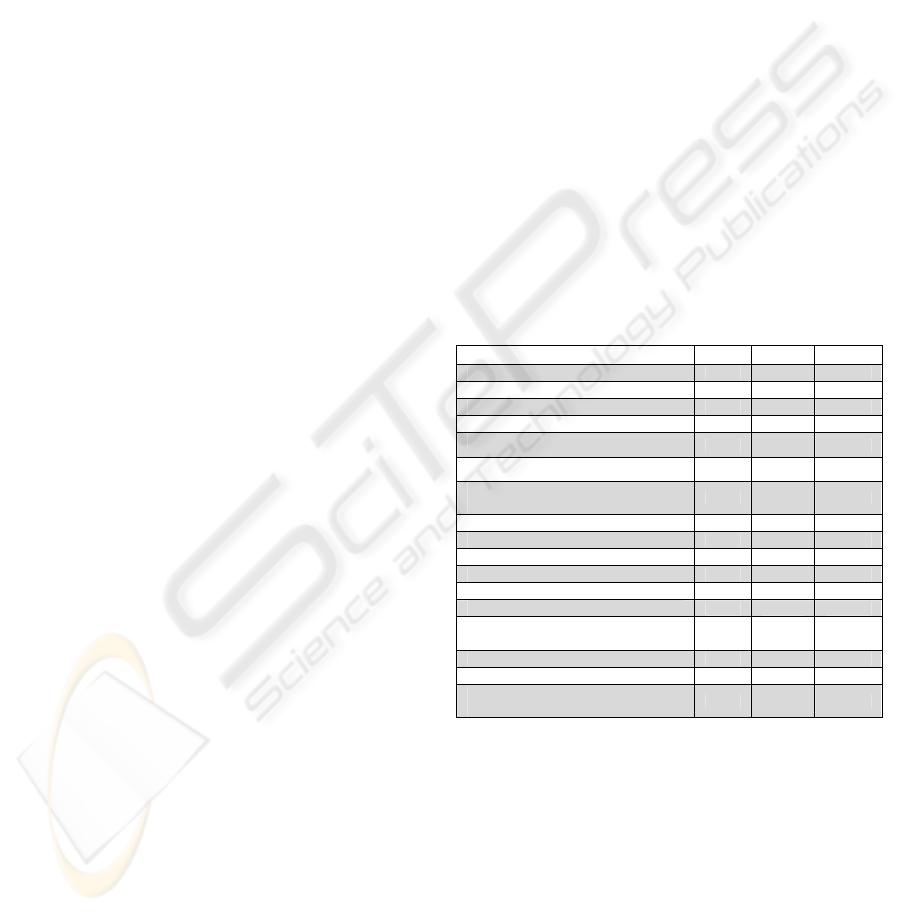 3 MEDICAL APPLICATIONS OF
WSNS
The use of intelligent medical monitoring can
significantly decrease the number of hospitalizations
and nursing visits (Heidenreich
et al
., 1999), by
acting as an agent on human's behalf and launch of
emergency alerts when appropriate. Human beings
don't appreciate a visit to
the hospital, even more
when after a surgery (Naftalin and Habiba, 2000).
If a given health threat situation can be identified
in advance, for instance the
risk of an heart attack,
measures can be taken to minimize or even suppress
the risk. Some studies, namely on ECG (Zhou
et al.
,
2005) data retrieval, provide valuable insight on
current health condition of a human being.
Body Sensor Networks usually consist of several
implanted or wearable biosensors, such as ECG,
EEG, glucose sensors, accelerometers, blood
pressure and oxygen saturation sensors, temperature
sensors, among others (Huaming and Jindong,
2006).
Medical applications span over different areas,
such as heart-related, BSN applications, emergency
response applications, asthma monitoring and even
human error detection and correction. In (Lin
et al.
,
2006) authors present a solution for two important
challenges: the first the discomfort of using a wired
data-gathering system; and the achievement of the
best path for data to flow in peer-to-peer wireless
communication protocols.
A wearable ECG system, based on motes to
create a WSN presented in (Taylor and Sharif,
2006), using the tMote Sky developed at Berkley
University. In (Huaming and Jindong, 2006) authors
used a WSN with BSN-MAC that they developed. A
scheme collects context information through sensing
and applies it to help detect QRS complex in an
ECG. This information provides the means to build a
personalized heart diary of a person. In (Lee
et al.
,
2007) authors present a WSN to collect ECG and
body temperature. A server inside the hospital
wirelessly receives data. Using this approach the
patients are always being monitored and the server
can process data in order to send alerts to medical
staff. This presents great
benefits when compared to
the patient-initiated alarm.
(Lorincz
et al.
, 2004) present some challenges
and opportunities for sensor networks in emergency
response and a new architecture for wireless
monitoring and tracking. In (Chu
et al.

, 2006), an
experimental scenario is presented for patients with
asthma or allergic situa
tions, where a person is
carrying a GPS-enabled syst
em. A wireless system
connects to a dedicated server in order to identify
possible hazardous areas in the person's vicinity and
issue an alert. In (Ohmura
et al.

, 2006), authors
developed a sensor network in a real hospital
environment that preven
ts medical accidents by
monitoring nursing activities. The paper describes
the design and implementation of the sensor
network. Therefore, we can conclude that there is a
broad range of applications for WSN in medicine,
and that the development of novel sensors and novel
ways to build sensors are of primordial importance,
together with the wireless communication challenges
and node deployment.
4 COMPARATIVE STUDY
Table 1 summarizes the main
features of simulation
tools ns-2, J-Sim and SENSE. J-Sim proves to be a
good match for ns-2, no wonder that many
researchers are using it instead of ns-2, mostly due
to its ACA architecture. In (Sobeih
et al.

, 2005) a
study is presented on the performance of ns-2
compared to J-Sim, so we
target our efforts on J-Sim
and SENSE.
Table 1: Summary of simulator tools features.
Event ns-2 J-Sim SENSE
Instalation
Version for Microsoft® Windows®
Popular in scientific and academic's
Object or component oriented
Programming languages
++, oTc
Learning curve
Steep Moderate Moderate
Easy to create only sample
simulations
WSN simulation
Extern API Dedicated
Graphically-driven simulation build
Component diversity made to simulate
Supplies configuration network files
Easy to change a simulation model
Easy to define a simulation area
Easy to define number and position of
nodes
Easy to create/change a protocol
Steps to run a simulation
Display graphical mode to see
simulation parameters
The first impression is that SENSE is more
difficult to use than J-Sim: the "text-only" results,
the C++ programming language for simulation
creation and no graphical support.
We tried to simulate the sample WSN depicted
in Figure 2 in J-Sim. On SENSE we managed to
simulate a 11 nodes network, but not the same one.
It was not possible to simulate the same network
in SENSE. In terms of battery the model Linear
Battery was used, cpu base model for CPU, in the
physical layer duplex transceiver was used, in the
network layer a shr_ack and cbr in the application
layer.
SIMULATION TOOLS FOR WIRELESS SENSOR NETWORKS IN MEDICINE - A Comparative Study
113