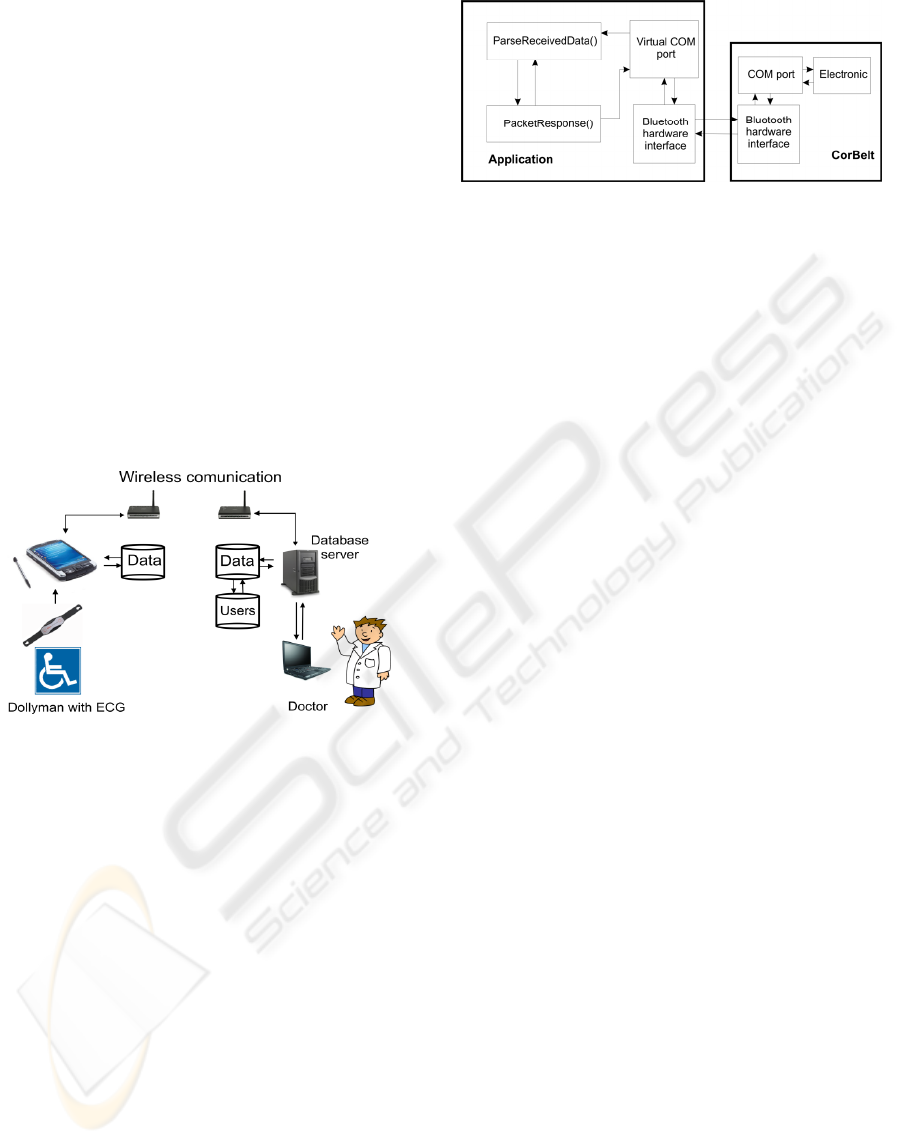 Artificial intelligence to notify the operator about
the critical state and its archiving.
Application in PDA, Embedded equipment is
comfortable, with minimum time - the first
configuration, but also configuration after downfall
of application. The level of visualization will be
lower. The described system can be used with small
modifications for monitoring of patients in hospitals
or people working in extremely hard conditions. The
biggest limitation is the availability of measuring
devices in acceptable and adaptable sizes or
comfortable enough to have one around.
The measuring device (ECG, plethysmograph)
was tested in extreme conditions in a cryogen room
in Teplice (-136°C), where the final system will be
installed. Implementation of the data transmission
security was not solved. The whole system is
classified as "work in progress" system and it is in a
testing phase where we found
mistakes and repaired
them.
This system consists of several interconnected parts
that can communicate amo
ng themselves, so they
can approach their function. These parts are:
measuring sensor, PDA or embedded device, and
server for data processing and evaluation. Beside
these, the most important parts that are worth
mentioning are various kinds of accessories, such as
GPRS, WiFi, GSM, Bluetooth or GPS modules. By
means of them we can communicate. We mostly use
the fastest technology in signal coverage.
Data acquisition and data transmission are the
most important parts of this system. The
Responsible for correct work
ing are: correct sensor
configuration, sensor ca
libration, data transfer
synchronization, and mutual communication
between sensors and data receiver.
Figure 2: Bluetoot
h communication.
The system can display saved data from a database
file. The doctor can configure or set a neurone
network. A change of that is shown in the XML file
enshrining, where the neurone network setting of the
patient is kept.
The doctor receives information about
worsening of patient's status. In case of doctor's
reaction, he sends for an expert assistance, such as a
helicopter or an ambulance. In case of false alarm,
he can configure a neurone network or leave it
unchanged if that was a sporadic incorrect
interpretation.
The patient can browse data concerning his
health status. Measured data is sent to server by
WEB service.
Client's data are not only received but also
preprocessed (data checking,
risk eliminat

ion etc.).
Measured data is saved. A
nd now, it is possible to
analyze the data using a neurone network. If the
analysis shows that the measured data from ECG is
critical, a warning is sent. That notifies a doctor of
incoming data.
2.1 Mobile Part
The main part of the whole system is an Embedded
or PDA device. The difference in applications for
measurement units is the possibility to visualize the
measured data in both Real-time Graph and
Historical Trend Graph, which can be omitted on an
embedded device.
PDA is a much better choice for Personal
Healthcare, where the patient
is already healthy and
needs to review his condition, or for multiple person
usage. Embedded devices can be designed for one
user, with the option to use an external display used
for settings or with the possibility of usage in
extreme conditions.
The application is communicating with an ECG
Measurement Unit (Corbelt or Blue Keg) through a
virtual serial port using wireless Bluetooth
technology. Then, after pushing a button, all
necessary parameters are set and the communication
may begin. Measured data is stored on a SD
Figure 1: Measurement schema.
PERSONAL TELEMETRIC SYSTEM – GUARDIAN
171