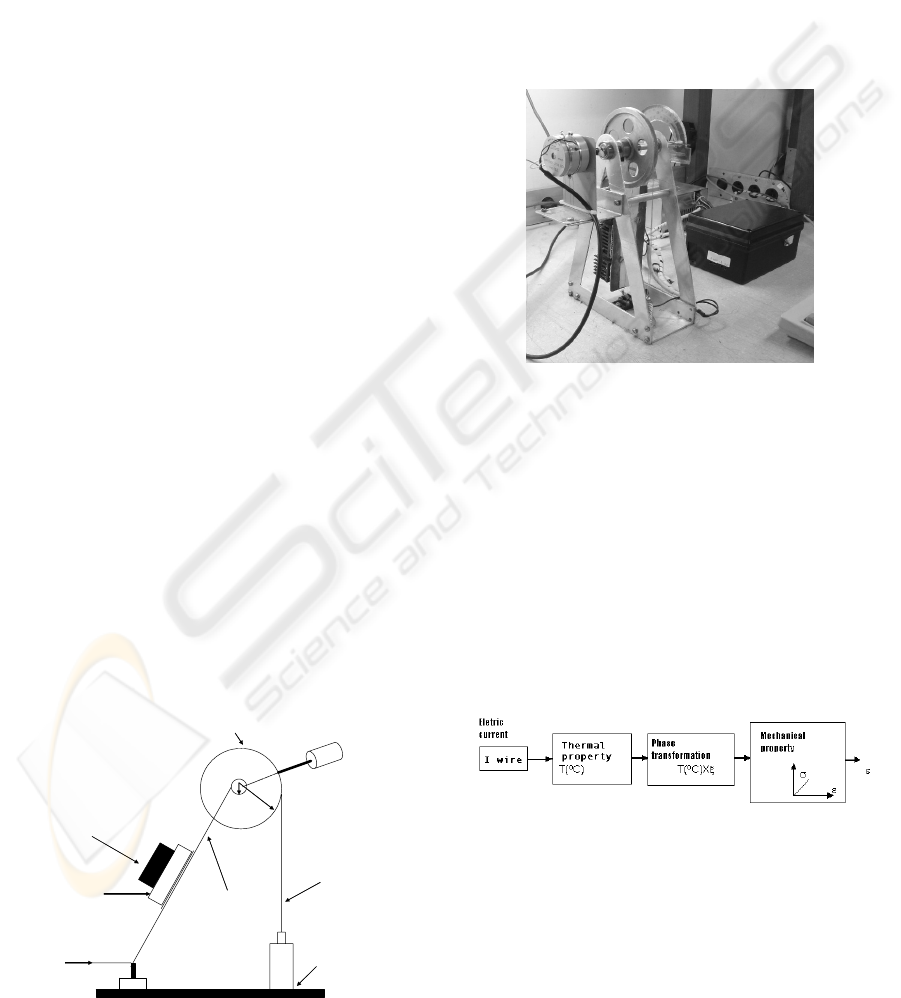 system guarantees that water flows only when wire
must be cooled. The dynamic response of the
actuator is expressively better, and the power
consumption is also accepta
ble.In order to increase
the dynamic characteristics of SMA actuators,
keeping a simple mechanic
al and electrical design,
the present work proposes a novel cooling system
based on thermoelectric effect (Seebeck-Peltier
effect). A complete mathematical model of the
actuator is derived and an experimental prototype is
used to validate the model and identify all
parameters. A sliding-mode control is also derived
and some preliminarily results of its application in
the experimental system ar
e obtained and discussed.
2 EXPERIMENTAL SET-UP
An experimental prototype of the SMA actuator,
cooled by a thermoelectric
element, was built. It was
used to validate the mathematical model and to
evaluate the control algorithm. Figure 1 shows a
simple scheme of the act
uator. The thermoelectric
tablet is assembled in a heat sink and a small blower
is also used to dissipate the heat. The SMA wire is
attached to the structure, by means of an electric
connector C1. The other end of the wire is attached
to the intern pulley (radius r1=0.45cm). A 40g load
is supported by a wire connected to the external
pulley (r2=4.5cm). The length of the SMA wire is
15cm, and its typical 4.0% deformation is amplified
by a factor 10. So, it is e
xpected a 6cm elevation of
the load, which is equivalent to a 76
0
pulley rotation.
Such rotation is measured by a potentiometer
directly attached to the pulley axis.
Figure 2 shows a picture of the actuator. The signal
conditioning module is composed by a constant
current amplifier that supplies up to 1A the electric
current to heat the SMA wire and by a voltage
amplifier/filter connected to the potentiometer.
Load
Common wire
Potentiometer
Pulley
SMA
wire
+5V
Current input
C
1
Thermoelectric
tablet
r
2
r
1
Figure 1: Diagram of the SMA actuator.
The module is connected to a computer (Pentium
100MHz) by mean of a 10bits AD/DA board. The
thermoelectric tablet is co
nstantly powered by a 5V
tension.
A Matlab/Simulink software was used to acquire and
process the data from the potentiometer, and to send
the command to the current
that must be imposed to
the SMA wire. Such software is flexible, and several
control algorithms can be easily implemented.
Furthermore, all graphical
and mathematical tools
provided by Matlab/Simulink can be used. The
interface with AD/DA board was developed by
means of a low-level code included in the software.
Figure 2: Picture of the actuator.
The model developed in the present work is based
on the formulations proposed by Ikuta, Tsukamoto
and Hirose (1991); Grant, Hayward and Lu (1997);
Ashrafiuon and Elahinia (2002), Hoder, Vasina and
Solc (2003) and Dutta and Ghorbel (2005). It is
composed by a thermal model, a phase
transformation model and a description of the
mechanical properties and
dynamics of the system
(Figure 3).
Figure 3: SMA actuator model.
The main variables used in the model are:
i
– electric current in the SMA wire (A)
T
– SMA wire temperature (ºC)
ξ
- martensite fraction (0 a 100%)
σ
- mechanical stress in the SMA wire (N/m
2
)
ε
- deformation (strain) of the SMA wire (
Δ

L/L)
BIODEVICES 2008 - International Conference on Biomedical Electronics and Devices
56