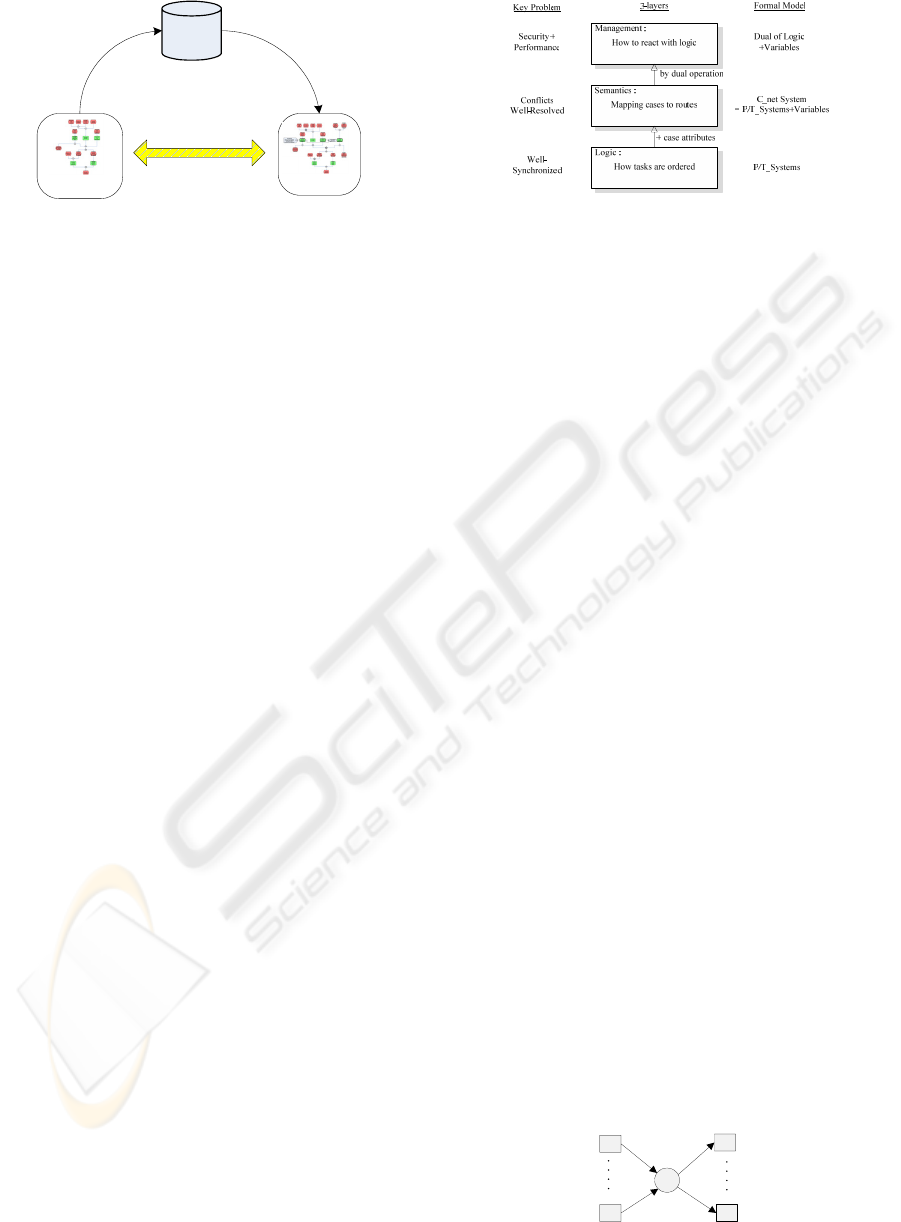 Workflow
log
Predefined
model
Discovered
model
Delta analysis
Figure 2: Delta analysis.
For large processes it may be difficult to
compare the predefined mo
dels and the discovered
ones. There are many ways to highlight differences
between two models in a graphical fashion.
However, most of such approaches will consider
simple "node mapping techniques" rather than
compare differences in beha
viour, i.e., the focus is
on syntactical differences rather than semantic
differences (Aalst et al, 2005).
In this paper, we propose a folding approach to
highlight the discrepancies between the discovered
models and the predefine ones, using reduction rules
in Syn-net (Yuan, 2005).
The remainder of this paper is organized as
follows. Section 2 introduces the Syn-net, which is a
synchronization based workflow process model. In
section 3, we introduce process mining to discover a
process model in Syn-net from event logs, and then
present the reduction rules of
Syn-net, as well as the
folding approach applying the reduction rules. In
section 4, we conclude the paper and list the future
work.
2 THE SYN-NET
Firstly, let we have a brief introduction to the Syn-
net. Here we just explain some most important
points of the model. The details of Syn-net are
explained rationally in the work of Yuan (2005).
Readers can refer to it for more information.
Syn-net is a new workflow model based on Petri-
net, with the conceptual foundation synchronizer and
suggesting a three-layer perspective of workflow
process. In Syn-net, a workflow is defined as the
formal description of a business process, including
workflow logic that describes dependences between
tasks and workflow semantics added on the logic to
describe obvious contents, as well as workflow
management to check finished tasks according to the
workflow logic and start the next task or, to select
and start the next task according to the workflow
semantics.
Figure 3: Three layer workflow model.
Workflow logic plays a decisive role in
workflow. In general, workflow logic specifies how
tasks of a business process are ordered and
disordered, i.e. how they are synchronized. The
order is derived from the causal dependences among
tasks and from organizational regulations. Besides, it
covers all possible routes for all possible cases
allowed by the business in question, i.e. it is case
irrelevant. So it is not concerned with case attributes
needed to make decisions on selective routings.
Such attributes will be introduced into the logic to
form workflow semantics. Furthermore, a task can
be executed at most once for each run of the logic.
So, iterative routing should not appear as a logic
feature. The passing of control from task to task is to
be done automatically by workflow engine since
control passing involves resource assignment to
tasks. The duty of a task is confined to the business
itself, not including business management.
The order relation among tasks is defined as
follows:
Definition 1 Order Relations among Tasks
All tasks in
TASK
are ordered by the nature of
the related business process. So we have a relation <,
TASKTASK
⊆
.
And we have a sub-relation <· of < : <·
⊆
< and
·
⇒
.
<· is the next relation among tasks. For (
T
1
2
)
2
2
,
2
is
1
. We will define workflow logic
1
2
1
2
, are
synchronized.
The synchronizer is the central concern of
workflow logic. A place p
with a local structure like
in figure
4
is called a synchronizer of pattern (
a
1
2
)
1
2
or simply a synchronizer. We
1
2
1
,
a
2)). All places except start and
end places are synchronizers in Syn-net.
p
t
21
t
2m2
t
11
t
1m1
a
2
a
2
a
1
a
1
Figure 4: Synchronizer.
A NEW APPROACH FOR WORKFLOW PROCESS DELTA ANALYSIS BASED ON SYN-NET
481