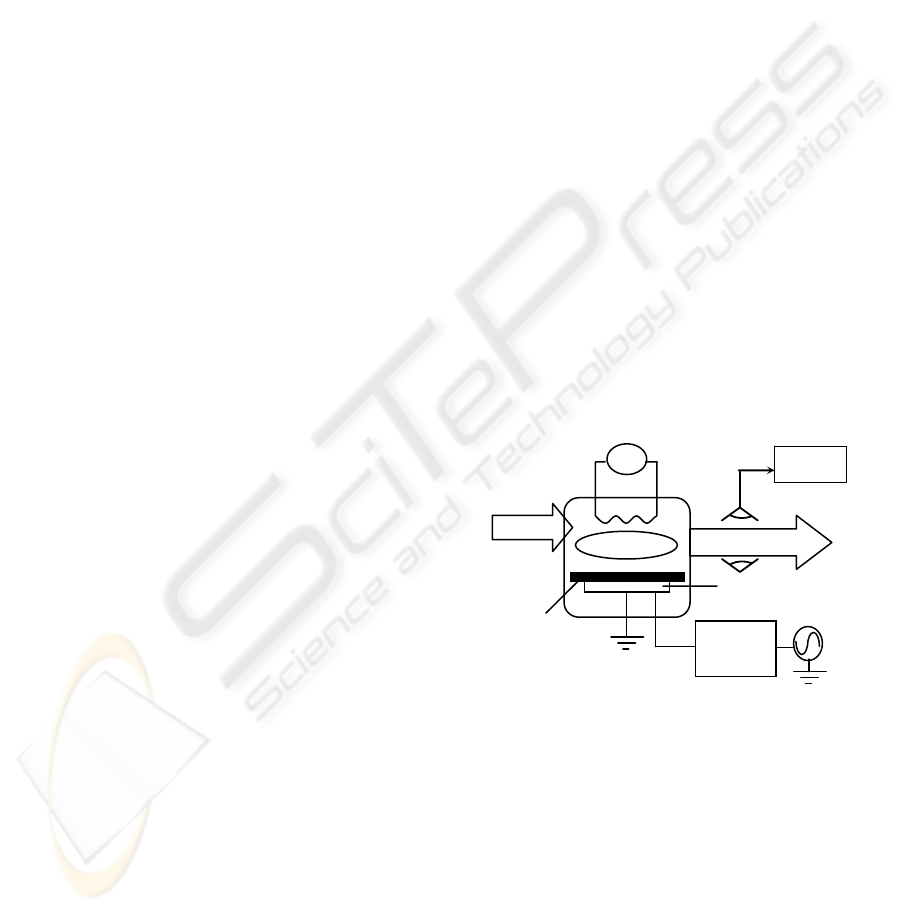 TRACKING PLASMA ETCH PROCESS VARIATIONS USING
PRINCIPAL COMPONENT ANALYSIS OF OES DATA
Beibei Ma, Seán McLoone and John Ringwood
Department of Electronic Engineering, National University of
Ireland Maynooth, Maynooth, Ireland
Keywords: Semiconductor manufacturing,
plasma etching, metal etching, opt

ical emission spectroscopy (OES),
principal component analysis
(PCA), batch processing.
Abstract:
This paper explores the application of principal
component analysis (PCA) to th

e monitoring of within-lot
and between-lot plasma variations
that occur in a plasma etch

ing chamber used in semiconductor
manufacturing, as observed through Optical Emission Spec
troscopy (OES) analysis

of the chamber exhaust.
Using PCA, patterns that are difficult to identify in
the 2048-dimension OES data are condensed into a
small number of principle components (PCs). It is shown, with the aid of
experimental data, that by simply
tracking changes in the directions of these PCs both inter-lot and intra-lot patterns can be identified.
1 INTRODUCTION
Modern day semiconductor manufacturing is a
highly competitive busine
ss in which companies are
required to produce vast quantities of reliable high
performance integrated circu
its (ICs) at low cost. As
such, close monitoring and tight control of hundreds
of complex process steps are needed to maintain
production standards and high product throughput.
In this context we focus on plasma etching of
semiconductor wafers, an important process step in
the manufacture of many IC
s (Sugawara, 1998). A
typical reaction ion etching (RIE) chamber is
illustrated in Fig. 1. Gas is pumped into the chamber
under vacuum and ionised using a high power
Microwave (MF) source to create a plasma. A radio
frequency (RF) electromagnetic field accelerates the
resulting ionised species towards the electrode,
where they interact both
chemically and physically
with the wafer, etching away the exposed surface.
The etch rate and profile obtained are determined in
a complex and nonlinear fashion by the plasma
chemistry and energy as well as several process
variables including gas flow rates and RF power.
Monitoring the chemistry of the plasma in the
chamber can be achieved
using Optical Emission
Spectroscopy (OES) (Splichal
et al.
, 1987)

.

In the
plasma chamber considered in this study the OES
data is collected for the exhaust plasma leaving the
chamber using a 2048 wavelength OES sensor
(170nm to 875nm) with a sampling interval of 0.75s.
Using this setup OES data was collected for 17 lots
of 24 wafers, with each waver undergoing a two step
etch process lasting 45s. A sample OES data set for
a single wafer is shown in Fig. 2.
Exhaust
MF
Plasma
BCl
3
, Cl
2
Wafer
Electrode
RF
Match
box
OES
Figure 1: Diagram of a plasma etching chamber.
With the OES footprint of each wafer having
dimensions of 60
2048, direct visualisation and
monitoring of variations in the plasma chemistry
across wafers and across lots is impractical.
Fortunately, optical emissi
on spectra are inherently
highly redundant making it possible to achieve
substantial data compression using Principle
Component Analysis (PCA) techniques without
loosing valuable information on plasma changes. In
this paper we show that simply monitoring changes
361
Ma
B.,
McLoone
S.
and
Ringwood
J.
(2007).
TRACKING
PLASMA
ETCH
PROCESS
VARIATIONS
USING
PRINCIPAL
COMPONENT
ANALYSIS
OF
OES
DATA.
In
Proceedings

of

the

Fourth

International

Conference

on

Informatics

in

Control,

Automation

and

Robotics
,
pages
361-364
DOI:
10.5220/0001629303610364
Copyright
c