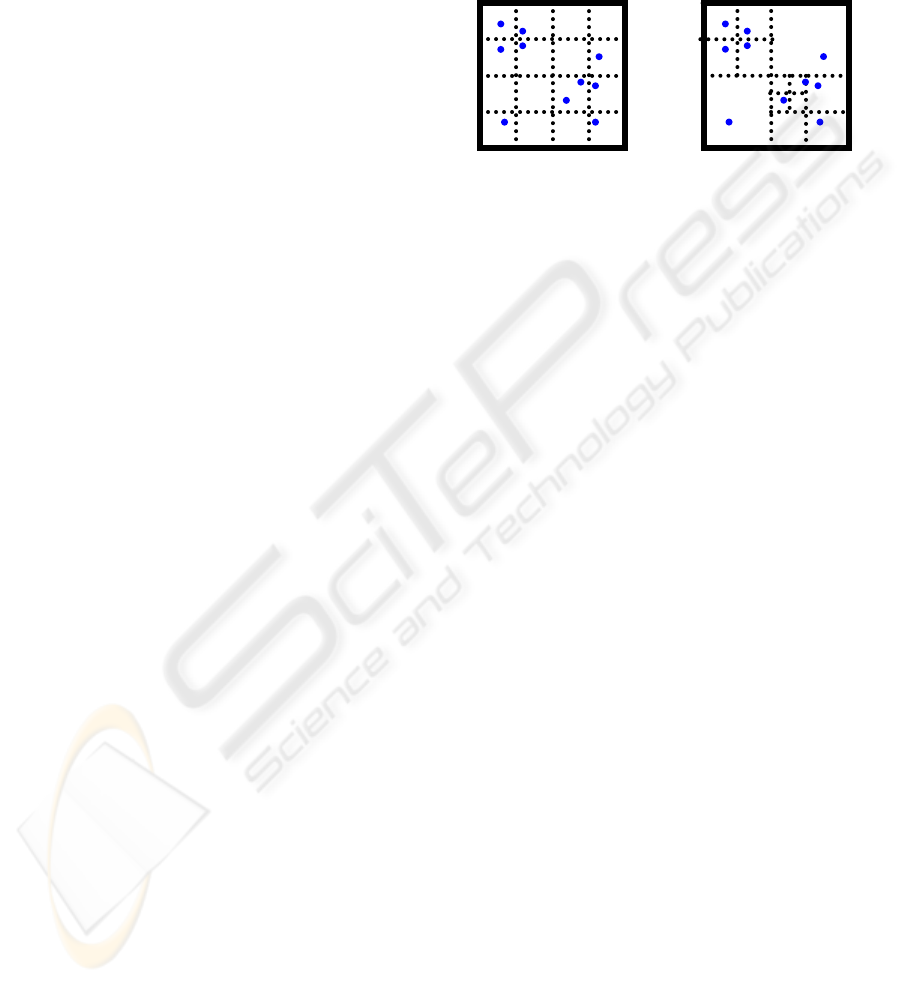 This is, however, still not satisfactory. The
reason is that the above complexity only holds for a
single AOI computation with static object positions.
In practice, however, we have a situation where the
objects are mobile, i.e., they change their positions
at any time. This implies th
at some objects leave our
AOI, while others may enter it. Subscription-
relations to objects within out AOI only provide us
with position updates of those objects that we are
already monitoring. So we
can determine if an object
leaves the AOI, but we will not know if another
objects moves towards us. Even worse, we may (and
in general will) move ourselves towards other
objects that are not in our AOI yet and hence are not
monitored by us. As a result, dynamic changes of
object positions will soon make the AOI outdated.
As a consequence we had to re-compute the AOI
in regular intervals in order to update it. The
dynamic behaviour of the objects thus forces us to
execute the above described algorithm over and over
again. Since it is a global algorithm this not only
takes the computation time but – in case of
distributed services – also the time for the all-to-all
communication scheme wasting a lot of bandwidth.
But even if we ignored the above described
computational and communication efficiency
problems of the algorithm and simply re-computed
the AOI in very short time intervals we still would
have the problem that we do not know if and when
the AOI becomes outdated due to un-monitored
objects entering our AOI without notice.
4 REGION SERVICES
The reason why the above approach is so inefficient
is that we repeatedly check the positions of all
available objects within the grid, while there are in
practice only a few objects relevant for our area of
interest, their number being in general much less
than
N
, i.e., the total number of objects. In the naïve
implementation we therefore filter out objects
according to their position
from the full object set
rather than just checking if there exist any objects
with a specific position (in our surrounding) and
combining these small sub-sets directly.
4.1 Concept
Approaches in multi-cast communication schemes
(Carzaniga, Rosenblum & Wolf, 2001; Carzaniga,
Rutherford & Wolf, 2004; Sebé & Domingo-Ferrer,
2007) lead us to the idea of a region service. Such a
service defines a certain geographical region of the
world and contains a list
of all objects that are
located within this region.
Based on a C2IS software architecture consisting
of COP-services, we hence can extend this by a set
of region services, each of them being responsible
for a certain region. In its simplest form we can
divide the earth (or at leas
t our full operational area)
into regions of the same size (cf. Figure 2-(a)).
(a) Regular Regions (b) Hierarchical
Regions
Figure 2: Division of an area into (a) regular regions with
the same size each, and (b) hi
erarchically defined regions
based on a quad-tree division with different sizes but
containing approximately the
same number of objects.
In cellular radio networks such regions appear
naturally due to the limited range of radio
communication. A mobile user thus has connections
to only a few cells that determine the user's location
area. Location management here means paging and
location update (Chew, Yeo & Kuan, 2007).
However, in network-centr
ic operations the users
are connected via different
communication channels
which include radio networks, satellite connections
and fibre lines. In the global information grid, where
all objects are connected to, is the geographic
proximity in general not directly visible. Even if two
users are in direct neighbourhood of each other, they
may use different kinds of radio communication
devices due their affiliation to different
organisations or nations and hence do communicate
not directly with each othe
r via radio but via their
corresponding home organisations.
Moreover, the location of a user is actually not a
single position but potentially a larger area of its
effect range. We can thus do not directly use the
concepts used in (cellular) radio networks for
general command and control information systems.
We hence use directly the spatial position
information of an object (like its GPS position).
Figure 2-(a) shows the division of an area into
regular regions, each of them being of the same size.
In such a regular division the borders of each region
can be computed very easily and the test if a certain
position falls within a specific region can be done
very efficiently. (This computation of the affiliated
region to a certain position corresponds to the
paging
process in cellular radio networks.)
Each of the spatial objects can thus be added to
one of the region services in constant time. To detect
the objects within the area
of interest (AOI) for a
user, we now only have to request the objects from
LOCATION MANAGEMENT IN DISTRIBUTED, SERVICE-ORIENTED COMMAND AND CONTROL SYSTEMS
147