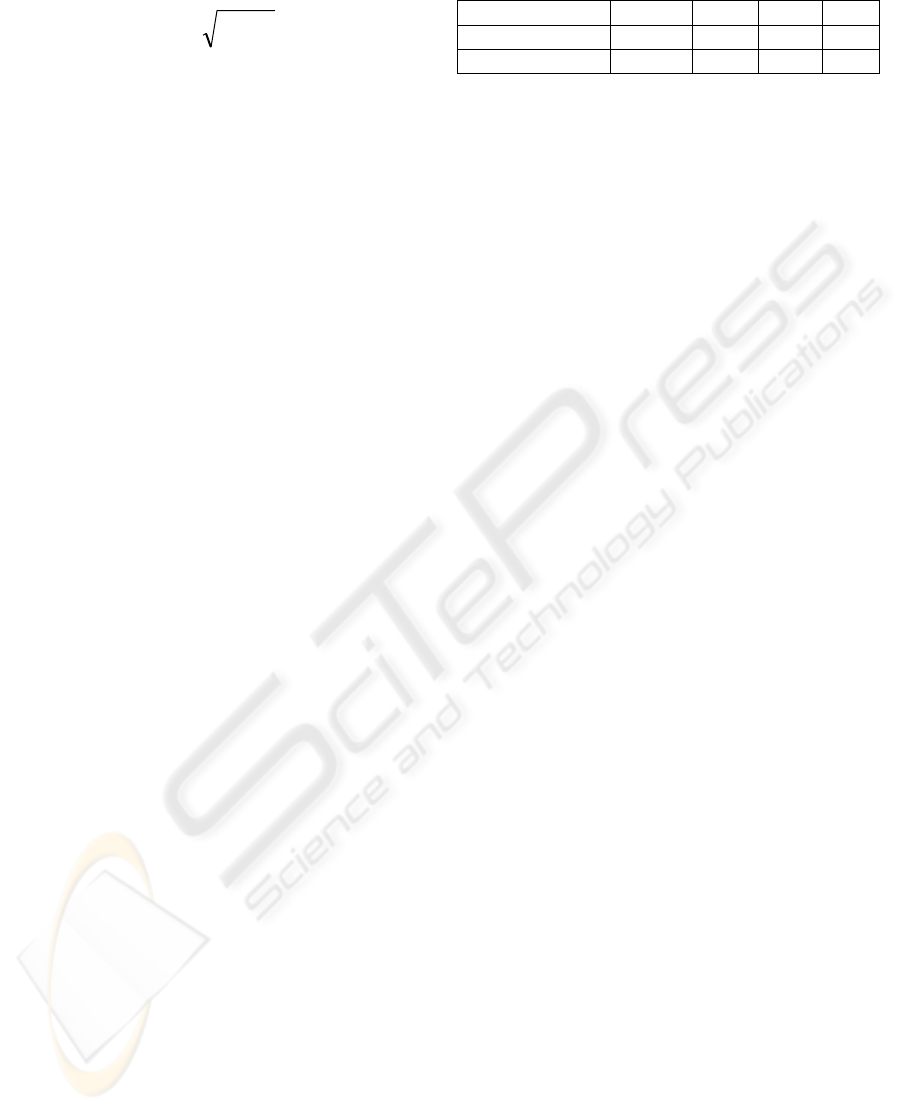 Penalty for Stability
=
(
)
nTtktt
Bj
jjj
//|'|
⎥
⎦
⎤
⎢
⎣
⎡
−+−
∑
∈
(2)
where
B
is the set of tasks that need to be
rescheduled. They are th
e tasks that remained
unprocessed in the initial sc
hedule and still need to
be processed under new circumstances.
n
is the
number of tasks in
B.

is the predicted start time
of task j in the new schedule.
is the predicted
start of job j in the initial schedule .
T
is the current
time.
j
t
j
The related objective function is shown in
Equation 3.
Stability = W4/penalty for stability
norm
(3)
Penalty for stability
norm
penalty for stability
by the maximum penalty for
stability in the population
The composite objective function for evaluating
a schedule considering efficiency and stability is
shown in Equation 4.
The objective function=
Efficiency *
W
e
+Stability * W
s
(4)
3.2
Stability and Efficiency Oriented
Re-scheduling by Applying GA
Genetic algorithms which belong to stochastic
search method have been widely used in many
optimization fields and also provide good solutions
in our previous research (Chang, 2001; Ge 2006). It
remains our optimization method of choice.
The principle that using
whatever encoding is the
most natural to your problem and then devising a
GA with that encoding has been widely accepted
unless there is more theoretical progress on GAs.
The genome here is an orthogonal 2D array with one
dimension for task, the other for employee. The
percent of an employee's labor that can be
committed to any give task was constrained to a
discrete set of values that are 0, 0.25, 0.5, 0.75 and
1.
Table 1 shows an example genome in which the
number of row i and column j represents the
commitment of Employee i to Task j. 0.25 means
Employee 1 is assigned 25% of his working hours
on Task 1.
Table 1: An example genome.
T1 T2 T3 T4
Employee1 0.25 0 1 0.5
Employee2 0.5 0.5 0 0
When rescheduling is necessary, tasks and
employees with changed profiles need to be updated
first. Then the GA scheduler sets the initial schedule
produced by preceding GA as the initial population
of the new GA which takes advantage of previous
result for the stability purpose. With the rows and
columns of new employees or new tasks, genetic
operator assigns each indivi
dual a specific value, for
example, 0.25. The initializer results in a population
that initially occupies only a small region of the total
solution space but, if the GA propagation parameters
are selected at all well, it will rapidly produce
populations containing individuals with high figures
of merit. Crossover operator is one-point crossover
on 2D array and element flip is used as mutation
operator.
Since genetic algorithms are non-deterministic,
factors as population size, generation number,
mutation probability and crossover probability not
only influence the time required to perform the GA
algorithm but also affect the quality of the result.
The parameters for the proposed GA scheduler are
determined after a set of test runs. The performance
is better when the population size is bigger. But
population size between 50 and 100 can still produce
good results. Crossover probability is chosen
between 0.4-0.8. Mutation probability is set
between 0.01 and 0.1.
4 CASE STUDIES
Several simulation based tests were conducted. The
settings for the GA are as follows: population size is
100, crossover probability is 0.4, and mutation
probability rate is set to 0.01.
One case consists of 18 tasks for which 10
employees were available. Table 1 shows task
properties. Employee properties are listed in Table 2.
ICSOFT 2007 - International Conference on Software and Data Technologies
164