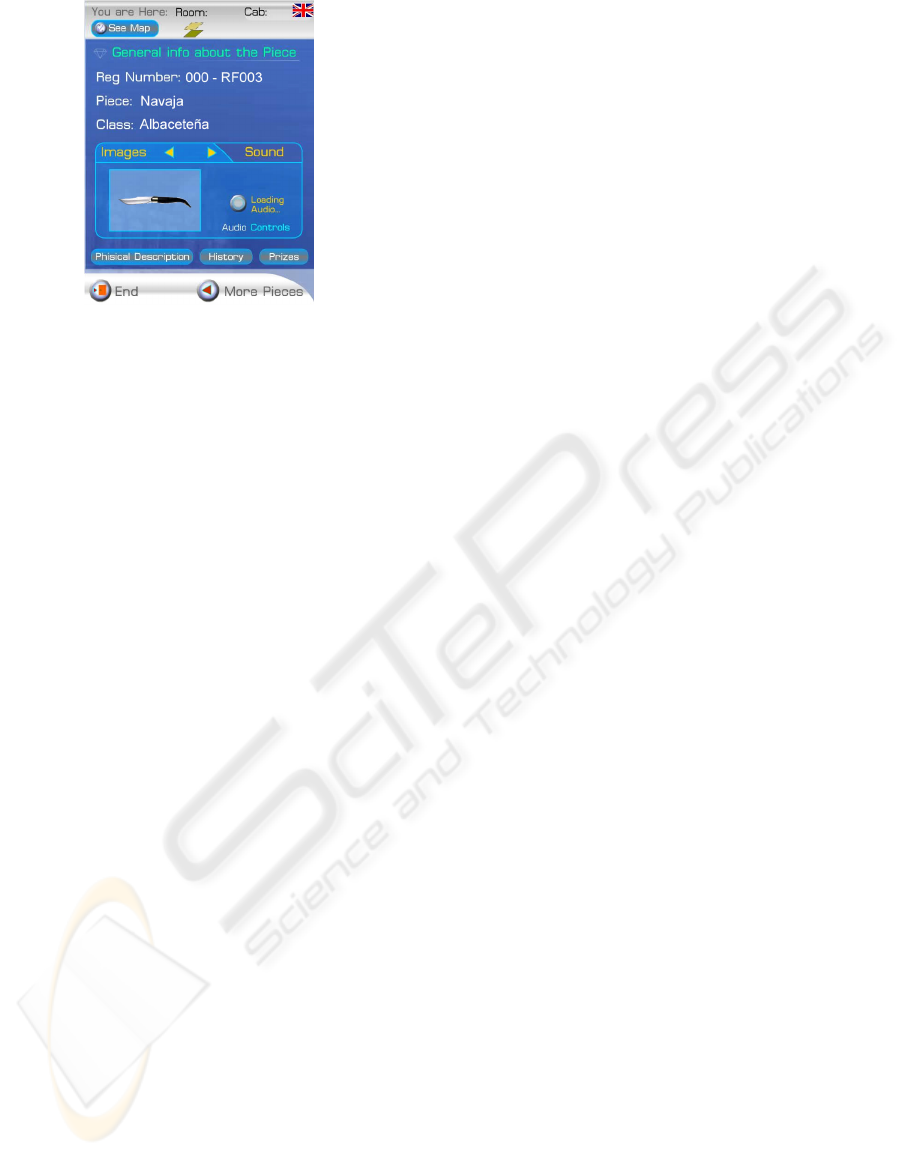 Figure 8: Piece screen.
INTERFACE
The system has been working for 18 months
approximately.
People were queried about the system and were
asked to express their feelings about MCA
application.To get general impression about user
satisfaction of MCA appli
cation a questionnaire was
prepared according to the CIF (Common Industry
Format for Usability Reports) standard defined by
the ISO/IEC DTR 9126-4. Details and results o of
the study were published on (Lozano et al., 2007).
Finally, to obtain more detailed information
about interface design and usability, we also
presented interface to at least five experts on HCI.
Next, common problems people faced using the
system will be exposed.
First issue users complained the use of stencil to
interact to application. The usage of stencil demands
the user to use both hands to manipulate PDA.
Visitors usually do not have both hands free (they
usually carry some bags).
Second, users do not have the possibility to go
back and forth while they are navigating across
exhibitions. Users usually comply about having to
turn the whole around to get the previous exhibition.
Third, people mentioned they usually get
confused about their position and orientation.
It was difficult to people to identify their
physical position on PDA map and vice versa.
Accessibility issues are really important on
applications that are part public spaces, as museums
for instance.
Although audio was available for users, they
were unable to note where such piece was placed.
Piece location is very important to contextualize it.
If a blind user is listening a description about the
knife, and he knows that this knife was placed on
XVII Century knives room, and user is aware of this
information, he/she may leave the room or not
according to his/her wishes.
As navigation is performed with stencil, blind
people need assistance to
manipulate the artefact.
Text is displayed on a fixed size, people that
have sight constraints, may have difficulties to read
textual information. To sum up problems to be
solved, and identify them explicitly, we composed
the following list:
1.
Usage of both hands to control PDA
2.
Navigation on one way only
3.
User orientation and position
4.
Accessibility problems
4 PROPOSED USER INTERFACE
To overcome with problems described on previous
section we applied HCI design patterns for SSA.
This section begins describing HCI design
patterns purpose and categories. Then a proposal of
user interface for the application is described and
patterns application is explained. Finally, problems
described in previous section are analyzed according
to resulting interface and results of evaluation are
exposed.
Based on Christopher Alexander idea of "pattern
language" as "nothing more than a precise way of
describing someone's experience of building"
(Alexander et al., 1977) (Alexander, 1979) applied
in architecture and the experience of defining design
patterns in computer science, firstly in programming
community (Gamma et al., 1993), later in HCI
(Tidwell, 1999) (Tidwell, 2005) (Van Welie, 2007)
(Borchers, 2001) (Van Duyn
e et al., 2002), etc.; a
pattern language for SSA was defined. SSA defines
an environment where patterns should be applied.
The pattern language was presented in (Tesoriero
et al., 2007) and it was divided into four categories.
Each category grouped design patterns that solved
related problems.
Orientation category introduces HCI patterns that
help users to get oriented into a physical space. They
improve virtual/physical sy
nchronization of space in
order to locate users into the space.
Design patterns on Guide category are used to
model routes or paths that users may follow. Paths
can be used to guide us
ers through ph

ysical space
based on user preferences.
APPLYING HCI DESIGN PATTERNS TO PDA APPLICATIONS ON ART MUSEUMS
493