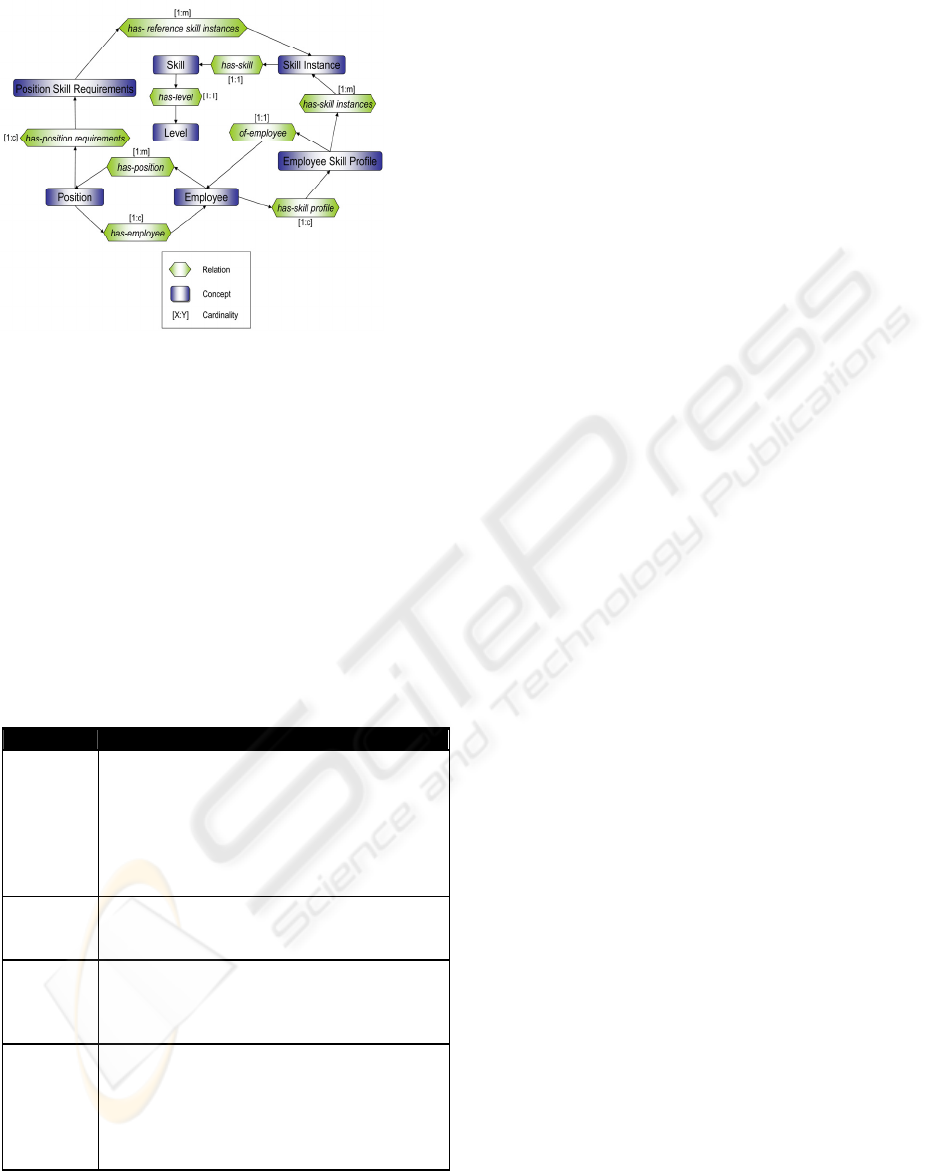 suited employees who fulfil the position skill
requirements as well as other constraints, such as
availability. For integrating project staffing into a
comprehensive HRM approach, we particularly need
the standardized skill catalogue which allows for a
unified semantic description of position skill
requirements and employee skill profiles, and a
skill-matching procedure. For addressing these
issues, we adopted the approach of (Hefke;
Stojanovi
ć
, 2004), introduced a comprehensive
ontology-based skill catalogue at DaimlerChrysler
plant Wörth / Rhine, as well as ontology-based
similarity measures for profile matching.
Table 1: Some Central Concepts of the Skill Ontology.
Skill
The ability to produce solutions in some
problem domain. In Enterprise Skill
Management, the identified, named, trainable
competence of some employee, often
required to perform a specific organizational
task (well), to fill a position, or to enact an
organizational role.
Weight
Achieved or required level of expertise
which indicates to which extent the given
competence is or shall be mastered.
Skill
instance
A skill together with a level of expertise
(e.g., "expert in C++ programming",
"beginner in English"). As a unit of reference
only needed for internal technical reasons.
Skill
Profile
A list of skill instances. As an
employee skill
profile
describing as-is situation regarding an
individual's personal qualifications, as
position skill requirements
describing
necessary qualifications to do a job
successfully.
3.1
Ontology Based Skill Modelling
In general, a
skill catalogue
contains skills relevant
for the company. In a
structured skill catalogue,
the
skills can be equipped with a weight, describing the
achieved level of expertise. In the DaimlerChrysler
Wörth case, about 700 single skills have been
modeled. For an employee, a personal
skill profile
lists his or her actual skills, together with weights for
the achieved level of expertise. A profile for
position
skill requirements
is a list of weighted skills which
are important for successfully doing the required
tasks in a given position (here the weight expresses
the relevance of having achieved the specified level
of expertise). Both profiles refer to the same, unified
vocabulary specified in the skill catalogue (cp.
Figure 2 and Table 1).
3.2
Project Staffing with Ontology
Based Similarity Measures
As an efficient and expres
sive data structure for
processing skill profiles, we use an ontology-based
approach (Staab; Studer, 2004) which stores,
manages, and compares profiles with the help of the
KAON (Mädche;
Motik; Stojanovi

ć

, 2003) ontology
management framework. For supporting the
selection of qualified employees, our "project
staffing" module is a web-
based tool which allows
to define project-specific position skill requirements
and – based upon those – gives dedicated project
staffing advice. To this end, decision-supporting
information is taken into account from sources such
as employee-skill profiles, job catalog, time
recording system, etc. Since a multitude of
perspectives must be fed into the complex employee
selection process, the matching procedure which
compares job profiles and potential candidates'
profiles should be capable of semantically assessing
the similarity of ontology instances. For realizing
such a candidate selection procedure, we employed
the similarity framework introduced in (Ehrig;
Haase; Stojanovi
ć

; Hefke, 2004). However, while
(Ehrig; Haase; Stojanovi
ć
; Hefke, 2004) focus on
text-dominated application areas (comparison of
vocabularies and terminologies), the comparison of
skill profiles requires more advanced combination
and expression means for similarity measures. So,
we extended the framework such that the user can be
provided with different
metrics for assessing a
candidates' suitability for a given job profile. Our
requirements analysis and analysis of existing HRM
systems showed that different similarity metrics for
Figure 2: Top-Level Structure of Skill Ontology
SIMILARITY MEASURES FOR SKILL-PROFILE MATCHING IN ENTERPRISE KNOWLEDGE MANAGEMENT
13