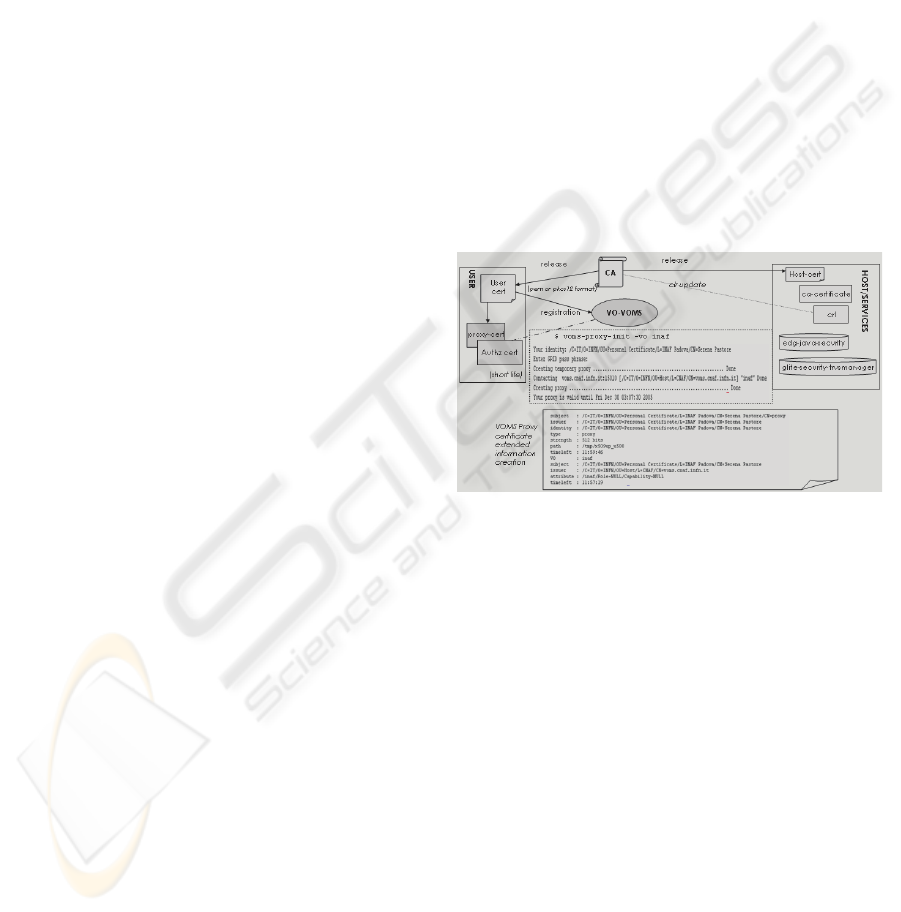 grid setting that is how to handle and combine the
overlay of polices imposed by different
organizations. A first method uses a global-to-local
identity mapping by a special authorization file
called
grid-mapfile
. A LDAP directory stores the
list of certificates corresp
onding to users affiliated to
VOs and this information is used to create a file that
contains mappings from the user identity to a local
user account (real or pool). The file, distributed in all
grid nodes and frequently updated, is checked
whenever a host receives
a request addressing a
service or resource that needs authorization. Other
solutions leave access control decisions to each
organization composing the system. An example is
the Virtual Organization Membership Service
(VOMS) method (Alfieri R. et al., 2005) for central
users management at VO level. The approach allows
to catalogue each users on
adhering on groups, roles
and capabilities mapping identities with roles.
Sharing web services application for a VO in a grid
site offers many integration advantages, but presents
security challenges: it should be only accessed by
identified users according se
curity policies locally
implemented. The paper looks at the strategy of
securing web services application to be shared in a
specific grid environment like the Italian INFN
production grid (http://grid-it.cnaf.infn.it). The case
study refers to apply control access rules to java web
services deployed as Web ARchive (WAR) file
whose security process makes use of software
developed in grid projects.
2 GRID TESTBED DESCRIPTION
AND WEB SERVICES
SECURITY CONCERNS
The reference grid infrastructure (http://grid-
it.cnaf.infn.it) consists of several VOs representing
different institutes: each
one contributes with
distributed grid nodes to provide resources and
services. The testbed is built on a specific grid
middleware (INFN-GRID) that gathers many
software developed in past and present grid projects
running on Linux platforms. Among these, Globus
Toolkit (GT) developed by Globus Alliance
(http://www.globus.org), EDG software of DataGrid
project (http://lcg.web.cern.ch/LCG/), LCG
middleware provided by CERN (http://eu-
datagrid.web.cern.ch/eu-datagrid/) and gLite toolkit
of EGEE project (http://glite.web.cern.ch) are the
mainly used. They implement many grid features by
means of modules installed on grid nodes. The
resulting architecture
(https://edms.cern.ch/document/439938/1) outlines
logical machine types specifically named to
represent single functionalities that VOs share in
grid. Each site contributes with at least Computing
Element (CE) that is a frontend node defined as a
batch queue system built on a homogenous a farm of
computing nodes (Worker Nodes) behind it and
Storage Element (SE) that provides uniform access
to storage spaces. Grid gateway allowing for
command line interface to grid operations is usually
the User Interface (UI) mach
ine even if grid portal
are also available. Sp
ecialized sites provide
management features like the information service
that keeps updated information about distributed
resources and the workload management system that
is responsible of match-making between best
resources and job requirements and the scheduling
and processing of the job itself. In this testbed both
users, hosts and services must possess valid
identities released by a trusted CA: the INFN
institute manages a CA organized in a set
Registration Authorities (RAs) to locally delegate
the identification.
The trusted CAs root certificates as well as the
certificate revocation lists
(CRLs) are available in
rpm formats and installed in grid machines (in the
/etc/grid-security
directory),where credentials
of grid entities that share servers or services are also
stored with the proper permissions. Grid credentials
are kept in a specific UI directory (the
directory) or in the browser. On demand services use
delegated credentials from either the system or user.
Identities are centrally managed by LDAP directory
or relational database: the VO structure (each user
registers to at least one VO) has brought to the
VOMS client-server system for users certificates
management and attributes-based authorization.
Digital certificates are used for authentication, but
also for single sign-on and delegation services: the
proxy mechanism en
able the creation, on behalf of
the client, of a short term proxy certificate that will
be used during a session for all subsequent
Figure 1: Distribution of grid entities certificates: creation
of a VOMS proxy certificate and information attached to
it.
AUTHORIZATION AND ACCESS CONTROL TO SECURE WEB SERVICES IN A GRID INFRASTRUCTURE
265