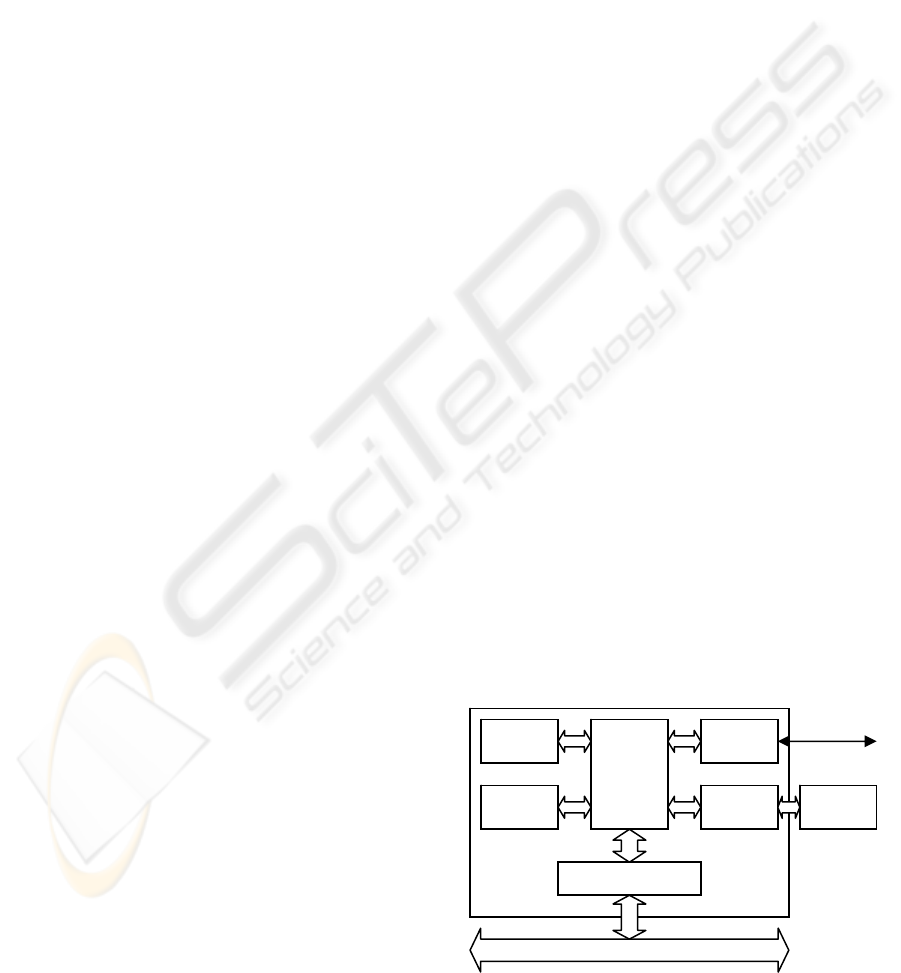 2.2
The Force Torque Sensor
Interface Card
The most recent hardware addition to the
Experimental Robot Controller is the six-component
force torque sensor. The se
nsor head is built between
the last joint of the robo
t and the end effecter. The
sensor is directly connected
to its electronics, the so
called MiniForce unit. The tasks of this unit are to
receive the signals from the strain gages, perform
decomposition and produce the results of the
measurement. There is a metal cage in the sensor
head and the voltage of multiple gages is measured
in order to provide the three components force and
torque. The MiniForce unit is attached to the base of
the manipulator. It contains the controlling
electronics of the sensor head and it performs the
analogue-digital conversion, digital signal filtering
and matrix compensation, eliminating the crosstalk
effects. In this configuration the effects of the
electrical noises are the minimal, in the
measurement system as well.
The MiniForce unit is connected through an
RS422 differential line to the force torque sensor
interface card. This is a PCI bus extension card
directly built in the central control computer (Hankó,
2004). This unit contains one additional (to the ARC
cards) Texas Instruments TMS320C32 digital signal
processor. The block scheme of this extension card
is shown in Figure 2. An additional CAN interface is
implemented on the sensor
interface card in order to
provide fast and direct
communication with the ARC
cards. This channel provides fast and direct
connection, avoiding the additional load on the host
processor (the Intel Celeron processor working on
the motherboard). This communication has limited
bandwidth, but it is enough for exchanging the most
important data.
In this section the whole software system of this
multiprocessor control system is presented. Starting
from the manipulator side, in the first line there are
the digital signal processors (DSPs).
3.1
The Software of the Extension
Cards
The manufacturer of this processor provides
assembler, optimizing ANSI C compiler and linker
for these devices. Every DSP environment is capable
to start automatically from the provided FLASH
memory. During the software development and test
phase the DSPs can be started from the connected
dual port RAMs by the host processor in the case of
the sensor interface card or by the communication
processor in the case of
the ARC cards. This dual
boot functionality is supported by the boot loader
integrated in the processor and can be configured by
jumpers on the corresponding extension card.
The next operational unit is the communication
processor with its environment on the ARC cards. In
the current version the i80386EX processors
perform only data relay between the host processor
and the joint processors (the DSPs on the ARC
cards). The necessary computational power is
provided by the other parts of the system. As
mentioned above, the host system runs QNX
operating system and there is ongoing development
for embedding the QNX into the communication
processors. In order to embed the QNX operating
system, some additional BIOS functionality must be
implemented. These are required for initializing the
environment and starting the Initial Program Loader
(IPL). The duty of IPL is to load the compressed
operating system image, decompressing it in the
memory, switching into protected mode and starting
the QNX. With the help of this environment there
will be hopefully more resources available, while the
efficiency of the communi
cation can be maintained.
3.2
The Software of the Central
Control Computer
The host computer is a fu
ll featured workstation.
Since the early times of this research and
development project the QNX
operating system is
used on the central computer. This operating system
is a real-time Unix-like one, developed especially
PCI
us
SRAM
Flash
DSP
CAN
interface
RS422
interface
Dual Port RAM
Miniforce
Sensor
interface
card
Figure 2: The force-torque sensor interface card.
ICINCO 2006 - ROBOTICS AND AUTOMATION
542