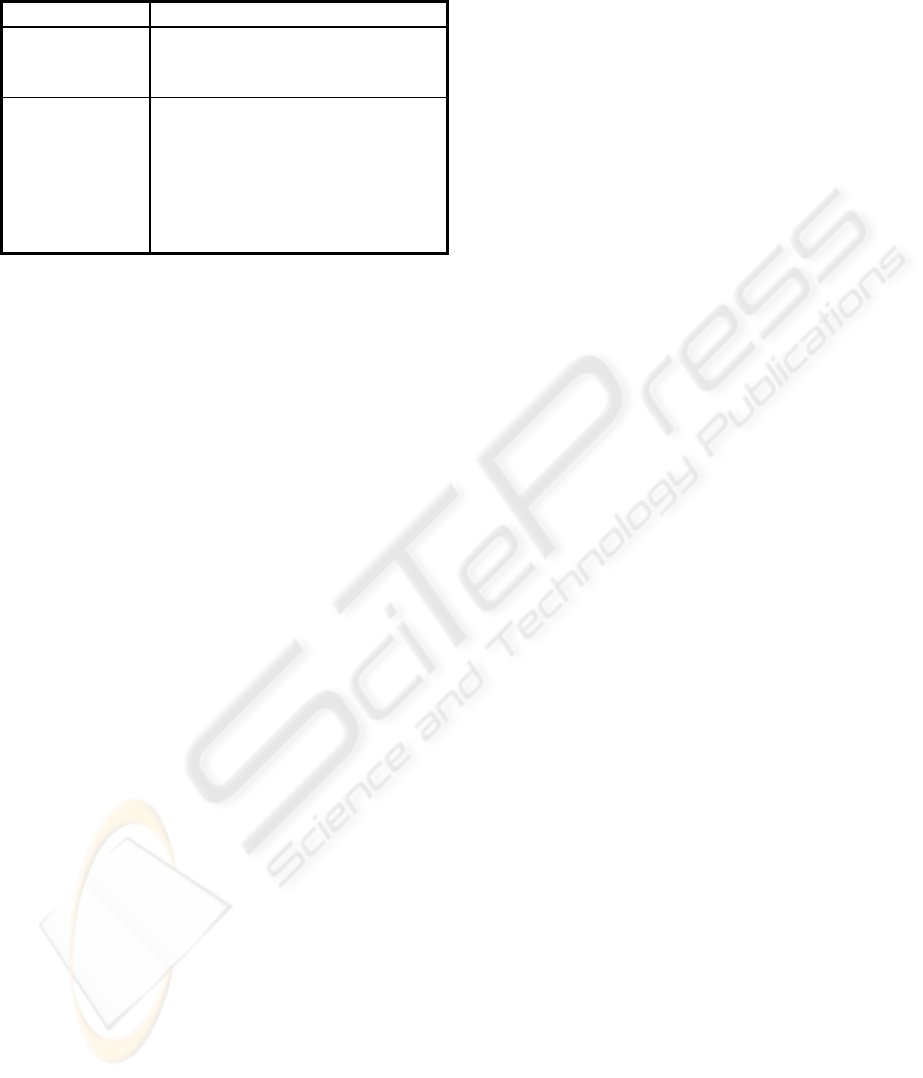 dmFSQL.
Table 2: Fuzzy Constants of dmFSQL
UNKOWN
UNDEFINED
NULL
Unknown value but the attribute is applicable
The attribute is not applicable or it is meaningless
Total ignorance: We know nothing about it
A
A
A
A
]
$label
[n, m]
#n
A
≤β
A
A
≤δ
A
): See Figure 1
Linguistic Label: It may be a trapezoid or a scalar
(defined in dmFMB)
Interval "Between n and m" (
α
A
A
=n and
γ
A
A
=m)
Fuzzy value "Approximately n" (
β
A
A
=n and n-
α
A
A
=margin)
2.1
Architecture of dmFSQL
In this section, we shall describe the first prototype
to be integrated in our approach. At present, we have
a dmFSQL Server available for Oracle© Databases,
mainly programmed in PL/SQL. The architecture of
the Fuzzy Relational Database with the dmFSQL
Server is made up by:
1.
Data: Traditional Database and data mining
Fuzzy Meta-knowledge Base (dmFMB).
2.1.1
Data: Traditional Database and dmFMB
The data can be classified in two categories:
-
Traditional Database

: They are data from our
relations with a special fo
rmat to store the fuzzy
attribute values. The fuzzy attributes are
classified by the system in 4 types:
- Fuzzy Attributes
Type 1

: These attributes
are totally crisp (traditional), but they have
some linguistic trapezoidal labels defined on
them, which allow us to make the query
conditions for these attributes more flexible.
Besides, we can use all constants in Table 2 in
the query conditions with these fuzzy
attributes.
- Fuzzy Attributes
Type 2

: These attributes
admit crisp data as well as possibility
distributions over an ordered underlying
domain. With these attributes, we can store and
use all the constants we see in Table 2.
- Fuzzy Attributes
Type 3

: These attributes
have not an ordered underlying domain. On
these attributes, some labels are defined and on
these labels, a similarity relation has yet to be
defined. With these attributes, we can only use
the fuzzy comparator FEQ, as they have no
relation of order. Obviously, we cannot store or
use the constants fuzzy trapezoid, interval and
approximate value of Table 2.
- Attributes
Type 4

: There are different kinds
of data in a database used in diverse
applications (relational data, objects, hypertext,
XML, etc.) therefore, it would be desirable that
a Data Mining system would carry out its work
in an effective way. In order to manage these
data we have defined these attributes. It is a
generic type (fuzzy or crisp), which admits
some fuzzy treatment. We permitted this
attribute is formed by
more than a column of
the table (complex attri
butes). Therefore, with
attributes Type 4 is possible to redefine the
attributes Type 1, 2 and 3 using other
representations (by example, alternative
representation to the fu
zzy trapezoid) or fuzzy
comparators. With these attributes, we can
store and use the constants linguistic label in
Table 2.
-
data mining Fuzzy Meta-knowledge Base
(dmFMB): It stores info
rmation about the Fuzzy
Relational Database in a relational format. It
stores attributes whic
h admit fuzzy treatment
and it will store different information for each
one of them, depending on their type:
- Fuzzy Attributes
Type 1

: In order to use
crisp attributes in flexible queries we will only
have to declare them as being a fuzzy attribute
Type
1 and store the following data in the dmFMB:
Trapezoidal linguistic labels: Name of the label
A
A
A
A
values (as in Figure 1).
Value for the margin of the approximate values
(see Table 1). Minimum distance in order to
consider two values very separated (used in
comparators MGT/NMGT and MLT/NMLT).
- Fuzzy Attributes
Type 2:

As well, as
declare them as being a fuzzy attribute Type 2,
these attributes have to store the same data in
the
dmFMB as the fuzzy attributes Type 1.
- Fuzzy Attributes
Type 3:

They store in the
dmFMB their linguistic labels, the similarity
degree amongst themselves and the
compatibility between attributes of this type,
i.e., the attributes that use the same labels and
that can be compared amongst them.
-
Attributes
Type 4:

The dmFMB stores
information for the fuzzy treatment of the
attributes Type 4:
-
Fuzzy Comparison Functions

: The
user can define the functions of comparison
(Table 1) for the treatment of each attribute
of Type 4. The format is:
CDEG (A fcomp
B) -> [0,1]
with
CDEG

the compatibility
degrees,
A, B

two attributes or linguistic
USING dmFSQL FOR FINANCIAL CLUSTERING
137