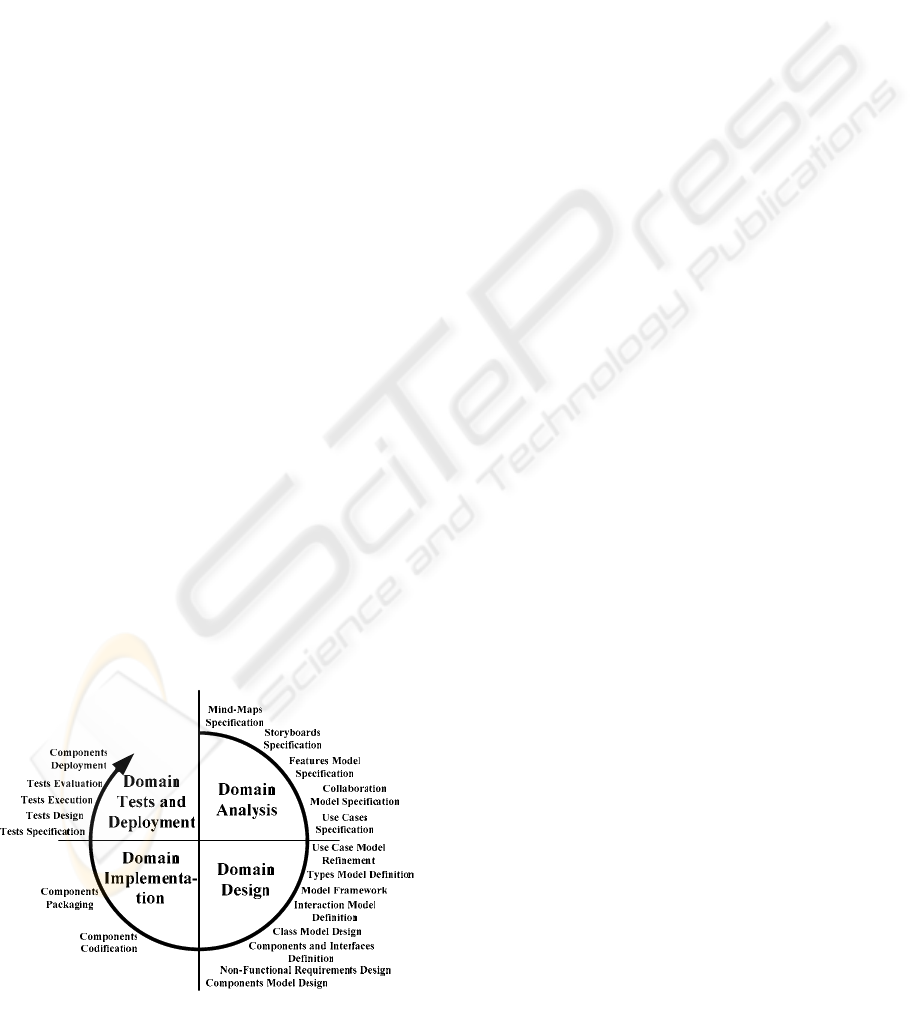 (Mylopoulos, et. al., 1992), increasing quality and
reducing time and costs.
In this context, motivated by ideas of reuse, CBD,
NFRs and AOP, this work proposes and evaluates
Aspect IPM, an Incremental Process Model based on
AOP for Component-Based Systems.
2 ASPECT IPM
In order to enable CBD with aspect-oriented support
for NFRs, an Incremental Process Model (Aspect
IPM) was defined. An overview of this process
model can be found in (Alvaro, et al., 2004).
The Aspect IPM is divided in two activities. In
the first activity,
Domain Engineering (DE)
, the
problem domain requirements are identified and
organized in a series of reusable information.
Software components are specified, designed –
including the NFRs design, which were performed
through aspect-oriented NFRs framework support –
and tested, being then stored into a repository. In the
next activity,
Component Based Development
(CBD),
the software engineer may build applications
that reuse these components, consulting the
repository to find and reuse them. Still, the aspect-
oriented NFRs framework aids the software engineer
in the application development.
2.1 Domain Engineering (DE)
Domain Engineering (DE) has been one of the most
used approaches to enable reuse-based development
(Griss, et al., 1998). It involves the identification and
development of reusable assets within an application
or a domain (Griss, 1997).
The software development based on DE allows
the production of applica
tions through accumulated
knowledge (i.e. activity of collecting, organizing,
and storing past experience in building systems) in a
particular domain, as well as providing an adequate
means of reusing these assets (i.e. retrieval,
dissemination, adaptation, assembly, and so on)
when building new systems (Jacobson, et al., 1997).
In Aspect IPM, the Domain Engineering is
performed in four phases: Domain Analysis, Domain
Design, Domain Implementation and Domain Tests
and Deployment, according to Figure 1. Each phase
contains some steps that aid the Software Engineer
in the DE. A detailed description of each phase of
the Domain Engineering activity is presented next.
2.1.1 Domain Analysis
In this first phase, emphasis is placed on
understanding the problem domain and specifying
"
what
" the components must do to solve the
problem. All the possible information, including any
kind of textual specifications, such as informal
requirements descriptions and interviews
transcriptions, is identified and organized to become
more reusable in new developments (Prieto-Diaz,
1990), creating a well defi
ned reuse infra-structure
that allows the specification and the implementation
of applications inside a defined scope (Arango,
1988). As shown the Figure 1, some techniques and
models are used in this step in order to modeling, in
a high abstraction level, the domain problem.
2.1.2 Domain Design
In this second phase, the software engineer refines
the specifications from the
previous steps, aiming to
obtain the components specifications, but without
worrying with the implementation details. As shown
the Figure 1, some techniques and models are used
to improve the problem understanding, looking for a
solution for the problem.
Until this moment, the components with their
interfaces were specified and the components
contain only specificatio
ns about the functional
requirements. Next, the NFRs must be specified. To
facilitate this task, an Aspect-Oriented NFRs
Framework was constructed. Next, this framework is
2.1.2.1 Aspect-Oriented Non-Functional
Requirements Framework
Given the problems related to NFRs, described in
Section 1, an Aspect-Oriented NFRs Framework
was constructed for dealing with NFRs in the
software development process, reducing time and
costs, and helping to achieve the main quality
Figure 1: Domain Engineering Activity
ASPECT IPM: TOWARDS AN INCREMENTAL PROCESS MODEL BASED ON AOP FOR COMPONENT-BASED
SYSTEMS
227