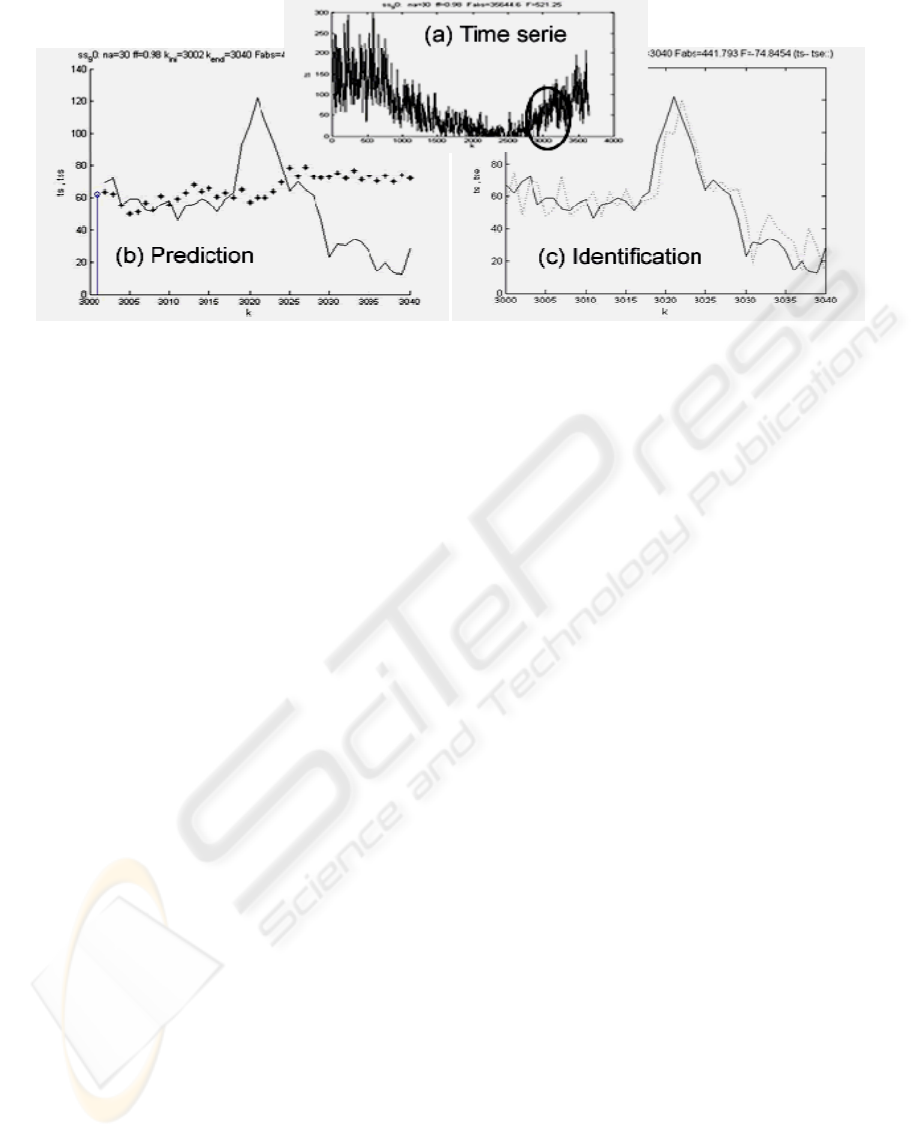 ten years each (for example, ss_20 compiles the
sunspots from 1/1/1920 to 31/12/1929), two series
(ss_00_40 and ss_50_90) covering 50 years each,
and finally one series (ss_00_90) that covers all
measurements of the 20th century.
2 SYSTEM IDENTIFICATION
BASED PREDICTION
The recursive identification can be used to predict
the following behaviour of the time series (Fig. 2a)
from the data observed up to the moment. It is well
known that SI allows finding, in sample time, a
mathematical model of a system in the k time from
which is possible to predict the system behaviour in
k+1, k+2 and so on. As identification advances in
the time, the predictions improve using more precise
models. If ks is the time until the model is elaborated
and from which we carry out the prediction, we can
confirm that this predictio
n will have a larger error
while we will be more far away from ks (Fig. 2b).
The predicted value for ks+1 corresponds with the
last estimated value until ks. When we have more
data, the model starts to be re-elaborated for
computing the new estimated values (Fig. 2c).
The main parameters of the identification are na y
λ
. Both parameters have influence on the precision
of prediction results, as it shows Fig. 3. As we can
see, to establish an adequate value of na and
λ
may
be critical in order to obtain a good prediction. By
this reason, in the strategy of optimizing the
prediction, we try, first
of all, to establish an
adequate dimension of the mathematical model for
finding the optimal
λ
value using an adaptive
algorithm.
In order to do that, many experiments have been
carried out. In these experiments, the absolute
difference between the real and predicted values has
been used in order to quantify the prediction
precision (see equation 2). So, in Fig. 4 the results of
many experiments are shown. In these experiments
different measures of the prediction error (for short
term DIFA1 and for long term DIFA50) for 200
different values of the model are obtained. In order
to establish reliable conclusions, these experiments
have been made for different ks values.
Figure 2: In (a) is displayed the ss_90 series. If ks=3000, we
can see in (b) the long-term

prediction based on the model
obtained up to ks (na=30 and
λ
=0.98). The prediction precision is reduced when we are far from ks. In (c) we can see the
predicted values for the successive ks+1 obtained from th
e updated models when the id

entification (and ks) advances
We use our own terminology for the prediction
error (DIFAX, where X is an integer) because like
this the reader can understand more easily the degree
of accuracy that we are measuring.
Provisionally we conclude that the increase of na
does not imply an improvement of the prediction
precision (however a consid
erable increase of the
computational cost is spent). This is easily verified
using large ks values (the elaborated models have
more information related to the time series) and
long-term predictions. From these results and as
trade-off between prediction and computational cost,
we have chosen na=40 to establishing it as the model
size for the future experiments
SUNSPOT SERIES PREDICTION USING ADAPTIVE IDENTIFICATION
225