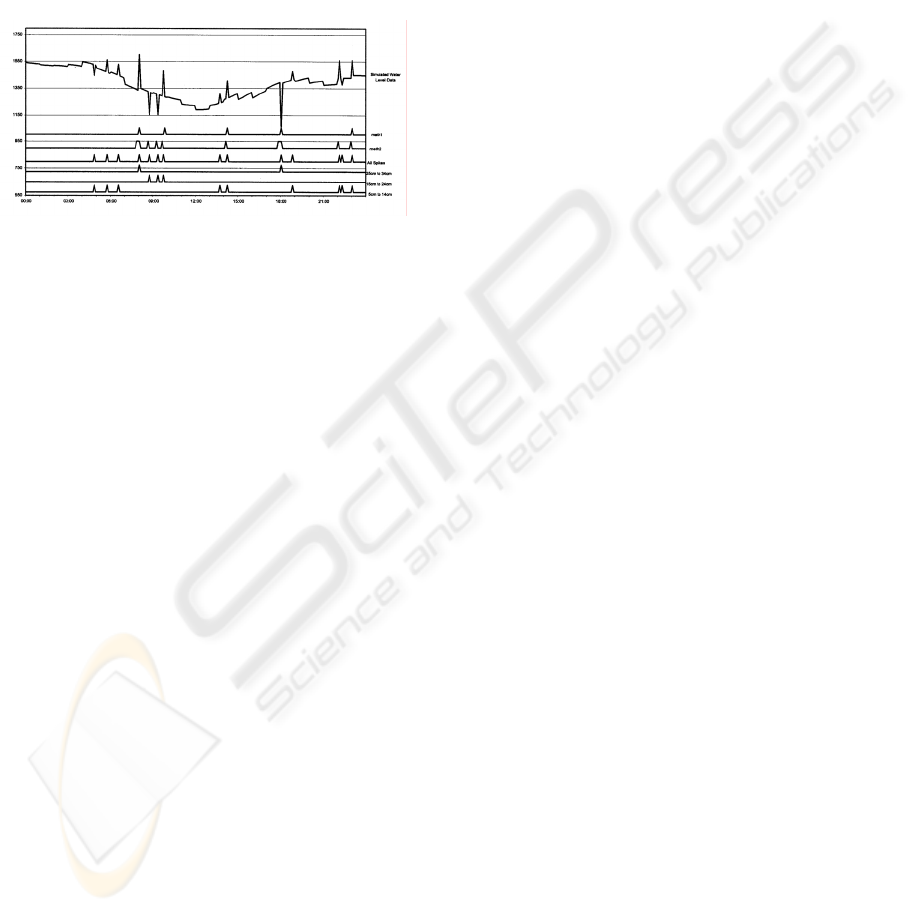 the major (99.46%) spikes and significant
(97.45%) spikes. It missed a large majority
(85.45%) of the small spikes. This method
detected nearly 7% more spikes 15 cm or greater
that the FIR method. However, this method falters
severely in its error rate. 70% of the spikes
detected by this method were incorrect. Although
this would result in only 1.6% of the data set being
falsely identified as a spike, we feel this is a
dangerously high error rate.
Figure 11: Simulated Water
Level Data for 24 Hour
Period
6 CONCLUSIONS
Two different software methods for detecting
spikes in water level data have been implemented.
The first of these makes use of a finite impulse
response filter. A data series is passed through the
filter forwards, then backwards; this process
minimizes values within the series that appear
normal with respect to the previous hour's values
while exacerbating values
that are not similar to
the previous hour's values. The remaining
significant values are then examined and the
largest value within each set of contiguous
significant values is labeled as a spike. The second
method deals with second differences of the data
series being examined. In this method, values that
are significantly larger than the second derivative
of the recorded data is labeled a spike. For our
purposes the FIR method outperforms the second
differences method.
ACKNOWLEDGEMENT
This project is partially supported by National
Aeronautics and Space Administration grant
NCC5-517.
REFERENCES
Artur Krukowski, Izzet Kale:
DSP System Design:
Complexity Reduced Iir Filter Implementation for
Practical Applications
, Kluwer Academic
Publishers, 2000.
Michaud, P., R.S. Dannelly, and G. Jeffress, C. Steidley,
"Real-Time Data Collection and the Texas Coastal
Ocean Observation Network", Proceedings of the
Emerging Technologies Conference of the
Instrumentation, Systems, and Automation
Conference, CD-ROM Session ETCON19,
September 2001.
Sen M. Kuo, Woon-Seng Gan:
Digital Signal
Processors: Architectures, Implementations, and
Applications
, Prentice Hall, 2001.
John Proakis, Dimitris Manolakis:
Digital Signal
Processing - Principles, Algorithms and
Applications
, Pearson, 2003.
Sadovski, Alexey, Carl Steidley, Aimee Mostella,
Phillipe Tissot, "Intergration of Regression and
Harmonic Analysis to Predict Water Levels in
Estuaries and Shallow Water of the Gulf of Mexico,"
WSEAS Transactions on Systems, pp. 2686-2693,
Vol. 3, Issue 8, October 2004.
Bowles, Zack, Alexey Sadovski,Phillipe Tissot, Scott
Duff, Patrick Michaud, Carl Steidley, "Engineered
training sets: enhancing the learning power of
artificial neural networks for water level forecasts",
Proceedings of XIV International Symposium on
Mathematical Methods App
lied to the Sciences, pp
30-31, San Jose, Costa Rica, February 2004.
Sadovski, Alexey L., Phillipe
Tissot, Gary Jeffress, Carl
Steidley, "Neural Network and Statistics-Based
Systems for Predictions in Coastal Studies",
Intelligent Engineering Systems Through Artificial
Neural Networks, Volume 1, 3, pp 689-694, ASME
Press, New York, 2003.
Steidley, C., A. Sadovsky, R.
Bachnak, and K. Torres,
"Modeling Methods for Coastal Environmental
Studies," Proc. 19th International Conference on
Computer Applications
and Their Applications
(CATA 2004), pp. 59-64, March18-20, 2004,
Seattle, WA.
APPLYING SIGNAL PROCESSING TECHNIQUES TO WATER LEVEL ANOMALY DETECTION
309