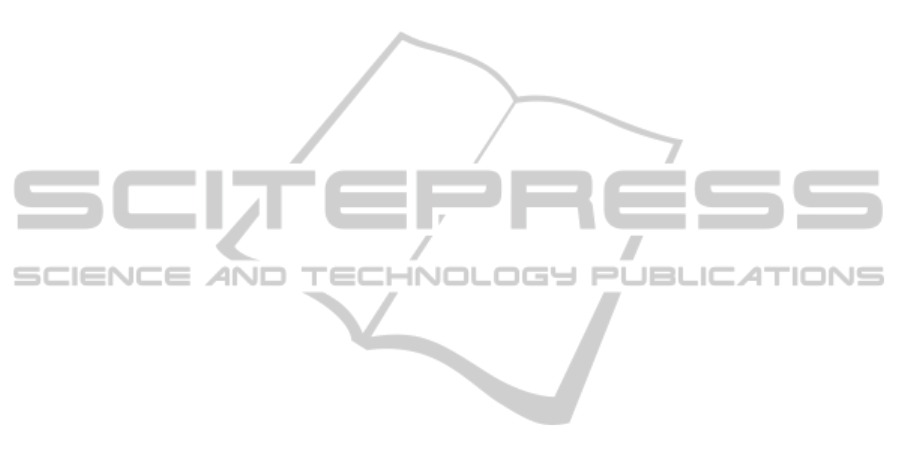 Cheon, 2005), Spec# for C#
(Barnett et al., 2004),
etc.
Design by Contract is based on the principle of
an object being responsible for its own consistency.
This rule is practical for si
ngle objects not associated
with others (attribute and object constraints in our
classification), or just having references to its owned
objects (composition), but does not match with class
and domain constraints. Therefore, DbC is enough
for attribute and object constraints, but is not
practical for class and domain constraints.
There are also many works using OCL based
contracts. Some tools translate them into Java,
AspectJ (Cheon et al., 2008; Gopinathan &
Rajamani, 2008; Dzidek et al., 2006; Rebêlo et al.,
2008) or other contract languages such as JML
(Avila et al., 2008; Hamie, 2004) or CleanJava
(Cheon & Avila, 2010). All this works differ from
our approach in their adherence to DbC (attribute
and object constraints only). However, those that
generate AspectJ suggest techniques and templates.
In (Froihofer et al., 20
07) the authors offers a
complete report and comparison of those techniques.
We take the idea of using proxies for them.
Henrique Rebêlo et al. (Leavens et al., 2014),
propose a JML to AspectJ compiler able to solve one
the problems addressed with our proposal, the
scattering of the contract specification among
different methods that may violate it. Their work
avoids contract scattering by centralizing the
contract specification in a common advice
complemented with JML. Our approach also avoids
scattering and promotes th
e invariants specification
as documentation by centralizing all invariants in
one single file.
Dzidel et al. (Dzidek et al., 2006) present another
OCL-contract to AspectJ tool, but leave as future
work some problems we try to solve with our
proposal: (1) the challenge of translating the OCL
allInstances
expression into target code, and (2) the
runtime overhead of ch
ecking OCL collection
expressions as
forAll

,

collect
, etc. We have proposed
a possible solution to the
allInstances
problem using
the idea on being
in-the-graph

.
Another type of OCL tools are the interpreters
(Chimiak-Opoka et al., 2011
). They are aimed to
check a model instance against its model and
constraints. That may seem
a solution but they work
in a one shot fashion: they check every constraint
against the whole model instance. This solution is
practical for those situations in which the whole
model instance is created at once, for example in
model transformations (MDA). But this strategy will
lead to unfeasible performance rates for a domain
model being incrementally updated by business
logic method executions.
A common point in all these DbC and OCL tools
is that they do not pe
rform any analysis of
constraints, thus the generated code is not
incremental. Although some of them can generate
code able to detect plain attribute modifications,
they insert the checking ri
ght after the modification
(Claas Wilke et al., 2009) or allow the programmer
to call the checking method later, leading to the
programmer the responsibility to explicitly decide
when
and
what

method to call. They help with the
how
difficulty, partially with the
over-what

object,
but neither with the
when
nor with the what-to-do
difficulties.
The proposed tool aids developers with the four
discussed difficulties. The generated code is able to
detect those potentially affecting events (
what
object
) which combined with the delayed checking
(
when
) and the transformed invariants translated to
executable code (
how
) is a key difference with all
DbC-like implementations for the specific case of
programs built around the domain model pattern.
The integration with atomicity contexts such as
Reconstructors (Fernández Lanvin et al., 2010) or
Hibernate (Bauer et al., 20
14) solves the problem of
restoring the model to a previous state (
what-to-do

),
although that integration is not mandatory; the
generated code could work without that capability.
As we can conclude from results section the
efficiency is quite good
. Due to the incremental
approach followed, every constraint is executed over
as few objects as necessary and the context
simplification process may reduce the number of
constraint checkings.
The tool also gives a possible implementation for
the
allInstances
problem, a classical problem when
translating OCL to Java code.
Finally, by maintaining all invariants in a single
source file it also helps with the problem of invariant
scattering while it preserves the invariants as
documentation for programmers.
ACKNOWLEDGEMENTS
This work has been funded by the European Union,
through the European Regional Development Funds
(ERDF); and the Principality
of Asturias, through its
ICSOFT-PT2015-10thInternationalConferenceonSoftwareParadigmTrends
128