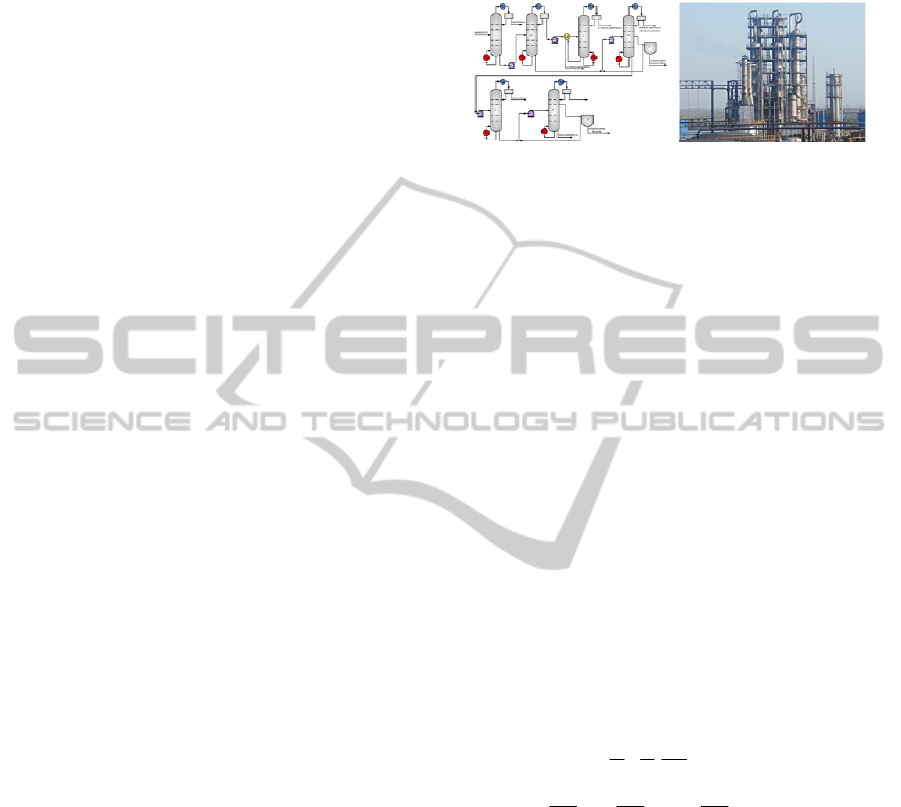 process, methylnaphthalene oil was drawn in gas
phase to avoid emulsification. As the five distillation
columns are packed with hi
gh efficient packing, all
the products are distilled to high purity, among
which the purity of
β
-methylnaphthalene reached
98wt%. With all the packed columns operated in
decompression, bottom temp
eratures are lowered
and demands of heating medium of high temperature
resisted. Besides, this process can take advantage of
self-produced steam and warm water to reduce the
energy consumption.
2.3
Novel Separation Process for
Washing Oil
To make full use of the washing oil resource, a novel
separation process was encouraged to present, as
shown in Figure 2. Crude washing oil is first fed into
naphthalene tower to obtain naphthalene cut. The
residual oil is pumped into methyl naphthalene
tower, where industrial me
thyl naphthalene can be
recovered as top product which is then driven to the
β
-methylnaphthalene tower to produce β

-
methylnaphthalene and
α

-methylnaphthalene
simultaneously. Moreover, the bottom
α

-
methylnaphthalene stream can exchange heat with
methylnaphthalene stream for sake of energy saving.
Residual methylnaphthalene oil is pumped into
acenaphthylene tower after mixed with crystalline
raffinate from acenapht
hylene crystallizer to
distillate medium washing
oil, crude acenaphthylene
and residual acenaphthylene
oil. And then the crude
acenaphthylene is further
refined by crystallization
to obtain industrial
acenaphthalene. Residual
acenaphthalene oil is pumped into dibenzofuran
tower for dibenzofuran with the bottom residual
dibenzofuran oil driven into fluorene tower after
mixed with fluorene crystallizer raffinate. The side
product pumped to crystallization unit for industrial
fluorene.
In the original flowsheet, fluorene is reclaimed
from the top of T6, after crystallization, fluorene of
industrial grade is obtained, and the residual liquid
with a series of light components returns to the feed
stream of T6. Consequently, the light components
accumulated in the reflux and increased
continuously, resulting in decrease of fluorene
quality. As an improved process, the fluorene
fraction is drawn out as a side-product, the light
components is removed from the top of the column.
This is just the starting point of the coupled scheme
between ordinary distillation and crystallization. So
in this scheme,
α-methyl-naphthalene,

β

-methyl-
naphthalene, fluorene, dibenzofuran, and
acenaphthylene are simulta
neously obtained in high
purity, and the naphthalene fraction, medium
washing oil (dimethyl naphthalene), and heavy
washing oil can also be attained as by-product.
Figure 2: Flowsheet of distillation coupled with
crystallization and its on-site counterparts
T1-naphthalene tower; T2-methylnaphthalene tower; T3-
β
-methylnaphthalene tower; T4- acenaphthylene tower;
T5- dibenzofuran tower; T6-fluorene tower; 7-
acenaphthylene crystallizer; 8-fluorene crystallizer
2.4
Simulative Design of Distillation
Coupled with Crystallization
Process
This novel process was si
mulatively analyzed with
SRK-modified Panag-Reid equation of state
(SRKM) and Grayson-Streed generalized
correlations (GS), which were empirically confirmed
by the co-authors in similar industrial practices to
describe the basic thermodynamic behavior of the
system appropriately.
improvement for SRK equation to provide better
predictions of properties for multicomponent
systems:
ij
c
jiijiijijjiij
xxxkkk
ααα

))+/()((+)1()(=
2/1
(1)
And GS correlation is a modification of the Chao-
Seader correlation, which can be expressed as:
)(==
P
f
φ
γ
x
y
K
OL
i
i
i
i
i
i
(2)
10
)ln(+)ln(=)ln(
P
f
w
P
f
P
f
OL
i
OL
i
OL
i
(3)
Besides, the purity of acenaphthylene and
fluorene separated by crystallization was both set to
be 97%, and their yield were 75% and 60%
respectively according to the designers of the
crystallizers. So in the pr
ocess simulation, the above
parameters are specified in the input procedures and
the quantity of circumfluence from the crystallizers
is calculated automatically.
In order to obtain simulative parameters that
agree as well as possible with the on-site
counterparts, hydraulic calculations of packings, and
the pressure drops of the distributers are taken into
account. That is, process simulation and structure
design rise alternately, with the results of process
SIMULATIVE PROGRAMMING OF A HYBRID WASHING OIL SEPARATION SCHEME FOR PURE CHEMICALS
427