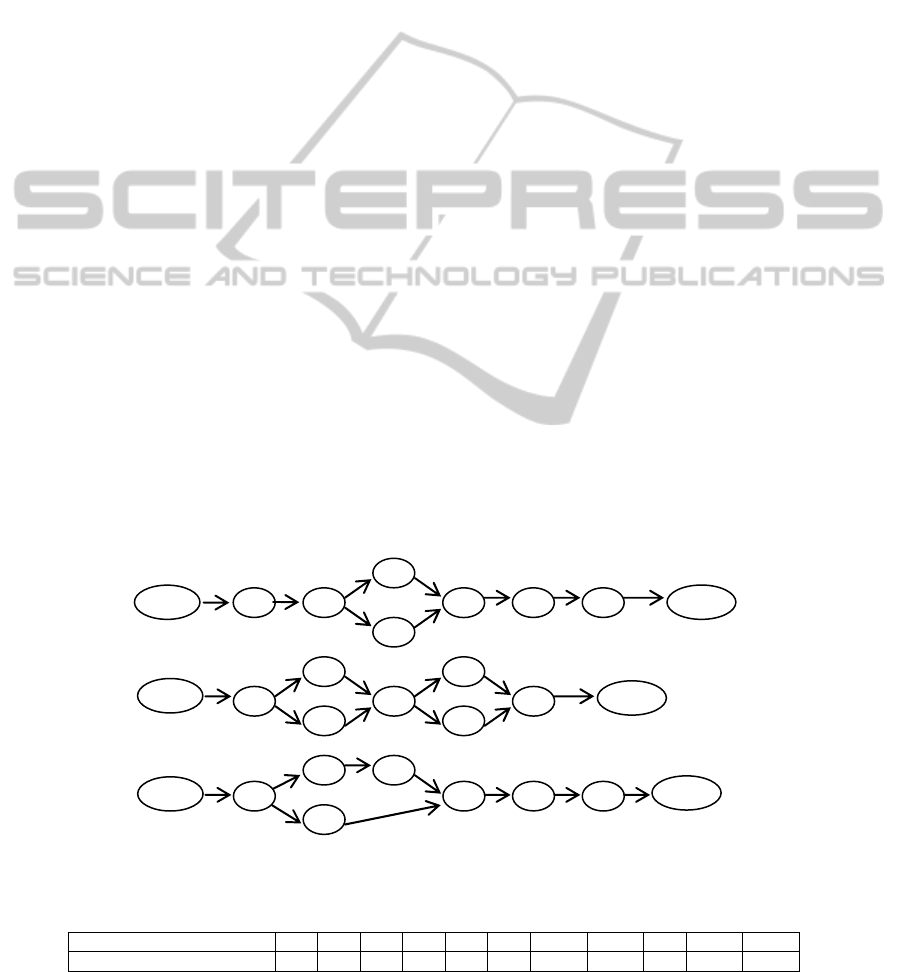 However, it is not sure whether reduced number
of open projects can shorten project time or not and
how the application of resource loading impacts on
project throughput. This study is going to make
situational simulation analysis of the above topics to
discuss the number of open projects on 6 delivery
time-related performance indicators as the
verification targets in the following sections.
2 DEVELOPMENT OF
SIMULATION MODEL
The number of open projects as described in this
study refers to the number of projects that have been
started at any given time after planned scheduling in
a multi-project environment. The "Bottleneck (BN)"
refers to the resources of average load and other
resources within 10% of the maximum load among
all the projects. The rest resources are termed as
"Non-Bottleneck (NBN)". "Bottleneck closeness",
denoting as "BN Closeness", means the closeness
between the bottleneck duration and the bottleneck
duration of the last project. Note that, the density of
open projects in this study is equivalent to
bottleneck closeness.
The resources of the proj
ects are seven shared
ones. The project network structure is designed by
Anavi-Isakow and Golany (2003) as shown in
Figure 1. With the three types of projects as the
priorities of the multi-project scheduling, we repeat
the scheduling processes for three years. Then, the
scheduling time of project opening is planned based
on bottleneck closeness at 100% and non-bottleneck
workload at 70% as the ba
sis. The average duration
of various resources are determined by
β
distribution
with 50% work completion probability, the
preliminary scheduling throughput can be obtained
as illustrated in Table 1.
This study designs the transformed
risk degree of
project proposed by Shou et al. (2000)
as illustrated
in Table 2. The estimated task time used in this
study is computed according
to different risk degrees
The number of projects can affect the overall
operation of the enterprises and will result in bad
multi-tasking of resources. Goldratt (2006)
proposed
that the density of open projects (BN closeness)
should be limited below 75% of the original number
of projects to reduce bad multi-tasking situations. In
this way, the delivery time of all projects can be
shortened. Suppose each project has only one task
without considering the bottlenecks, the working
duration for each bottleneck is 10 days and the total
working time is 60 days. Therefore, 100% of BN
closeness indicates that the bottlenecks of all the
projects in the multi-project scheduling are closely
connected. Thus, the number of
open projects is 6; if
BN closeness is reduced to 50%, the number of open
projects will be 3. To find the most appropriate BN
closeness, this experiment sets the levels of BN
closeness from 50% to 200%
to test the impact of
number of open projects on the project throughput
rate.
Start
Start
Start
En
End
Type 1
Type 2
Type 3
1/10 2/10
#/##: resource No. #/duration ##
3/15
3/10
3/10
1/15
1/10
2/10
2/15
4/10
4/15
4/10
5/10
5/15
5/15
6/10
6/10
6/15
7/15
7/20
7/15
Figure 1: Multi-project network.
Table 1: The Expected Throughputs.
BN closeness(%)
50 60 70 75 80 90
100
125 150 175
200
Expected throughputs
17 19 21 24 25 27
34
41
45
54
61
SIMULTECH 2011 - 1st International Conference on Simulation and Modeling Methodologies, Technologies and
Applications
402