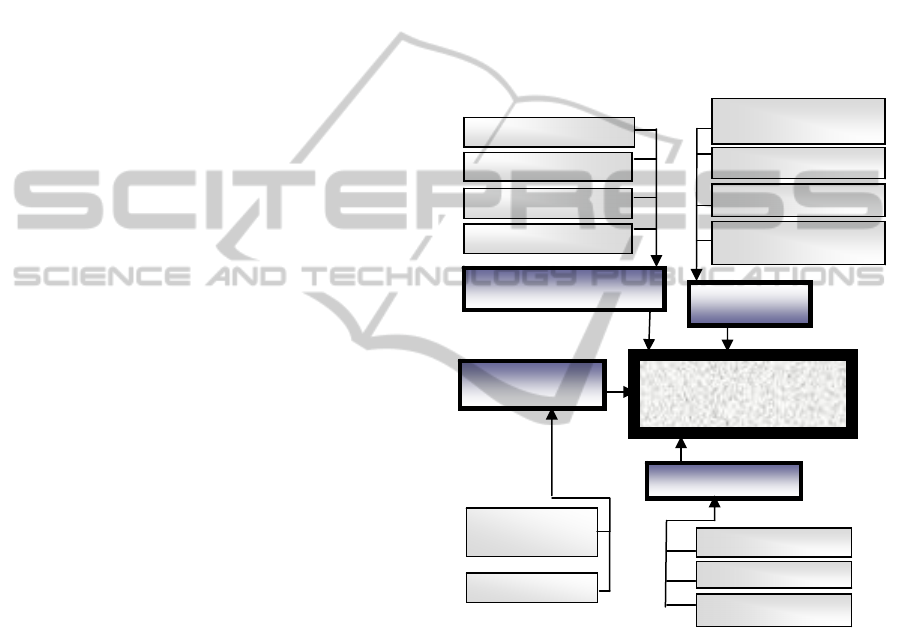 Norton, 1996) define them as "the factors needed to
ensure a successful ERP project".
The Balance Scorecard (BSC) evaluates the
management process from four different
perspectives: financial, customer, internal processes
and learning and growth. For a better description
learning and growth has
been replaced by human
resource (HR). In this paper a new arrangement of
CSFs on BSC with a small change in its concept will
be presented. To have an analytical view on ERP
implementation, Somers & Nelson 2001 (Capaldo et
al., 2008) CSF List will be re-ranked by a fuzzy
approach.
The BSC evaluates the management process from
four different perspectives: financial, customer,
internal processes and learning and growth (Centeno,
2002). Kaplan and Norton comment that a properly
constructed balanced scorecard should tell the story
of a company's strategy. But in our model we are
going to use this tool to give a better view to project
stockholders like project managers, top management,
Vendor Company and etc (Centeno, 2002). We
described these aspects as follow:
Although in original BSC the Financial Perspective
covers the financial objectives of an organization and
allows managers to track financial success and
shareholder value, but in our new definition we look
at the financial situation of organization to carry out
such an expensive project (TCO of software,
expensive consultant, valuable personnel salary such
as project champions and key users …) on start and
during implementation of ERP.
In BSC classic definition the Customer Perspective
covers the customer objectives such as customer
satisfaction, market share as well as product and
service attributes. For us, the ERP vendor is the most
important customer you may insert external
implementation team to the customers list, So that any
CSF related to solution vendor may returned to this
aspect.
In classic definition the In
ternal Process Perspective
covers internal operational goals and outlines the key
processes necessary to deliver the customer
objectives. And in our view it is refer to those
activity which affect the business process in
organization like project management,
Interdepartmental communication and so on. It seems
to be the most important aspect.
With a small change in the learning and growth
Perspective that covers the intangible drivers of future
success such as human capit
al, organizational capital
and information capital including skills, training,
organizational culture, leadership, systems and
databases. We emphasize on Human resource (HR)
issues that more affect the project related CSF and the
other sides of it will be mentioned during the work.
Figure 1: The structure of ERP model.
PRIORITY BY AHP METHOD
In this paper Somers & Nelson 2001 CSF ranked list
categorize upon BSC aspects as Table 1.
The AHP enables decision-makers to structures a
complex problem to a simple
hierarchy form in order
to evaluate large number of quantitative and
qualitative factors in a systematic way under
conflicting multiple criteria. It first structures the
problem in the form of a hierarchy to capture the
basic elements of a problem and then derives ratio
Dedicated
resources
Vendor support
Vendor partnership
Vendor's tools
ERP Systems CSFs
Classification
Project team competence
Learning and Growth
Process
Finance
Customer
Interdepartmental
communication
Interdepartmental co-
operation
Clear goals and objectives
Project management
Use of consultant
RISK MANAGEMENT IN ENTERPRISE RESOURCE PLANNING IMPLEMENTATION USING A FUZZY
APPROACH
291