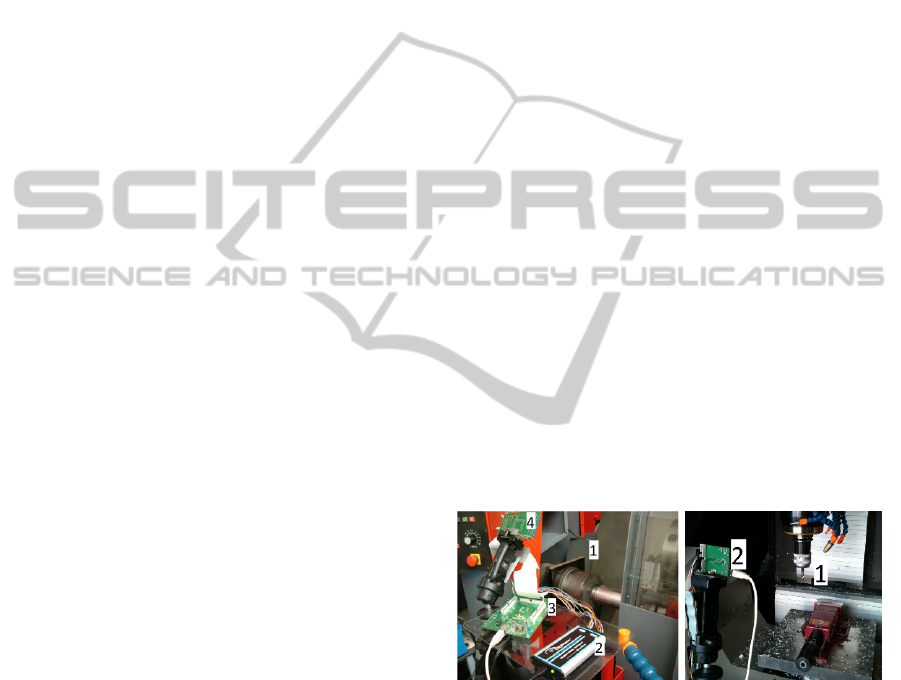 AER retina was firstly proposed at 1988 by
Mead and Mahowald (1988) with an analog model
of a pixel. But it was in 1996 when Kwabena
Boahen presented his work (Boahen, 1996) that
established the basis for the silicon retinas and their
communication protocol. After them, Culurciello,
Etienne-Cummings and Boahen (2003) described a
gray level retina with 80x60 pixel and a high level of
response with AER output. The most important fact
in all these works is the design of the spikes
generator.
In this paper we use the Delbruck's retinas
developed under the EU project CAVIAR (IST-
2001-34124). These retinas use the AER
communication strategy. If any pixel of the retina
needs to communicate a spike, an encoder assigns a
unique address to it and then this address will be put
onto the bus using a handshake protocol. AER was
proposed by Mead lab in 1991 (Sivilotti, 1991) as an
asynchronous communication protocol for inter
neuromorphic chips transmissions.
We have used two silicon bio-inspired retinas. Both
designed by P. Lichtsteiner and T. Delbruck at
Neuroinformatics Institute at Zurich (Lichtsteiner,
2005) and (Lichtsteiner, 2008). These retinas
generate events corresponding to the sign of the
derivative of the light evolution respect to the time,
so static scenes do not pr
oduce any output. For this
reason, each pixel has two outputs, ON and OFF
events or two directions if we look through AER. If
a positive change of light intensity within a
configurable period of time appears, a positive event
is transmitted and the opposite for a negative
change.
2.1
Frequency, Tests and Standards of
AER Retina
At Delbruck's papers there are several tests to
characterize the retinas bu
t we need to know the
behavior at the worst condition in order to use the
retinas with an industria
l manufacturing machinery
as a target. It is very important to know exactly the
maximum detected change of pixel light in the AER
retina in order to determine the maximum frequency
of rotation for a particular object. It is also important
to know if there is any lose of events at those
frequencies.
At CAVIAR project (2009) a standard for the
AER protocol was defined by Häfliger. This
standard defines a 4-step asynchronous handshake
protocol. It stablishes several time parameters
defined as follow: t1 is the establishment time for
data, t2 from data requested to data acknowledged,
t3 goes from the acknowledge data to the
disappeared of valid data at the bus; these three
times could take any time. Times t4 and t5 are
defined from the edge of the acknowledge signal to
the deactivation of the request signal and from this
point to acknowledge deactivation respectively; they
could take just 100ns length. The last time, t6 goes
from the final of t5 until a new request is presented
and also could take any time.
3 EXPERIMENTAL
METHODOLOGY
In this section we present and describe two different
methods in order to extract the bandwidth limit and
the percent of lost events.
We have used the jAER viewer and Matlab
functions, available at the jAER wiki (http://jaer.
wiki.sourceforge.net/). Furt
hermore, a logic analyzer
from manufacturer Digiview (Model DVS3100)
(Figure 1) has been used.
3.1 Environment
The first one is splitted depends on with retina is the
target of the test.
Figure 1: Left: assembly prepared to proceed with the first
test for 64x64 retina. The components are 1. Lathe, 2.
Logic Analyzer, 3. Sequencer Monitor AER and 4. 64x64
pixel retina, right: assembly prepared to proceed with the
first test for 128x128 retina.
The components are 1. CNC
Machine and 2. 128x128 pixel retina.
The reason to use this type of mechanical tools is
because they provided a
huge margin of spin
frequency. This fact allows us to compare the spin
frequency and the maximum frequency of one pixel.
For the second test, we have taken advantage of
the fluorescent tubes. Because they change their
luminosity with the power network frequency (50
Hz at Spain) it is possible to achieve that all the
SIGMAP 2011 - International Conference on Signal Processing and Multimedia Applications
132