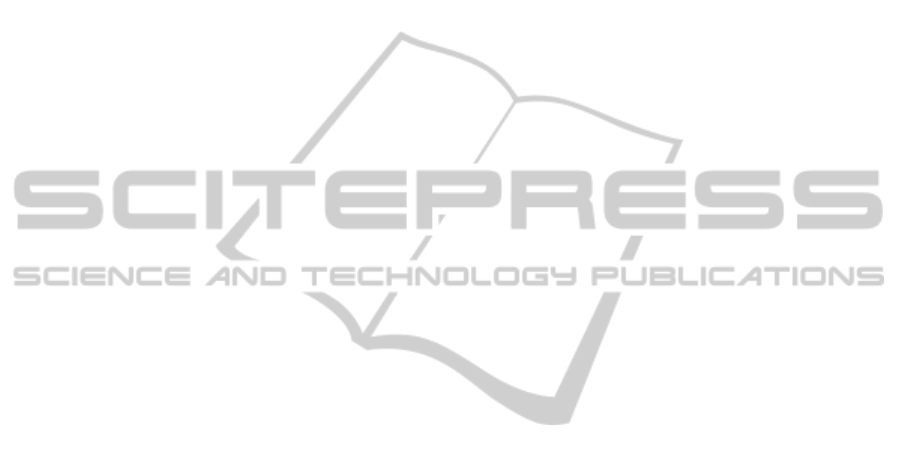 discussion groups

Build a representation model for each feature,

Utilize these feature vectors to build a
similarity measure to cluster these groups

Conduct experiments to

investigate the impact
of different features
The second section reviews previous works
related to multiple features clustering. The third
section describes our approach for clustering
discussion groups. The forth section explains the
evaluation methodology to measure the impact of
different features on the cl
ustering quality. The fifth
section describes the experiments conducted, their
results, and discussion. The sixth section illustrates
how labels are generated for clusters
2 MULTIPLE FEATURE
CLUSTERING
Using multiple features in clustering has been
always a major concern as it is common in real life
to have more than one feat
ure for the objects that are
intended to be clustered. Moreover, in many cases
these features that charact
erize the clustered objects
are heterogeneous in nature which complicates the
process of building the similarity measures.
A good example of multiple feature clustering is
XML documents. Many research works attempted to
solve the XML clustering problem by proposing
several techniques and algorithms. Basically, the
clustering of XML documents as a problem has two
dimensions; content and structure. The content
dimension needs distances that estimate similarity in
terms of the textual content inside elements, while
the structure dimension need
s distances that estimate
similarity in terms of the structural relationships of
the elements. Taken these two dimensions into
consideration, th
e authors in (Tagarelli, Greco,
2006) tackled the problem of clustering XML data
according to structure and content features enriched
with lexical ontology knowledge. In (Costa et al.,
2004), the authors proposed a methodology for
clustering XML documents based on their structural
similarities which is based on the notion of XML
cluster representatives. They exploited the tree
nature of XML documents and provided techniques
for tree matching, merging and pruning. Another
work in (Dalamagas, 2006) the application of
clustering methods was explored for grouping
structurally similar XML documents by modelling
the XML documents as rooted ordered labelled
trees. The authors applied clustering algorithms
using the tree-edit distance between these trees in
terms of the hierarchical relationship of their nodes.
Another interesting work in (Doucette, Ahonen,
2002) deals with clustering homogeneous collections
of text-centric XML documents. They used the
classic k-means clustering
algorithm and combining
structural similarities and content similarity in order
to improve the clustering quality. One of the most
recent approaches is the work presented in (Nayak,
Xu, 2006). The authors proposed a compact level
structure representati
on of each XML document
based on node summaries per level of the XML
document. Based on this representation, Antonellis
et al. (2008) define an ap
propriate distance metric
for heterogeneous XML documents and they apply a
hierarchical clustering algo
rithm in the set of level
structure representations of the documents
Media Clustering is also a main application that
employs multiple features in the clustering
techniques. Abrantes (2000) extended a class of
constrained clustering algorithms for shape
estimation by using multiple features. These features
consist of edge points and associated image
properties, e.g., gradient, texture and colour.
Eterfreund (1998) exploited the image gradient and
optical flow using an algorithm called velocity
snake. Moreover, Gradient and texture information
were integrated in directional feature extraction
(Blake, Isard, 1998). In (Zhong, Jain, 1998), the
author used image gradient, colour, and motion cues
to update a deformable template model. In addition
to images, videos also built up from multiple
features that could be used in clustering; Lee et al.
(2000) proposed an efficient method to detect abrupt
shot changes in a video sequence.
CLUSTERING DISCUSSION
GROUPS
A data set is built by crawling discussion groups
from Facebook which is the most popular social
network nowadays. Examining the meta-features of
these discussion groups, we found that this data set
has numerical, text and categorical features.
Standard k-means is designed to work with
numerical data, and does not work well with
categorical and text data which are of heterogeneous
feature spaces by nature so it was necessary to build
a data model and similarity measures that overcome
this problem by treating each feature space as a
separate problem and applying different weights to
each element of meta-features.
ICEIS 2011 - 13th International Conference on Enterprise Information Systems
206