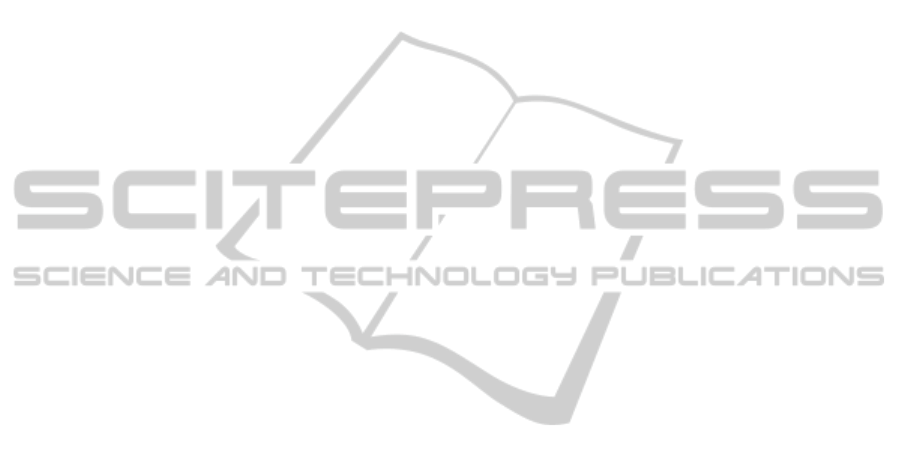 choose
n
users that are most similar to the target
user. We use a threshold-based approach in this
paper.
2.3.2
Group-based Recommendation
Group recommender systems are used in various
application domains, such as those that recommend
music, movies, TV programs and tourist attractions.
Generally, such systems can be classified as (1)
those that aggregate individual users'
profiles/preferences to form a group's
profile/preferences (McCarthy and Anagnost, 1998);
and (2) those that merge individual recommendation
lists into a group recomm
endation list (O'Connor et
al., 2001, McCarthy and Anagnost, 1998, Kim et al.,
2010). Under the first approach, there is a high
probability of discovering valuable
recommendations that will satisfy the majority of the
group's members. The second approach gives users
more information when they
need to make decisions
and the recommendation results are relatively easy
to explain. However, it is not easy to identify
unexpected items, and it is very time-consuming if
the group is large. Therefore, we follow the first
approach and aggregate
workers' topic domains
based on their knowledge flows to generate profiles
for a group.
3
HYBRID PERSONALIZED AND
GROUP-BASED METHOD
In a knowledge intensive environment, a high degree
of knowledge sharing can have a significant effect
on the workers' efficiency. Each worker
accumulates knowledge when he/she executes a
task, and that knowledge can be shared with and
reused by other team members with similar
information needs. In this paper, we propose a
personalized group-based recommendation method,
i.e. KFGR-UCF, to fac
ilitate knowledge sharing
among a group of workers. The method combines
the KF-based group recommendation method
(KFGR) and user-based collaborative filtering
method (UCF) to enhance the quality of document
recommendation.
The rationale behind the proposed model is that a
group's information needs may partially reflect an
individual member's information needs that cannot
be inferred from his/her past document referencing
behaviour. In other words, the group's knowledge
can be used to satisfy the individual member's
needs. Thus, the group-based method can
complement the personalized method. However, the
group perspective may neglect the specific
information needs of an individual, because it
focuses on the information needs of the majority of
the group's members. To resolve this problem, our
hybrid recommendation method combines the merits
of the two approaches to improve the
recommendation quality. The group-based method
recommends documents from
the perspective of the
majority's information needs, while the personalized
methods recommend documents according to the
specific needs of an individual.
The proposed recommendation method is
comprised of three phases: 1) compiling individual
knowledge flows (codified-level KFs and topic-level
KFs); 2) grouping knowledge workers and
generating group profiles; and 3) recommending
documents to workers.
The first phase involves three steps: document
profiling, document clustering, and KF generation.
To accomplish tasks, knowledge workers may need
to access various documents, and those documents
can reflect the workers' pr
eferences or requirements
in different periods. We align the documents in a
sequence, called a codified-level KF. Each
document in the sequence is represented as an
n

-
dimensional vector comprised of key terms in the
document and their weights. Next, we cluster the
documents into several topics based on their cosine
similarity scores. To observe the evolution of
information needs, we generate a topic-level KF
(TKF) as a topic sequence by mapping the
documents in the codified-level KF into
corresponding clusters (topics).
In the second phase, we group similar knowledge
workers into groups by using a KF similarity
measure derived from the
alignment similarity and
aggregate profile similarity
(Lai and Liu, 2009). The
KF similarity score indicates whether the
referencing behaviour of two workers is similar.
After grouping the workers,
each group's important
codified knowledge can be elicited from the topics
accessed by the group memb
ers. We compile group
profiles to represent each group's important
knowledge.
In the last phase, we propose a hybrid of KF-
based group recommendation and user-based CF
(KFGR-UCF), which considers both the group and
personal perspectives, to recommend suitable
documents to knowledge workers. The group-based
approach derives a group-based score (preference)
of a group,
k
, for a target document based on the
RECOMMENDING DOCUMENTS VIA KNOWLEDGE FLOW-BASED GROUP RECOMMENDATION
343