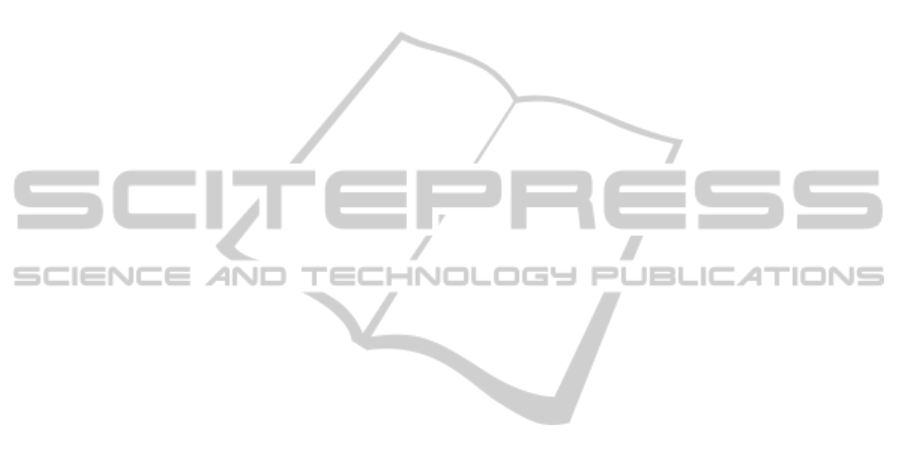 4 DISCUSSION
The research presented in this paper focuses on the
development of an integration scheme for various
independent applications that target on the
promotion of physical and cognitive health. The
integration of the applications is tackled on the basis
of a web service and a database schema. Possible
usage extension of the proposed framework is the
creation of an application gateway, where each
application will be able to interchange information
and data through the data pool that is created and be
shared via the open web
service's architecture and
database scheme. A possible extension to the
existing infrastructure could be the introduction of
an additional web service implementing Dynamic
Decision Support System techniques in order to
provide some automation techniques and add
intelligence to the end system.
The existing framework
combined with the
future developments will allow the creation of a
unique data pool that will focus on the physical and
cognitive status of possible users, envisaging to set
some standard way and technology for describing
and exploiting applications within the nowadays
chaotic field of physical and mental health.
ACKNOWLEDGEMENTS
This work is partially funded by the LLM Project
(www.longlastingmemories.eu) through the ICT
Policy Support Programme (ICT PSP) as part of the
Competitiveness and Innovation Framework
Programme of the European Commission.
REFERENCES
Trost S. G., Owen N., Bauman A., Sallis J. F., Brown W.,
2002. Correlates of adults' pa
rticipation in physical
activity: review and update.
Med Sci Sports Exerc
Fox K. R., Hillsdon M., 2007.
Physical activity and
obesity.
Obes Rev 8(Suppl 1)
:115–21
Fox S. M., Naughton J. P., Gorman PA. Physical activity
and cardiovascular health. 1972. The exercise
prescription, frequency and type of activity.
Mod
Concepts Cardiovasc Dis
41: 25.
Braith, R. W., and K. J. Stew
art. 2006. Resistance exercise
training. Its role in the prevention of cardiovascular
disease.
Circulation 113:2642–2650
.
Kesaniemi, Y. A., E. Danforth
Jr., M. D. Jensen, P. G.
Kopelman, P. Lefebvre, and B. A. Reeder, 2001.
Dose-response issues concerni
ng physical activity and
health: an evidence-based symposium.
Med. Sci. Sport
Exerc. 33(6 Suppl)
:S531–S538.
Pollock, M. L., B. A. Franklin, G. L. Balady, et al. 2000.
AHA Science Adviso
ry. Resistance

exercise in
individuals with and without
cardiovascular disease:
benefits, rationale, safety, and prescription: an
advisory from the Committee on Exercise,
Rehabilitation, and Prevention, Council on Clinical
Cardiology, American Heart Association; Position
paper endorsed by the
American College of Sports
Medicine. Circulation 101
:828–833.
Van Boxtel M. P., Paas F.
G., Houx P. J., Adam J. J.,
Teeken J. C., Jolles J., 1997. Aerobic capacity and
cognitive performance in a cross-sectional aging
study.
Med Sci Sports Exerc; 29
:1357-65
Perrig-Chiello P, Perrig W. J., Ehrsam R., Staehelin H. B.,
Krings F., 1998. The effects of resistance training on
well-being and memory in elderly volunteers.
Age
Hill R. D., Storandt M., Ma
lley M., 1993. The impact of
long-term exercise training on psychological function
in older adults.
J. Gerontol;48:12-17
Bogost, I., 2005. The Rhetoric of Exergaming. Paper
presented at the
Digital Arts and Cultures Conference
,
Copenhagen, Denmark
Bonanni L., Vaucelle, C., Lieb
erman, J. & Zuckerman, O.
2006. TapTap: A Haptic Wearable for Asynchronous
Distributed Touch Therapy. Ext.
Abstracts CHI 2006,
Mumford N., Duckworth, J.,
Eldridge, R., Guglielmetti,
M., Thomas, P., Shum, D.,
Rudolph, H., Williams, G.,
and Wilson, P. H., 2008. A
virtual tabletop workspace
for upper-limb rehabilitation in
Traumatic Brain Injury
(TBI): A multiple case study evaluation. In
Proc. of
Virtual Rehabilitation
, 175-180.
Solberg, M. M., Johnson, L.,
Paule, L., Raskin, S. A. &
Mateer, C. A. 1994. Attention Process Training II: A
program to address attenti
onal deficits for persons
with mild cognitive dysfunction. Puyallup, WA:
Association for Neuropsychological Research and
Development.
Merzenich, M., Wright, B., Jenkins, W., Xerri, C., Byl, N.,
Miller, S. & Tallal, P. 1996. Cortical plasticity
underlying perceptual, motor, and cognitive skill
development: implications
for neurorehabilitation.
Cold Spring Harbor Symposiumof Quantitative
Hofmann, M., Hock, C., Kuhler, A., & Muller-Spahn,
F.1996. Interactive computer-b
ased cognitive training
in patients with Alzheimer's disease.
Journal of
Psychiatric Research, 30
, 493-501.
Galante E, Venturini G, Fiaccadori C. Jul-Sep 2007
Computer-based cognitive intervention for dementia:
preliminary results of a ra
ndomized clinical trial.

G
Ital Med Lav Ergon. 29(3 Suppl B)
:B26-32.
Tárraga L., Boada M., Modinos
G., Espinosa A., Diego S.,
Morera A., Guitart M., Balcells J., López O. L. and
Becker J. T., Jul 2006. A randomised pilot study to
assess the efficacy of an in
teractive, multimedia tool
COGNITIVE AND PHYSICAL TRAINING MEDICAL RECORD, A WEB SERVICE BASED ARCHITECTURE
533