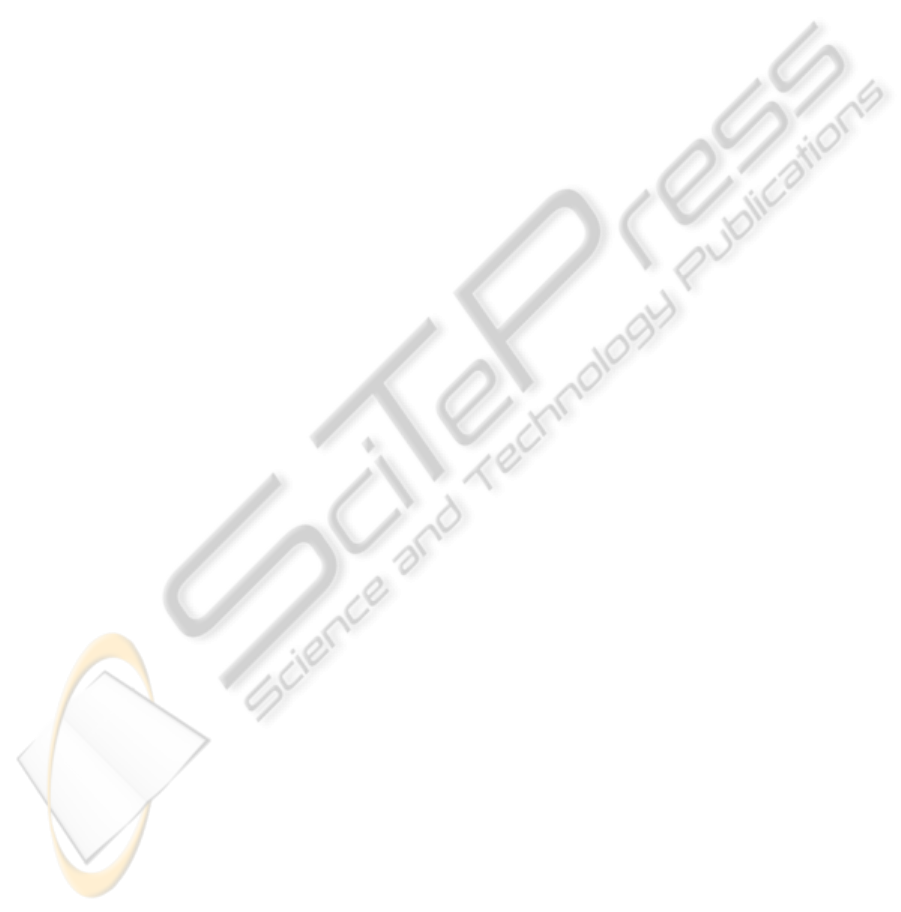 needed). Some basic context information
aggregations are typically performed too. For
instance, an average value is computed from values
measured from sensors of the same type in a certain
area. To these purposes, SPARQL queries are used.
Queries can be extended when new services are
added and when a different aggregation is needed.
When the ontology has been fully updated, the
rules engine is invoked to run the set of concerned
rules (Jena SWRL-like rules). Rules are organized in
two sets, Context Rules and Action Rules, for each
service.
First, context recognition rules are run to
recognize the current context of the system, in
relation to existing services. Then, Action Rules are
executed for decision making based on recognized
context. Decided actions are written in the ontology
along with justification to simplify understanding of
why they were required.
Requests of decided actions affecting actuators
are then handled and propagated to the involved
device. In other cases decisions may simply concern
providing recommendations suitable to the context.
Rules may also trigger internal events such as
delayed rules execution (e.g. to check whether a
certain context situation persists for longer than a
certain time span). Rules are based on an expressive
ontological model, which includes some information
that is not present in the XML models and that is
used only by the semantic reasoner. This knowledge
concerns the relations between the system entities,
e.g. between the context-aware services and the
devices (properties set by the module itself),
information related to rules and queries files and to
other aspects pertaining the semantic reasoner only.
In order to be able to meet requirements of
pervasive computing environments, the reasoning
framework has been designed to manage dynamic
changes in the knowledge base. The semantic
reasoner module allows retrieving needed models,
queries and rules from an external repository. The
ontology model consists of a base ontology and of
ontology models for specific entity classes. The
semantic reasoner supports a dynamic management
of the ontology and instantiates at run time in the
ontology only device/service classes really present
in the system at that moment. The set of classes
present in the ontology is not pre-defined, since
OWL classes are added at run time, only if needed,
and removed when no longer useful. The ontology
can be extended dynamically in terms of both
individuals and classes, without need of recompiling
the software module.
A remarkable aspect is that the semantic reasoner
is able to deal with types of devices not known at
system deployment time or with new context-aware
services, provided that their models are given. When
a new device appears in the system, if its ontology
class is not yet present, the proper OWL model is
downloaded from the model repository and added to
the knowledge base, and finally the individual
representing the device is created.
4.2 Event Processing
The semantic reasoning approach, though offering
many benefits (in terms of expressiveness, use of
formal and standard languages, clear separation of
reasoning logic from application code), also has
some notable limitations, e.g.:

Significant memory requirements and
performance times, usually not suitable to
resource-constrained devices. For example, no
framework with Jena equivalent reasoning
capabilities is available to run on resource
constrained devices. We are aware of
prototypes like µJena (µJena, 2010) and
Enhanced Micro Jena (Enhanced Micro Jena,
2010), but they seem not mature enough for
commercial solutions and they lack some
needed functionalities.

Limited support for retraction in ontology-
based reasoning. OWL-DL is mainly designed
for monotonic inference, but context
recognition is typically based on dynamic
sensor measurements: as new measurements
replace previous ones, previous measurements
and derived information need to be retracted.
Jena rules engine was originally designed for
monotonic inference, non-monotonic
inference is supported, but with some
limitations (Jena-dev, 2008).

No suitable support for uncertain and fuzzy
data management and for managing data
stream and temporal reasoning.
These considerations led us to design a flexible,
plug-in-based architecture able to integrate, besides
the pure ontology-based reasoner, other processing
methodologies. Through the plug-in architecture and
a late binding and reflection mechanism, multiple
Processing Agents can be integrated to the reasoning
framework (retrieving them either locally or from a
remote repository).
Processing Agents have some capabilities of the
semantic reasoner, namely the ability to
communicate with the other modules through XML
A FLEXIBLE MIDDLEWARE COMPONENT FOR CONTEXT AWARE APPLICATIONS
37