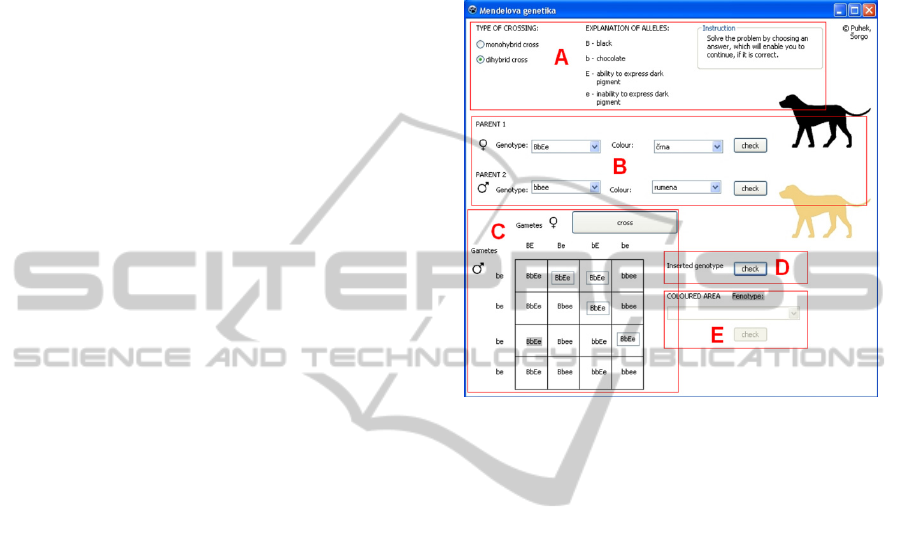 didactical tools are attractive and encourage the
curiosity of students (Fancovicová, 2010). They do
not only demand dull clicking (Špernjak et al.,
2010), but are supposed to illustrate theoretical
concepts in practice (Huang, 2004).
The purpose of the paper is to present the virtual
exercise Mendelian Genetics and initial results of
testing in the classroom. The exercise could be used,
not only in the classrooms, but also as addition to the
field work. The main aim during the development
was the need to increase the students to get to the
knowledge with active work and solving little
problems to overcome an obstacle – to learn
Mendels' laws. The exercise would be used in the
virtual environment that we are developing at
Sinergise.
2 METHODOLOGY
When developing the virtual exercises the main aim
represented the active inclusion of students and
achievement of higher cognitive skills. According to
Boerwinkel et al. (2008) we choose Labrador
retrievers as the object of experiment, because they
show importance for the students, society and
science. Through the case of Labradors the students
can become aware that science is not only learned in
school, but is present all the time in everyday life.
Exercise could be later expe
nded with other objects,
especially when it will be used with outdoor
activities.
Pilot testing of the virtual exercise was made on
a small sample of students (N=31) in the second
grade of the lower secondary school. The teacher
used the exercise in the en
d of the class hour as a
tool to renew the gained knowledge. To increase the
debate between the students, the exercise was
purposely tested in the "cl
assical" biology classroom
with one computer that was projecting material on
the wall. Additionally, the students were asked to fill
out the work sheets and
the evaluation form to
validate the exercise.
3 VIRTUAL EXERCISE
MENDELIAN GENETICS
The basic view of the virtual exercise Mendelian
Genetics is presented in the Figure 1. The exercise
can be divided into five different parts (A, B, C, D
and E), where students
learn about the basic
Mendelian principles of the first and second
Mendel's law – Law of Segregation and Law of
Independent Assortment. When students finish one
chapter, they can continue with the next one. This
principle forces them to be active if they want to
gain feedback, which is presented through picture of
the parent or the offspring.
Figure 1: The basic view of the virtual exercise Mendelian
Genetics with the markings
of different tasks: A) menu
with the explanations; B) se
lecting the genotypes and the
matching colour of parents;
C) crossing; D) defining the
missing genotypes in the Punne
tt square; and E) matching
randomly selected genotype wi
th appropriate phenotype.
Part A serves as an introduction to the problem
and as the basic menu to choo
se the type of crossing.
The students are introduced to the terms alleles,
monohybrid and dihybrid crossing. An explanation
of different alleles used in the exercise is described
in the legend. In the part B, students deal with the
terms genotype and phenotype. The problem that has
to be solved is to decode the genotype of each parent
and link it with the matched colour. Students can
observe the difference between the dominant alleles
that are usually seen on the outside and the recessive
alleles that are hidden behind them. If the answer
that the student selects is
correct, the picture of
parent shows up. The progress to part C and the
possibility to cross the selected dogs is enabled,
when pictures of both parents are showed. During
the salvation of the problem students meet the terms
gametes and the Punnett square. Between the stage
C and D the teacher can ask the students to predict
the breeding results, where
the right gametes in the
Punnett square have to be included. A similar
problem is presented in the part D, where some
genotypes in the Punnett square are hidden and
VIRTUAL BIOLOGY EXERCISE FOR THE ACTIVE LEARNING OF MENDELIAN GENETICS AND
DEVELOPMENT OF KEY COMPETENCES
391