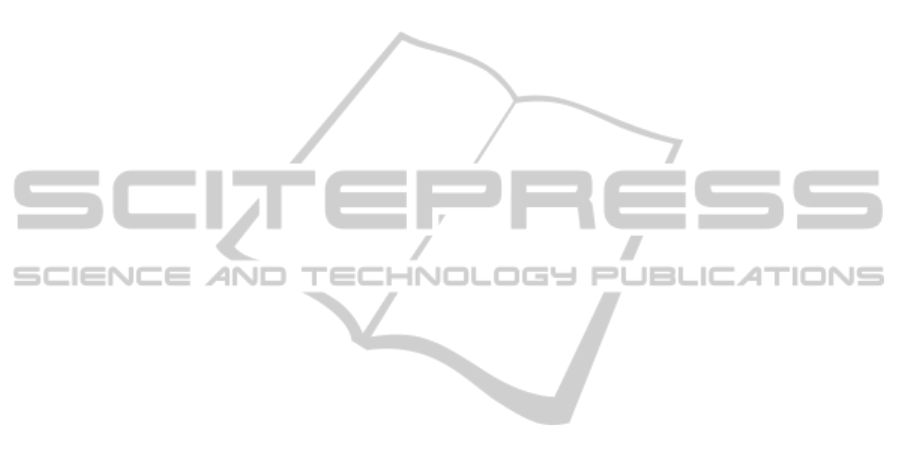 algorithms as well. Our approach consists from two
parts: interactive tools allowing dynamic analysis of
EEG signals amplitudes and other parameters
distribution over the brain lobes, and fractal
dimension algorithms with sliding window that can
estimate complexity of the signal by calculating
fractal dimensions values changing over time. The
algorithms of concentration level recognition and
emotion recognition use just one fractal feature per
channel that allows us to implement real-time EEG-
enable applications. We implemented real-time
applications such as blobby 3D mapping,
concentration games, emotion-enable search on the
Web, etc. that are described in this paper.
In Section 2.1, we describe Brain Computer
Interfaces (BCI) and neurof
eedback techniques. In
Section 2.2, emotion recognition algorithms are
reviewed. Then, we describe the proposed spatio-
temporal fractal-based appr
oach to the brain state
recognition. In Section 3.1, 3D Mapping of EEG
signal with blobby model is presented. In Section
3.2, fractal dimension algorithms applied for
extraction of fractal dime
nsion features of EEG
signal with sliding window are elaborated. An
implementation of the overall algorithm is given in
Section 4. Real-time EEG-enable applications
including EEG-based serious games and emotion-
based music search are described in Section 5.
2 RELATED WORK
2.1 BCI and Neurofeedback
Brain Computer Interfaces
(BCIs) are the systems
that use brain signals to create a new channel of
interaction of humans with computers or other
devices
.

Mostly the systems are used for disabled or
elderly persons. Recently, efforts have been made on
the development of EEG-based real-time
applications in multimedia communication,
rehabilitation games, interaction in virtual
environments, etc.
Traditionally, neurofeedback is a
technique that allows th
e user voluntary change
his/her brain state based on the visual or audio
feedback from the system
corresponding to the
recognized from the user EE
G state of the brain. The
user by doing some exercises recommended by the
doctor or just by playing the serious game with
neurofeedback learns how to improve his/her brain
plasticity. Neurofeedback could recover some
psychological disorders or just help to improve some
skills of concentration, meditation, etc. Some
research demonstrates that both the EEG and Event
Related Potential (ERP) distortion can reflect
psychological disorders such as Attention Deficit
Hyperactivity Disorder (ADHD) (Lubar et al., 1995,
Fuchs et al., 2003), Au
tistic Spectrum Disorders
(ASD) (Coben et al., 2010,
Kouijzer et al., 2010),
Substance Use Disorders (SUD) including alcoholics
and drug abuse (Saxby and Peniston, 1995,
Sokhadze et al., 2008), etc. Neurofeedback can be
used for treating these disorders besides medical
treatments. Many neurofeedback games were
assessed, and it was proved that they have a healing
effect on patients with ADHD while the patient has
abnormal
θ

/

β
ratio of EEG. Besides the ratio, the
distortion in Slow Cortical Potential (SCP) was also
notified in (Gevensleben
et al., 2009). Both the
frequency band neurofeedback training and the SCP
neurofeedback training could achieve a good healing
effect for ADHD (Gevensleben et al., 2009). Two
EEG signal processing methods are prevalent in BCI
systems: power spectrum analysis for different
frequency bands and event related potential analysis.
As the different frequenc
y band reflects different
brain functions (Demos, 2005), frequency training is
a well-known technique applied in clinic
applications together with the Quantitative EEG
(QEEG) protocol. In QEEG protocol, the power over
different bands is assessed from the patients EEG
signals, and compared to the reference QEEG
database. Pathology and the corresponding recovery
protocol can be generated with the statistical model.
The ERP analysis including SCP and P300 analysis
is a technique to analyze the event synchronized
EEG potential. SCP has shown its usability in
ADHD treatment in (Geven
sleben et al., 2009), and
P300 component training could be used for drug
abuse rehabilitation (Sokhadze et al., 2008).
Although an efficiency of EEG linear features
application were proved in clinical treatments, the
nonlinear methods, e.g. entropy analysis and fractal
dimension analysis, became popular in EEG
processing due to the nonlinearity of the EEG
signals. The hypothesis is that a non-linear fractal
dimension approach allows quantify brain states
corresponding to the concentration levels, pain
levels, etc. In work (Wang et al., 2010b, Wang et al.,
2010a), two well-known algorithms such as Box-
counting (Block et al., 1
990) and Higuchi (Higuchi,
1988) were applied in concentration level
recognition in neurofeedback games, and the
A REAL-TIME FRACTAL-BASED BRAIN STATE RECOGNITION FROM EEG AND ITS APPLICATIONS
83