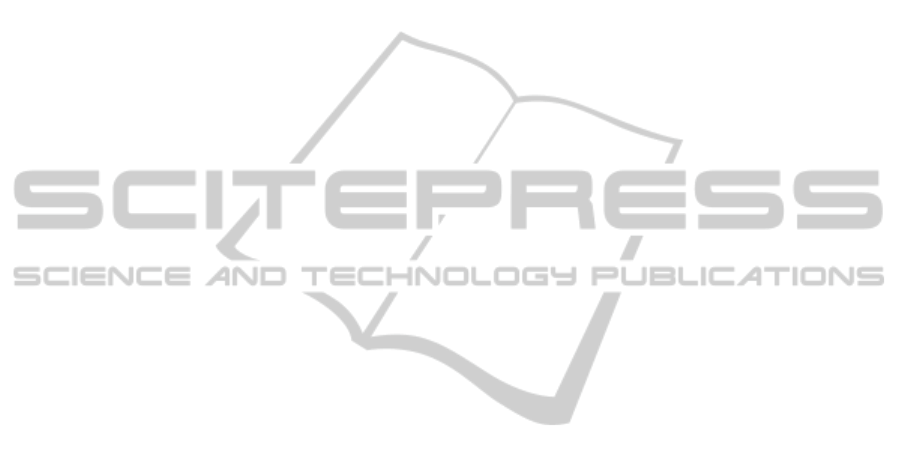 views of multiple visualizations on one web page
and extends the concept to manual, semiautomatic
and automatic linking of visualizations for browsing
and coordination purposes. In this section, we first
present related systems and their key ideas and
conclude how Vizgr distinguishes to them.
2.1
Visualization on the Web
IBM Many Eyes (Viegas et al., 2007) and Swivel are
online tools for sharing data and visualizations on
the web. The user can upload data, choose a
visualization type and creat
e a visualization that can
be viewed and commented by the community. By
integrating an HTML snippet the visualization can
be embedded on other sites or blogs. The underlying
data set can be reused by other users to build their
own visualizations. (Heer et al., 2009) gives an
overview of these and other online visualization
tools, their functionality and impacts.
VisGets (Dörk et al.,
2008) uses different
visualizations to show and filter retrieved web
resources in several dimensions like time, location
and topic. Based on the concept of dynamic queries,
results can interactively be filtered by manipulating
the visualizations. VisGets also implements
coordinated interactivity. Hovering with the mouse
over a visual element highlights all related elements
in the visualizations and in the result list. The new
introduced approach of Weighted Brushing is used
to highlight strongly related items more than weakly
related ones.
Dashiki (McKeon, 2009) is a wiki-based
collaborative platform for creating visualization
dashboards. Users can integrate visualizations that
contain live connections to data sources. Data sets
are embedded into data pages by a special markup,
via Copy&Paste from spread
sheets or by an URL.
Live data is dynamically fetched and stripped from
formatting tags, so the user can wrap the content
with needed markup. Dashik
i uses a simple technical
approach for coordinated selecting among multiple
views. Simple attribute-valu
e pairs are propagated to
all visualizations via JSON format.
Exhibit (Huynh et al., 2007) is a lightweight
framework for easy publishing of structured data on
the web. Users can import data via JSON, which is
presented on the web page in different views
including maps, table, thumbnails and timelines.
2.2 Coordinated Views
The simultaneous display of the same data structure
in several different views was first defined by
(Baldonado et al., 2000). They set up a model for
coordinated multiple views and provide guidelines
for not disrupting the positive effect through
increased complexity. The main idea is that data in
different views can be linked. If data is selected in
one view, it is also highlighted in other views
(brushing-and-linking).
North & Shneiderman (North and Shneiderman,
2000) provide an alternative visualization model
which is based on the relational data model. The
system Snap (North et al., 2002) is an
implementation of this model. It allows the user to
select databases and assign visualizations. In a
second step, the user can then connect different
visualizations and generate coordinated
visualizations. Highlighting or other actions are
coordinated between the different views. For
example, if data is select
ed in one view it is also
selected in the other views.
VisLink (Collins and Carpendale, 2007) is a
system for revealing relationships amongst different
visualizations. Multiple visualizations are drawn on
2D planes and can be placed in a 3D space.
Relationships are displayed between them by
propagating edges from one visualization to another.
Relationships, connections and patterns between
these visualizations can be explored by several
interaction techniques.
2.3
Unique Features of Vizgr
Vizgr is similar in certain aspects to the presented
systems, but differs in some others. On a basic level
Vizgr can create visualizations like the
aforementioned systems. However, most tools
concentrate on one or some information types like
tabular data, text, maps and so on; in contrast Vizgr
supports heterogeneous information types like
tabular data, text, locations, events and network data
and heterogeneous visualizations like business
graphics, tag clouds, maps, time lines and network
graphs in one tool. Vizgr supports the user with easy
creation of visualizations with different forms,
possibilities for copy & paste from spreadsheets and
automatic data import from Wikipedia.
Similar to Dashiki and Exhibit Vizgr supports
the integration of several visualizations on one
webpage. But in contrast to those systems, the
selection of visualizations in Vizgr is based on the
relationships between visualizations.
Vizgr has a similar approach to highlight related
visual items in different visualizations to VisGets or
Dashiki. But in Vizgr the coordinated view is not
only based on the same data items in different visu-
VIZGR - Combining Data on a Visual Level
203