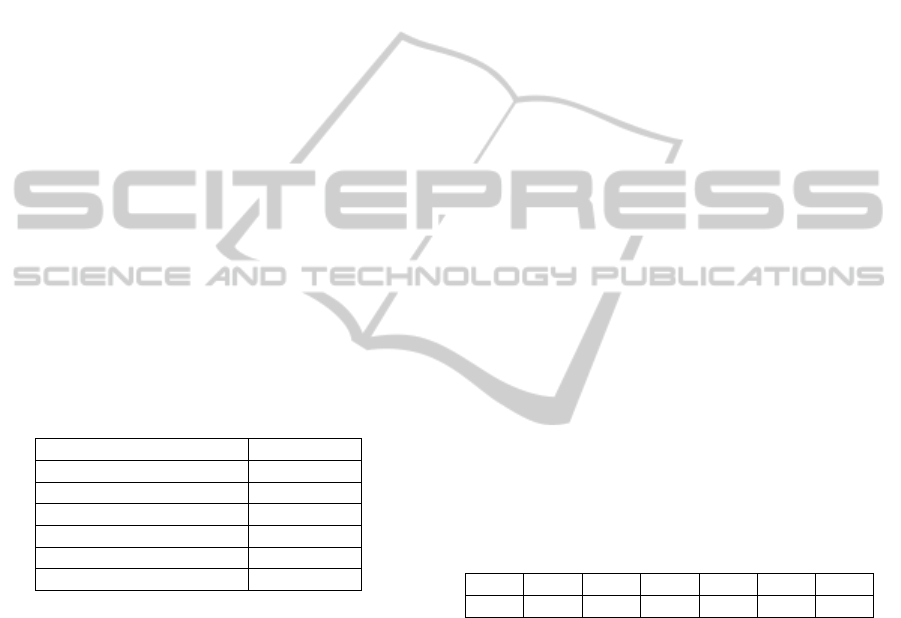 Cell
is the most frequent ch

aracter and appears 266
times in vol. 32. The most related character to
Cell
is
Vegeta
whose related score with
Cell

is 172.5.
3.3 Grouping
We group strongly related characters using the table
generated by the previous step. The grouping
algorithm is shown in Figure 3.
Step 1. We verify the differences between the related
scores in a raw and set the border using the biggest
difference. We make an in
itial group from the left-
most characters to the characters next to the border.
Step 2. We check all initial groups and merge those
include same characters in them.
Figure 3: Grouping algorithm.
For example, for the first raw of
Cell

, 129.4
(172.5-43.1) is the bi
ggest among (172.5-43.1),
(43.1-24.0), ..;
Cell
and

Vegeta

are grouped into an
initial group. Likewise,
Vegeta
and
Cell
are grouped
from the second raw. These two initial groups are
merged into one group.
Table 2 shows the grouping results from Table 1.
The right column shows th
e evaluation value in our
experiment.
Table 2: Grouping results.
Group Evaluation
Tien Shinhan, Piccolo
3.0
average 4.3
3.4 Generating Character Connections
We generated character connections using the
frequencies of characters, their related scores, and
groups. The algorithm is shown in Figure 4.
Step 1. Characters whose frequencies are in the top
three are displayed at the center.
Step 2. Characters whose frequencies are ranked
fourth or fifth are displayed alongside.
Step 3. When there are groups for all displayed
characters, the characters in identical groups are
displayed near the displayed characters.
Step 4. Characters who are
not displayed in Step 1 to
3 are displayed alongside by ordering frequencies.
Step 5. Lines are drawn between characters whose
related scores are exceed 10.
Figure 4: Algorithm of gene
rating character connections.
For example,
Cell, Vegeta, Krillin
, Trunks

are
displayed at the center in Step 1.
Goku
is displayed
at the top left in the Step 2.
Gohan
is displayed near
Goku
in Step 3. After character connections are
displayed, the position of some characters (e.g.
Krillin
and
Trunks

) are moved by manually, as in
Figure 2.
4 EXPERIMENT
4.1 Overview
Dragon Ball
vol.32 (a book with 126 pages and 12
chapters) was used for the experiment. 12 characters
were identified. Five subjects (four male and one
female, aged 22-28) who have already read some
volumes of
Dragon Ball

participated in the
experiment.
We investigated (1) relatedness, (2) grouping,
and (3) character connections.
4.2 Relatedness
The five subjects evaluated the relatedness between
12 characters by five values (5: very related; 4;
related; 3: intermediate; 2: not very related; 1:
unrelated).
From these results, relations whose related
values exceeded 3.6 were extracted and sorted. We
treat this table a correct data set. The first raw of the
table is shown in Table 3.
Table 3: Correct data set for related scores.
Note: See Table 1 for abbreviations for characters.
We prepared the following comparative
methods: (a) calculated related values only using
inside frames (inside only) and (b) calculating
related values only using outside frames (outside
only).
We created a related table (Table 4) for each
method. Characters ranked under 7 were omitted
because there was no corr
ect answer. We counted
the rank of the correct dataset: smaller is better.
Table 4 shows the table for our method. For example,
for the first raw
Cell
, 1 (

Vegeta

) + 5 (

Trunks

) + 6
(
#16
) + 4 (
Krillin
) +
2
(#18

) + 3 (

Goku

) = 21. The
totals for our method, inside only, and outside only
were 62, 66, and 63, respectively. Our method was
the best.
CREATING CHARACTER CONNECTIONS FROM MANGA
679