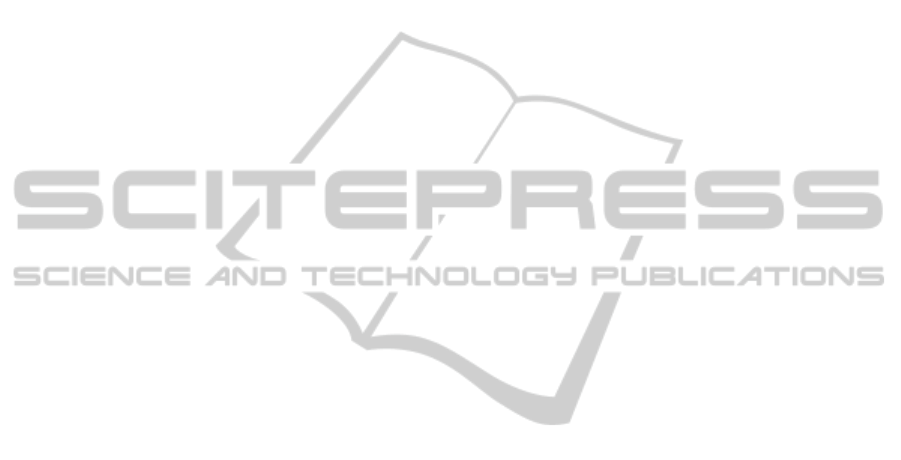 Prometheus (Padgham and Winikoff, 2002),
ROADMAP (Juan
et al.
, 2002), Secure Tropos
(Giorgini
et al.
, 2006) and SODA (Omicini, 2001);
and (iii) organization models: MASQ (Ferber
et al.
,
2009), MOISE+ (Hübner
et al.
, 2002) and OperA
(Dignum, 2004) support the modeling of norms and
its elements.
Deontic Concept:
In multi-agent systems, concepts
of deontic logic (Meyer and Wieringa, 1991) have
been used to describe behavior restrictions for the
agents in the form of obligations (what the agent
must execute), permissions (what the agent can
execute) and prohibitions (what the agent cannot
execute). Most of modeling languages and
methodologies make available the deontic concept
of obligation in order to describe the actions that
agents must execute. Methodologies such as Secure
Tropos, SODA, Prometheus and the organization
model proposed in MOISE+ do only offer the
concepts of obligation and permission since they
consider that everything that is not permitted is
automatically prohibited. In the Secure Tropos
methodology the concept obligation can be
represented by the delegation relationship and the
concept of permission by the ownership and trust
relationships. NormML, different from the majority,
includes all the three deontic concepts (obligation,
permission and prohibition) to the modeling of
norms.
Involved Entities:
Since norms are always defined
to restrict the behavior of entities, the identification
of such entities whose behavior is being restricted is
fundamental. A norm may regulate the behavior of
individuals (i.e., a given agent, or an agent while
playing a given role) or the behavior of a group of
individuals (i.e., all agents playing a given role,
groups of agents, groups of agents playing roles or
all agents in the system). All languages,
methodologies and organization models analyzed
propose a way to describe the entities to which the
norm applies. The majority provides support to
describe a norm for a partic
ular agent playing a role.
But Gaia, PASSI and ROADMAP methodologies
and the MOISE+ organization model do not allow
the description of norms that apply to a group of
individuals.
The Secure Tropos methodology also allows the
designer to describe the system itself as an entity and
to define norms that can be applied to the system as
a whole. By using NormML it is possible to describe
norms to individuals (agents or roles), groups of
individuals or all the entities of the system (see
Actions:
Since a norm defines restriction over the
execution of entities, it is important to clearly
represent the action being regulated. Such actions
can be communicative ones, typically represented by
the sending and receiving of a message, or non-
communicative actions. In this paper we have not
taken into account norms applied to states. All the
modeling languages, methodologies and models
analyzed provide a way to restrict non-
communicative actions. In
OperA, PASSI, MASQ,
Gaia and Secure Tropos it is
also possible to restrict
communicative ones. NormML supports the
modeling of both kinds of actions, communicative
and non-communicative.
Activation Constraints:
The norms have a period
during while they are active, i.e., during while their
restrictions must be fulfilled. Norms can be activated
by one constraint or a set of constraints that can be:
the execution of actions, th
e specification of time
intervals (before, after, be
tween), the achievement of
systems states or temporal aspects (such as dates),
and also the activation/deact
ivation of another norm
and the fulfillment/violation of a norm. None of the
analyzed works supports the description of all the
kinds of activation constraints mentioned. By using
NormML all these activation constraints can be
modeled.
Sanctions:
When a norm is violated the entity that
has violated this norm may suffer a punishment and
when a norm is fulfilled the entity who has followed
the norm may receive a reward. Such rewards and
punishments are called sanctions and should be
described together with the norm specification. A
small number of languages and methodologies
consider that norms can be
violated, and only few of
them provide a way for describing sanctions. The
AORML language assumes
that commitments (or
obligations) between entities of the system can be
violated, and, as consequence, a sanction should be
applied. But the language does not offer a way to
describe this sanction. The organizational models
OperA, MASQ and MOISE+ consider that norms
can be violated, and, excl
uding MOISE+, they have
mechanisms to describe sanctions. The O-MaSE
methodology group norms in two kinds of policies:
law policies and guidance policies. Only the
guidance policies can be violated but there is not a
way to define sanctions for such violations. The
Gaia and PASSI methodologies express norms as
organization rules that cannot be violated, and so
there is no need to define a sanction mechanism.
None of the analyzed languages or methodologies
allows the description of rewards in case of the
Norm-ML - A Modeling Language to Model Norms
233