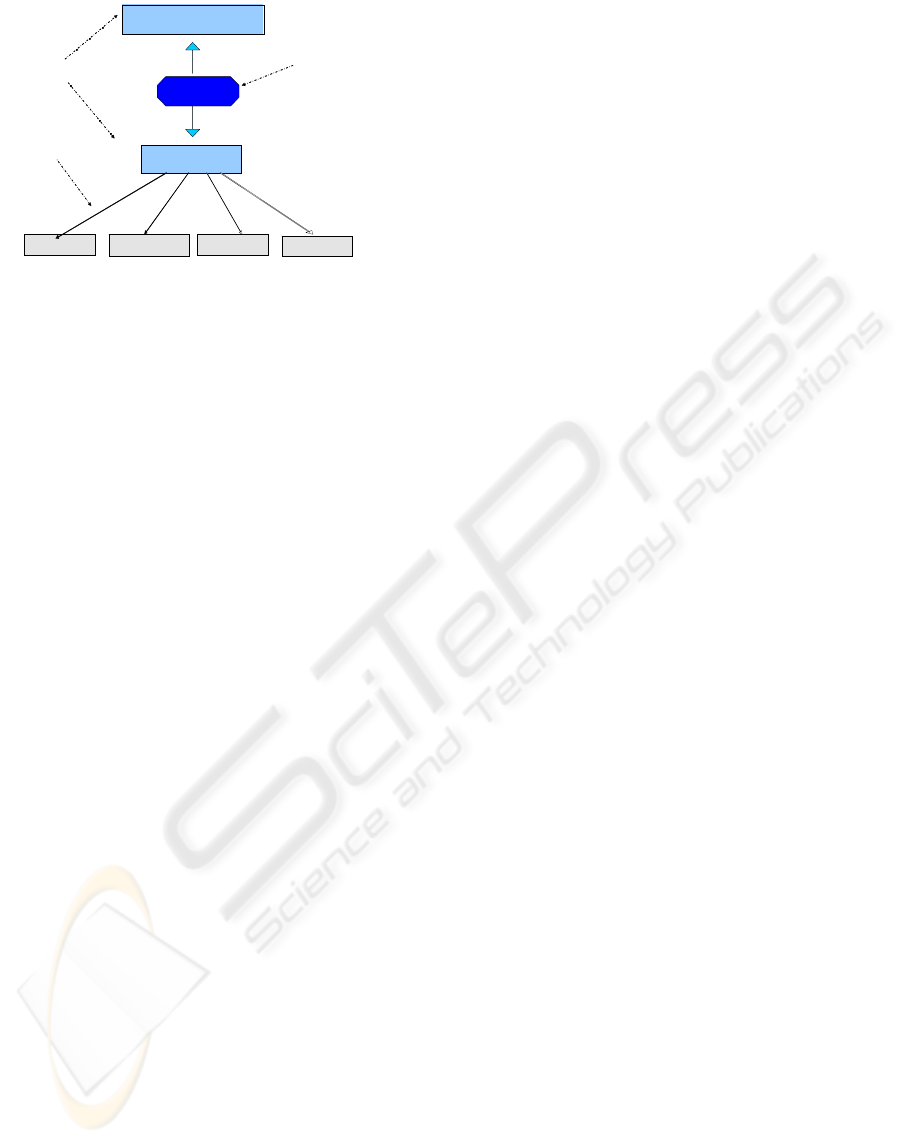 Signaling AgentCell
AgentMC
AgentCM
AgentCell cible
Target AgentCell
Proliferation
Proliferation
Differentiation
Differentiation
Apoptose
Apoptosis
survival
survival
Figure 9: Interaction paracrinien: communication between
two AgentCells and target Ag
entCell's response after its
interaction with the AgentCM
In our framework, this response, which is the
result of the interaction between two different types
of agent (AgentCell and AgentCM), moves the
AgentCell and the AgentCM from their current state
to another state appropriate for the generated
response.
4 CONCLUSIONS
In this article, we presented our system that we have
realized under the multi-agent platform DIMA. It
allows to model and to simulate the biological
cellular environment specifically the cellular
interaction process via chemical mediators
(paracrinien communication). This modelling is
achieved through interactions between the different
agents of the system.
The simulation achieved by our system reflects
the reality of the biologic nature. The objective of
our system
is
to be a virtual world of this cellular
biology helping its specialists to better understand,
to good to interpret and warn changes of cell states
according to its actual internal state and to the state
of its environment.
In this system, the cells (AgentCell)
communicate with each other to
live, to control their
growth as well as for regulating their functions. The
cell is either normal (in an initial state), or signalling
cell (secrets mediator) and whether a target cell
(receipts mediator and ge
nerates an appropriate
response). At the same ti
me, the chemical mediator
(AgentCM) is either active (identified and attracted
by the target AgentCell's receptor) and whether an
ignored mediator (not identified by the target
AgentCell).
From our simulator, all these biologic
phenomenons are studied and simulated as well as
the evolution of a cellular population in the time is
calculated and is presented to the user by a sequence
of animated images.
REFERENCES
Dib, L. (2008). Multi-agent systems simulating the
physiological role of plasmic membrane.
Elsevier
Journal "CBM: Computers
in Biology and Medicine"

.
Volume 38, Issue 6, 676-683.
Dib, L., & Guessoum, Z. (2007): Using Multi-agent
Systems to Study Cells Interaction.
SWIN:The
Systemics and Informatics World Network
.

ITSSA
Journal "International
Transactions on Systems
Science and Applications".
Vol 3, Num 3, 269–278.
Dib, L., Guessoum, Z., Laskri, M.T., Fartas, H., &
Guettar, M. (2006). Système multi-agent simulant
l'endocytose et l'exocytose.
Troisième International
Workshop AMINA: Applications Médicales de
l'Informatique Nouvelles Approches.
Faculté de
Médecine de Monastir Tunisie, Déc.
Dib, L., Guessoum, Z., Bonnet, N., & Laskri, M.T. (2005).
Multi-agent system simulating tumoral cells
migration.
Published in "LNCS", AI'05: Advances in
Artificial Intelligence.
(pp. 624 – 632). Australia.
Dib, L., Guessoum, Z. (
2006). CellMigration system.
Published by "IOS Press book": "Advances in
Intelligent IT: Active Medi
a Technology. Fourth IEEE
International Conference on Active Multi-media
Boss, T., Jonker, C-M., & Treur, J. (2005). Modeling the
dynamics of intracellular processes as an organization
of multiple agents.
In MAS- BIOMED 05 First
Intrnational Workshop on Multi-agent systems for
Medicine, Computational Biology and Bioinformatics
.
(pp. 107-121).
Colloc. J. (2005). Un Système multi-agent neuronale : vers
des systèmes d'inform
ation Epigénétiques.

SIM

'05. 5(4).
Giuliano, A., Denzinger, J., Merelli, A., Miles, E.,
Tianfield, S., & Unland, H. (2005).
MAS- BIOMED 05
First International Workshop on Multi-agent systems
for Medicine, Computational biology and
bioinformatics
; Ultrecht, Hollande 2005
Guessoum, Z., Meurisse, T.
, & Briot, J. P. (2002).
Modular construction of agents and adaptive multi-
agent systems in DIMA.
TSI, thematic number:
Environment of development of multi-agent systems
.
Chauffert, B. (2004). Cours
sur la biologie cellulaire
PCEM 1-PC K,
Masliah, J., & Housset, C.
(2008). PCEM2- Biochemistry
- cellular Biology. Cellular communication and
physiopathology: example of the tumorigeness
Berridge, M. (1985). The molecular basis of
communication within the cell. 253(4):142-150,.
Smith, A. D. (1997).
Oxford Dictionary

of Biochemistry
and Molecular Biology.
Oxford University Press,.
Smith, E. L., Hill, R. L., Lekowitz, I. R. J., Handler, P., &
White, A. (1983). Principles of Biochemistry:
Mammalian Biochemistry, 6
th
ed. McGraw-Hill.
Chapters 11 through 20 describe in detail the
Biochemistry of the endocrine systems.
BIODEVICES 2009 - International Conference on Biomedical Electronics and Devices
280