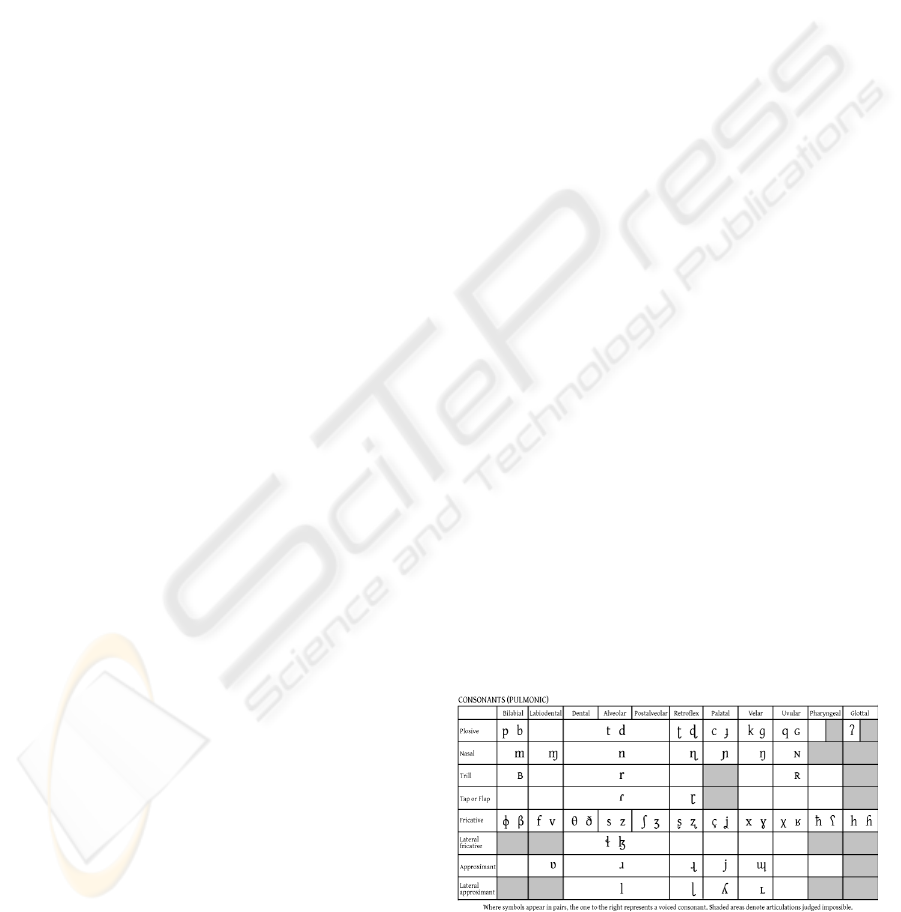 Web Accessibility.
Paciello (Paciello, 1997) refers
to the movement of information from paper-based to
online resources as ``the publishing paradigm shift''
and points out that although it has vastly increased
the availability, data accessi
bility is still poor for
people with disabilities including visual
impairments. Most inaccessibility problems are
caused by poor design decisions in the following
areas: complex notation, image rendering,
multimedia components and navigation. Complex
notation, e.g. graphical representation of
mathematical formulae or non standard characters,
are difficult to represent in a form that can be
interpreted by a blind us
er. Image rendering causes
similar problems however the inclusion of alt and
longdesc tags can be used to store descriptions of
an image. The longdesc tag can be used to store a
more comprehensive description of the image (than
the alt tag) or link to a page containing the
description. Use of the alt and longdesc parameters
provided by html can increase the user's
understanding of what the image represents.
Multimedia components including video are difficult
to annotate due the large amounts of visual data they
contain, although solutions like descriptive video,
which includes an optional narrative sound stream,
have been proposed. Navigating between web pages
is difficult for visually impaired users who must
keep track of where they
currently are, the options
available to them, the links on the page and be able
to distinguish page content from irrelevant data (e.g.
advertising). A particular disadvantage is that they
cannot quickly skim a document for relevance or
jump to the part of the page they require
immediately. Online organizations such as the
Centre for Applied Special Technology (CAST)
provide guidelines for building sites that are
accessible and easy to navigate.
A considerable problem for web browsers
designed for visually im
paired users is poorly
written html. Syntax errors such as overlapping or
malformed tags can cause ambiguities in how the
page should be rendered.
The World Wide Web Consortium (W3C) have
introduced standards that aim to unify the way web
pages are written and interpreted and provide
validation services where designers can ensure that
their pages meet these standards. W3C's cascading
style sheet (CSS) stan
dard has also made
information extraction easier by separating design
and content. When using CSS style information is
included in a separate file and not defined by tags
within the html. The use of CSS simplifies the html
documents and reduces the scope for error when
extracting data.
Designing Software for Disabled Users.
Stephanidis (Stephanidis, 1997) explains how the
existing tools for disabled users are ``adaptive
solutions'' whose primary function is to extend an
existing piece of software
to incorporate some new
functionality that improves disabled user interaction.
Such adaptations can be categorized in three
different levels:
Alternative access adaptations
extend an existing
solution to provide support for specialist
input/output equipment such as Braille displays or
screen magnifiers.
Information content adaptations
involve modifying
the representation of data to make it more accessible.
Such an adaptation may extend html to make it more
accessible to text-to-sp
eech engines by adding
further descriptive tags to the visual elements of a
page.
User Interface adaptations involve
changing the way
users interact with an appli
cation in order to cater for
the needs of a specific user group. Such an
adaptation may alter a web browser to render web
pages without images and with large text so that they
may be easily read by those who are visually
impaired.
These adaptive approaches allow developers to take
advantage of the pre-existing functions present in an
application, which they would not have the time or
resources to implement th
emselves. However it can
be technically difficult to adapt a piece of software
to perform a different task to which it was originally
intended, especially if the code is highly complex or
proprietary.
Figure 1: Symbols used in In
ternational Phonetic Alphabet
to represent consonants.
ICEIS 2008 - International Conference on Enterprise Information Systems
406