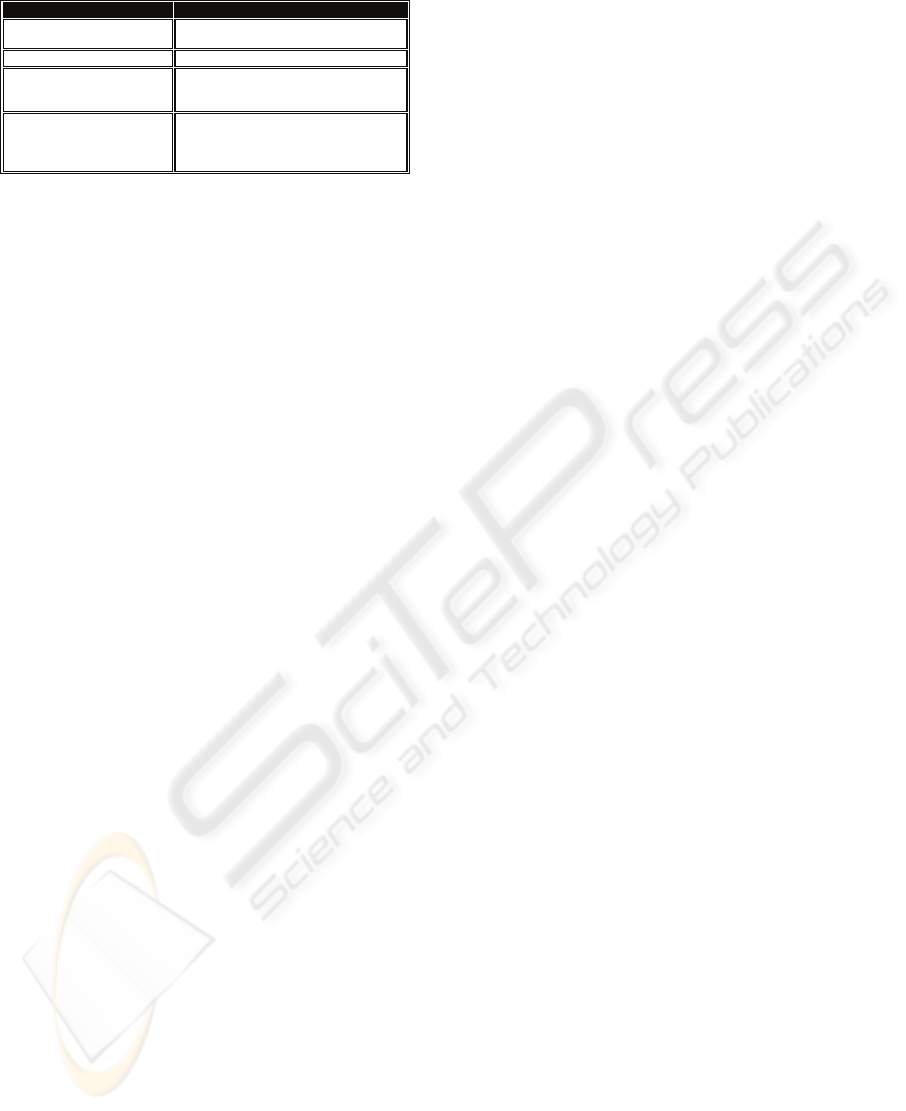 Table 1: IQ Dimensions
(Source: Wang, 1998).
DQ Category
DQ Dimensions
Intrinsic DQ
Accuracy, Objectivity,
Believability, Reputation
Accessibility DQ
Accessibility, Access Security
Contextual DQ
Relevancy, Value Added,
Timeliness, Completeness,
Amount of Data
Representational DQ
Interpretability, Ease of
understanding,
Concise Representation,
Consistent Representation
Quality of web sites may be linked to such
criteria as timeliness, ease of navigation, ease of
access and presentation of information. From the
customer's perspective usability is the most
important quality of a Web application (Fraternali,
1999). The root cause that
leads to web application
problems is the poor approach to web design.
Several techniques exist to evaluate the quality of
websites for example link checkers, accessibility
checkers and code validation, to name a few. In
practical terms this required validating a site against
a series of checkpoints that
included: checking that
legal and regulatory guidelines were adhered to
pages conformed to Web-Accessibility standard;
missing page titles; browser compatibility; user
feedback mechanisms; applications were functioning
correctly (e.g. online form
s are validated for input
etc.); clear ordering of information; broken links;
page download speeds and ease of navigation.
Online interactivity is a valuable way of
improving the quality of business web sites and web
designers should be aware of how design affects the
quality of the web site and the image of the
organisation. One important factor for a web site
being successful is speed. If the web site is
unresponsive, with long response times after
clicking on links, the visitors will not come again.
For the purpose of this study we conducted an
empirical study of twenty one finalists in a recent
website quality technology award that included (3)
Charity/Not for Profit organisations; (7) Large
Quoted Companies, (2)
Small Quoted Companies
and (9) Statutory and Unquo
ted Companies. The aim
of this study was to examine these websites for
Technical
quality issues specifically form input
validation. The rest of the paper is organized as
follows: Section 2 outlines what makes a quality
website, Section 3 shows our methodology, and
Section 4 gives a brief summary and conclusion.
2 A QUALITY WEB SITE
A good website must include safeguards against
failure and provide simple, user friendly data entry
and validation processes. Information is regarded as
an important factor impacting organizations. From
the literature reviewed a universal definition of
information quality is difficult to achieve (Orr, 1998;
Stylianou, 2000; Strong, Lee and Wang, 1997;
Wang 1998; Bugajski, Grossman and Tang 2005;
Kumar, Ballou and Ballou 1998; Olson, 2003).
According to Mandel (2002),
'Technically,
information that meets all the requirements is
2.1 Links
Good websites have a rich and intuitive link
structure. A link going to the Customer Service
should be named 'Customer Service' and the surfer
looking for Customer Service information will know
this link goes to the page
they want. Therefore, 'click
here' should never be used as a link. A good web
designer will think clearly about how each piece of
data links up with the rest of the content on the
website and will organise the links accordingly
.
2.2 Navigation
Without a clear navigation system, viewers can
become disoriented. Theref
ore it is good practice to
have a simple, consistent navigation structure
throughout the site. Users us
e browsers to navigate
through WebPages and hyperlinks are distinguished
from normal text within a page by its colour. When
the page pointed to by a hyperlink has been 'visited'
browsers will inform the users by changing the link's
colour (Tauscher and Greenberg, 1997).
According to the Open Web Applications Security
Project (OWASP, 2007) invalidated input is in the
top ten critical web application security
vulnerabilities. For this reason, input validation is an
important part of creating a robust technological
system and securing web applications. One solution
is to provide input data validation at the data
collection point before the form is submitted.
Incorrect data validation can lead to data corruption.
Input validation should be performed on all
incoming data ensuring the information system
stores clean, correct and useful data. Trusting users
to enter the correct data is
never a safe assumption.
FORM INPUT VALIDATION - An Empirical Study on Irish Corporate Websites
149