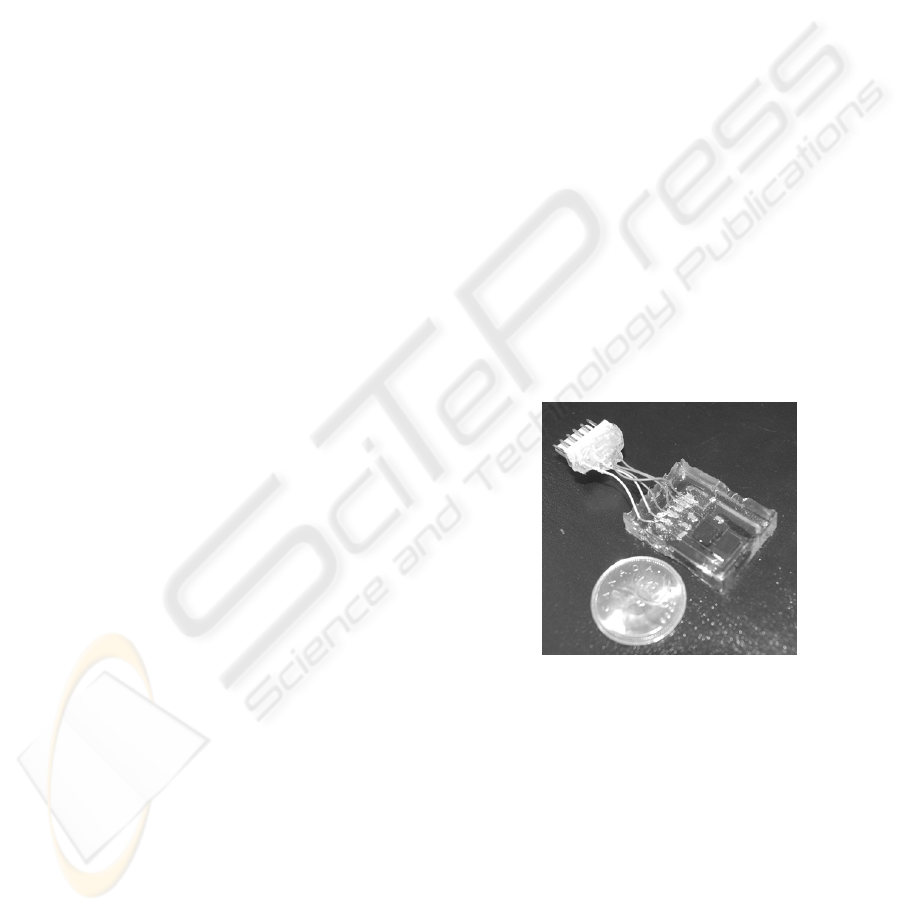 Lastly, encapsulation of the polyimide cell was
chosen to be with electronic grade silicone
encapsulant. Typical electronic grade silicone
encapsulant provides good insulation and
mechanical protection fo
r the underlying devices
while allowing for shapability. Transition to
fabrication with medical grade silicone encapsulants
would be straightforward because of the silicone's
relatively similar compositions. Rapid prototyping
moulding techniques were applied to provide the
desired resulting shape. The total thickness of the
entire cell was targeted at 3mm to maintain the
feature of skin contour compliance.
Fabrication and assembly of the multisensor layer
could be categorized into four sections; one,
fabrication of the polyimide circuit; two, device
component population; three, encapsulation; and
four, preparation of double-sided conducting
adhesive. This paper will focus on discussions for
the first two aspects of device fabrication. Since
fabrication was for a set of model devices,
techniques employed were mostly rapid prototyping
methods with simplified steps rather than larger
scale manufacturing processes.
Fabrication of the polyimide circuit is a standard
process in the industry (Egloff, n.d.). It is also
commonly known as flexible PCB circuit printing.
Printing of flexible PCB circuits is provided by
many fabrication houses around the world; however,
due to its specialty, most orders are still costly and
require large quantities not suitable for prototyping
or model trials.
Fabrication was thus contracted through the
Institute for Micromachining and Microfabrication
Research at Simon Fraser University. Layout of the
single-layer double-sided polyimide circuit was
submitted electronically, for the fabrication process
to be done with proprietary metal-on-polyimide
rapid prototyping process.
4.2
Components and Population
Components for the model multisensor layer were
carefully selected to ensure
ease of assembly without
elaborate processes or tools, while maintaining
relatively small device profile. As a result, all
electronic components used were surface mount
devices with package size no greater than
2
and bonding pad pitch larger than
0.65mm. Bonding of the device was through cold
soldering (silver epoxy, conductive ink) by hand.
Heat soldering with temper
atures greater than 200°C
was too hot for the thin metal film deposited on the
polyimide under the particular polyimide
metallization process carried out. Alternatively, a
thicker film metallization on polyimide circuit
would allow heat soldering, but such was not the
objective of this research.
A total of four devices were populated, assembled
and encapsulated using the fabrication method
described in the previous section. Figure 6 shows
one of two devices encapsulated in 5mm thick
silicone encapsulant. Although it was 2mm thicker
than the 3mm that was planned, the device was
flexible enough to bend up to 30° without any
visible cracking or detachment between the substrate
and encapsulant.
Figure 6: Encapsulated multisensor layer with macro-scale
connector for testing attached, comparison with a
Canadian quarter.
The remaining two of the four devices were
encapsulated in 0.5mm thick silicone. Figure 7
shows one of the two devices wrapped around a
finger demonstrating its flexibility. With the 0.5mm
encapsulation thickness, although no quite enough to
form a levelled-surface over the larger components,
it was sufficient to provide electric insulation on
most parts and some degree of mechanical
protection. The device was able to bend up to 90°
without any visible cracking or detachment between
the substrate and encapsulant.
MULTIPARAMETER SINGLE LOCUS INTEGRATED MULTILAYER POLYMER MICROSENSOR SYSTEM
39