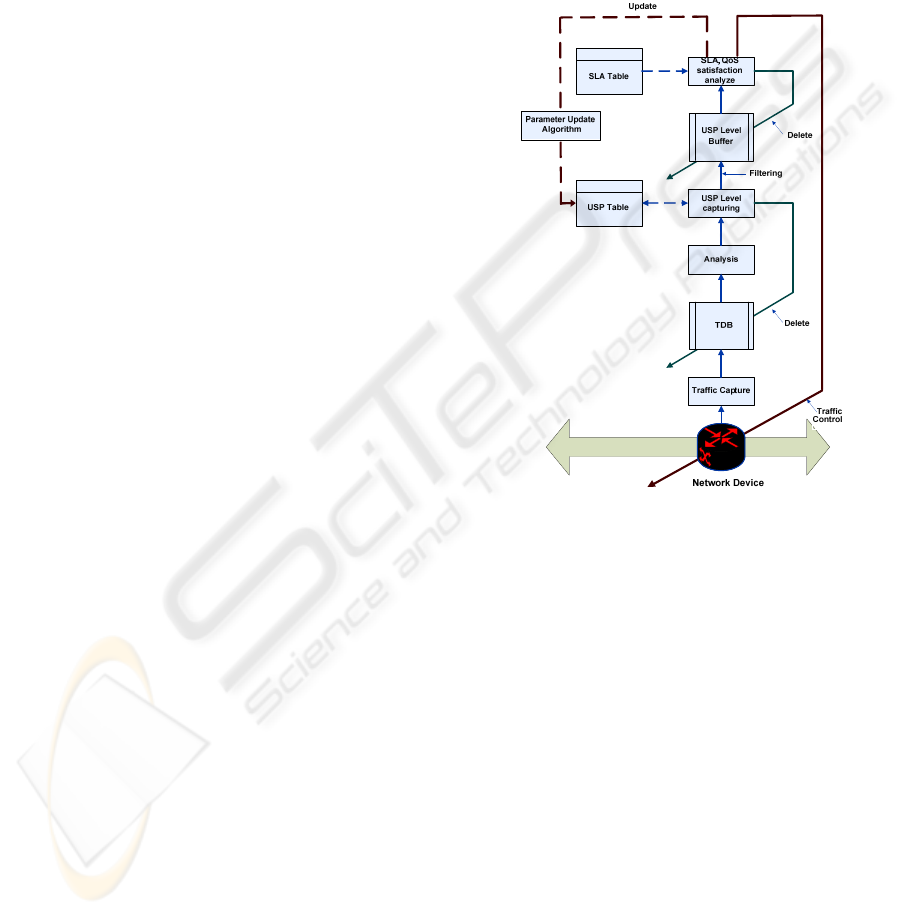 Following the introduction, key requirements of
the BcN TE is investigated in Section 2. The
operation of the RBC/USP scheme is described in
Section 3, and its operation and performance are
investigated in Section 4. Conclusion follows in
Section 5.
REAL TIME TE FOR BCN
2.1
Practical and Commonly
Acceptable QoS Measurement
Conventional QoS measur
ements are expressed
mostly in numerical value, such as delay, bandwidth,
or error rates. The numerical
value is convenient for
representing network status or service statistics, but
it is hard to express appropriately the level of user
satisfaction because a collection of numerical values
of QoS parameters is hard to interpret[7]-[13].
Furthermore, cascading the QoS parameters through
many subnetworks to measure the Quality of
Experience(QoE) would be more complex to
interpret. To alleviate this problem, a nonnumeric
satisfaction measurement scheme, the USP is
It is noted that BcN is composed of various
subnetworks such as conventional (best-effort)
Internet, Multi Protocol Label Switching(MPLS),
wireless LAN, and telephone network. For
successful commercialization of the BcN, an
acceptable quality measurement scheme that can be
used commonly in the heterogeneous BcN
subnetwork is required, and the USP is suggested for
this purpose.
2.2
Real Time Feedback Mechanism
The meaning of "real time" here is that traffic can be
controlled while the service is being provided. For
example, if you are not satis
fied with the quality of a
streaming service, you may pay more to increase the
video quality during the streaming service. On the
contrary, if you are fully satisfied with a service then
you may not need a premium service, and want to
pay less. In some situations, moreover, just the best
effort Internet would be sufficient for the user.
Therefore, BcN TE should provide wide range of
options from free service to premium service with
instantaneous (real time) feedback. It is noted that
conventional feedback or claiming based on the
Service Level Agreement (SLA) would be possible
only after the service is ended.
The rationale of the RBC/USP algorithm is that the
traffic analysis data which was already used
successfully in cal
culating the quality measurement
(i.e., the USP) is thrown away. The operation of the
RBC/USP TE algorithm is shown in Fig. 1.
Figure 1: Operation of RBC/USP TE algorithm for BCN.
The captured data is first saved at the Traffic
Data Buffer (TDB), and is an
alyzed at flow basis to
extract some QoS parameters to calculate the USP
level. The USP level is obtained from a pre-defined
combination of typical QoS parameters, such as
bandwidth and delay. The extracted USP level is
then compared with the current USP levels of the
service (or a flow) in order to update the USP Table.
The USP Table contains all the service quality
information of a user.
The extracted USP level is saved at the USP
Level Buffer, which is a temporary buffer used for
current service analysis. The service fulfillment is
then checked referring to the SLA Table. If the
captured data is from a new flow then the USP Table
is updated with the new level of USP for each
service (or flow). If the service satisfies the SLA, the
corresponding captured data is removed from the
TDB. By continuously throwing away the used
traffic monitoring data, the accumulation problem
A REAL TIME TRAFICC ENGENEERING SCHEME FOR BROADBAND CONVERGENCE NETWORK(BCN)
369