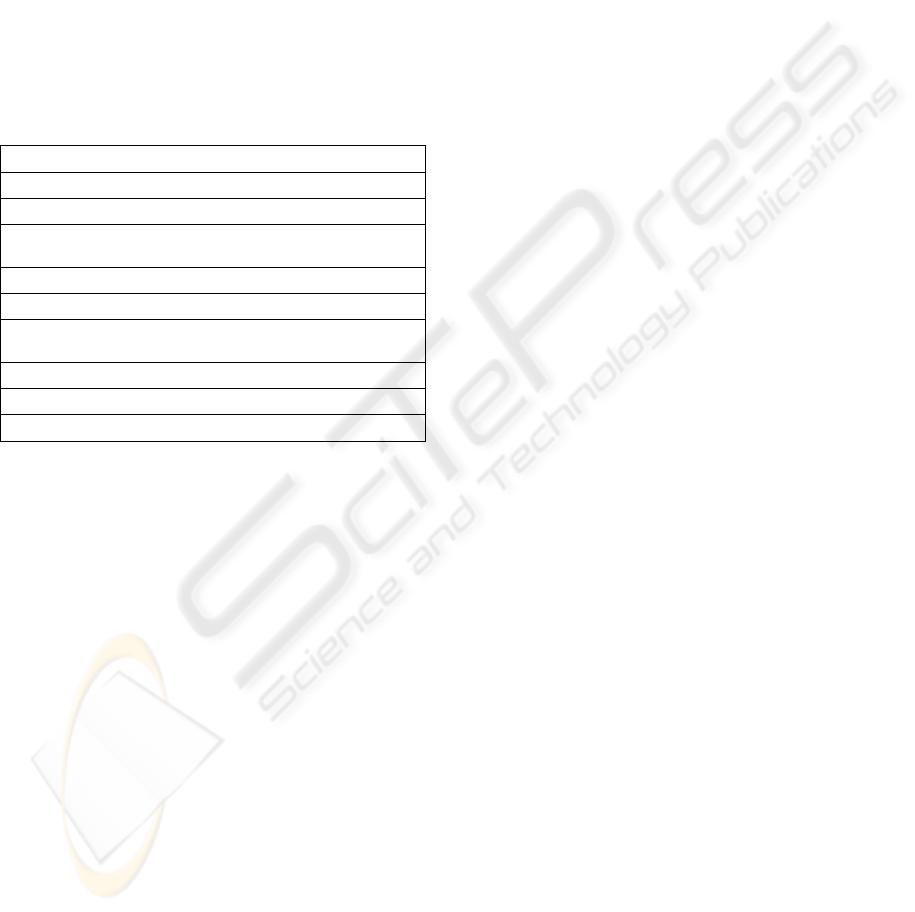 2.5
IDS based on Autonomous Agents
Security
To protect the entities of the IDS, it is necessary to
protect both the platform and the agents. Mobile
agents offer many functional advantages, but there
are new threats due to their mobile nature. The more
common threats are: ag
ent against platform,
platform against agent, agent against other agents
and other entities against the agent system. Several
solutions have been proposed to reduce these risks
(Table 1) but particularly the threats of platform
against agents are the most difficult to avoid.
Table 1: Countermeasures for attacks of platforms against
CONTERMEASURES
Partial results encapsulation (Yee, 1997)
Mutual itinerary recording (Roth, 1998)
Itinerary recording with replication and voting
(Schneider, 1997)
Execution tracing (Vigna, 1997)
Environmental key generation (Riordan, 1998)
Computing with encrypted functions (Sander et al,
1998)
Obfuscated code (Hohl, 1998)
Cooperative agents (Roth, 1998)
Limiting the execution time (Esparza et al, 2003)
2.6
Protecting Agents Against
Malicious Hosts
Particularly, the attack car
ried out by a platform
against an agent is very di
fficult to avoid, because
the platform has total access to data, code and results
of the agent. So, if a host is malicious, it can easily
isolate the agent and extract information to corrupt it
or modify its code or its state. Other extreme
measures that a malicious host could perform are to
analyze the operation of the agent or to apply inverse
engineering to introduce subtle changes and to force
the agent to be malicious, reporting false results.
In an IDS based on autonomous agents, a monitor
controls a network segment and it sends a
transceiver to each host. Likewise, various agents
are generated by a transceiver in order to monitor a
determined type of traffic and they send alerts of
suspicious activities to the transceiver on which they
depend within the tree stru
cture. One of

the existing
threats in these systems is when an intruder attempts
to replace any IDS entity by
another with similar
characteristics but subtly modified in order to avoid
a particular suspicious activity. So, if an agent or
transceiver is modified or replaced, they will not
report their correct results to their correspondent
monitor and likewise, if a monitor is replaced it will
not avoid or prevent the forthcoming attack.
Security solutions in IDS based on agents are the
same that are offered for
any environment that use
agents. However, all th
e requirements are not
covered; in particular, the threats against the IDS, its
components and communications are not faced. So,
in this paper we propose to detect attacks against any
IDS entity with a new security scheme named
MAIS.
INTEGRITY SYSTEM)
We propose a new system to verify not only the
integrity of transceivers located in different hosts of
the IDS architecture, but th
e correct execution of the
transceivers during its operation. The MAIS system
architecture is similar to AAFID system, but the
transceivers and monitors behave like mobile agents
and their mobility is limited, they only can displace
to their corresponding trusted entity, that is to say,
the upper level entity from which they depend. The
data collection agents are
static and they conserve
the same characteristics of the AAFID system
agents.
The MAIS architecture
has three essential
components: monitors, transceivers and data
collection agents. The monitors are agents that are
located in the high levels of the infrastructure, they
carry out correlation of information of high level and
they control a network se
gment. There is a root
monitor located in the higher level. It has the ability
to communicate with an ad
ministrator interface and
it also can provide the access point for the whole
MAIS system. The administrator interface is
independent of the IDS entities, in order to permit
different implementations. The monitors can also
control other monitors and besides they are in charge
of emitting and to control another type of agents
called transceivers.
In MAIS, the monitors are also Trusted Parties,
which are in charge of identifying the entities that
MAIS: MOBILE AGENT INTEGRITY SYSTEM - A Security System to IDS based on Autonomous Agents
43