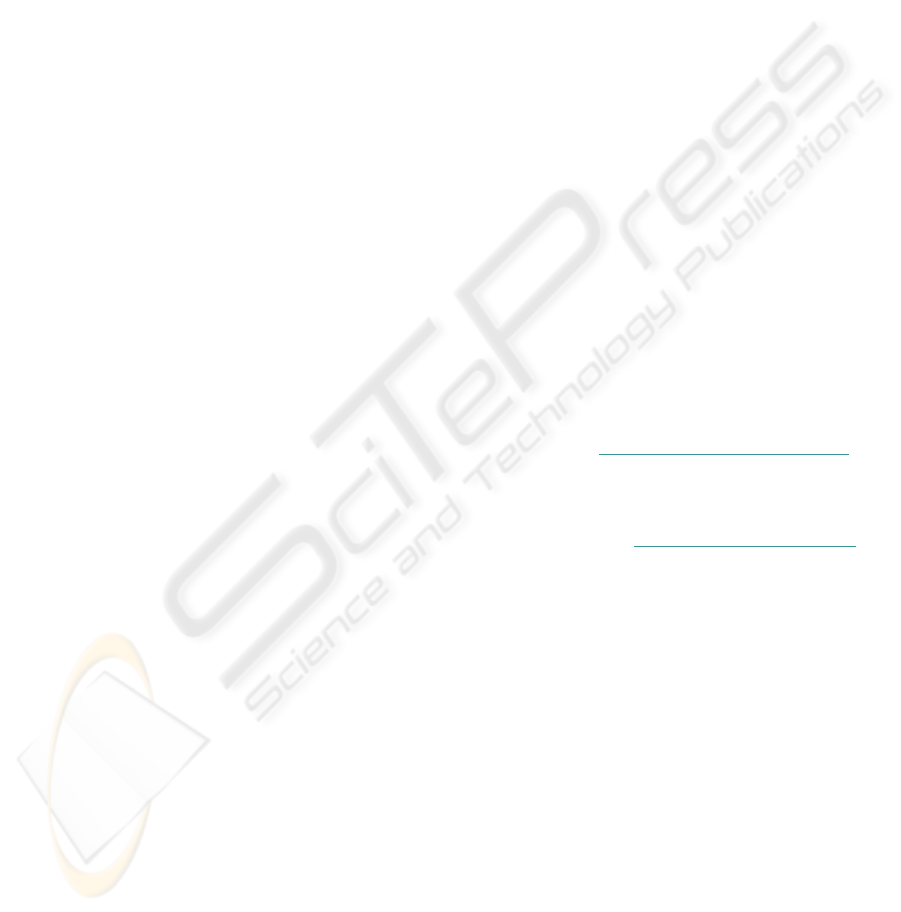 • Recall: the fraction of the relevant suppliers,
which has been retrieved.
• Precision: the fraction of the retrieved
suppliers, which is relevant.
The values of these fractions are highly
dependent on the way the suppliers and their
products are modelled and how the searching of
suppliers is done.
In this article we focus on e-procurement
technology supporting reverse multi-attribute
auctioning. In particular, we will consider the
technical solutions of the
e-procurement system that
we are developing. A corner stone of the system is
the private UDDI (Universal Description, Discovery,
and Integration) -registry th
at is used for searching
relevant suppliers. The registry supports a variety of
taxonomies including industry taxonomy, product
and service taxonomy and location taxonomy. Using
these taxonomies in retrieving relevant suppliers we
can achieve high recall and precision fractions.
The main ingredients of the e-procurement
system are the private UD
DI registry, workflow
engine, and the Web services. The workflow engine
coordinates the procuremen
t processes. The UDDI
registry also includes information supplier's Web
services that support procurement specific
operations such as "Request for Bid"- operation
The rest of the paper is organized as follows.
First, in Section 2, we give a short introduction to
Web services. Then, in Section 3, we first give an
overview of the UDDI registries, and show how a
private UDDI registry can prove services for the e-
procurement broker. Then, in Section 4, we give an
overview of BPEL4WS (Business Process Execution
Language for Web Services) and show how it can be
used for specifying the coordination requirement of
the workflow engine which runs procurement
processes. After this, in Section 5 we illustrate how
the ingredients (private UDDI registry, suppliers
Web services and the workflow engine) are put
together to form a working e-procurement system.
Finally, section 6 concludes the paper by discussing
the advantages and limitations of our proposed
technical solutions.
2 WEB SERVICES
Web services are XML-based (Newcomer, 2002)
self-describing applications that can be published
and invoked across the Internet. Web services use a
loosely coupled integration model to allow flexible
integration of heterogeneous systems. A nice feature
of web services is that new and more complex Web
services can be composed of other web services.
Our distributed architectural model of Web
services is comprised of three types of participants:
service provider, servi
ce brokers, and service
requesters. This architectural model presupposes that
services can be first found from the UDDI registry,
and then used. This in turn requires exact
descriptions of the services. WSDL (Web Service
Description Language) (WSDL, 2001) is an XML-
based language (Harold and Scott, 2002) for
describing a programmatic interface to a Web
service. It includes for example input and output
message formats and the operations provided by the
service.
For example, in our e-procurement model
supplier's Web services
support the operation
"Request_for_Bid", which has the parameters
product_id and quantity. Accordingly e-procurement
broker's Web service supports operation "Response
_for_Bid", which has the parameters
"Suplier_Name" and "Bid. This information is
passed between Web services by the SOAP protocol
(SOAP, 2002). It is a protocol specification for
invoking Web services and defining a uniform way
of passing XML-encoded data
The SOAP-envelope for passing the
"Request_for_Bid"-operatio
n is presented above in
Figure 1.
3 UDDI REGISTRY
Basically UDDI registry describes a mechanism for
registering and locating Web services (Daconta et.
al, 2003). This in turn requires that in UDDI service
providers describe their organization and register
their Web services.
The information in UDDI consists of three parts
white pages, yellow pages and green pages. White
pages include company's c
ontact information. It
may also include description of the company or links
<SOAP-ENV: Envelope
xmlns:SOAP-ENV="
http://schemas.xmlsoap.org/soap/envelope/
"
SOAP-ENV:encodingStyle=
"http://schemas.xmlsoap.org/soap/encodig/">
<SOAP-ENV:Body>
<os:request_for_bid
xmlns:="
http://www.it.lut.fi/transaction/ontology/
">
<product_id_name>Nokia E 90</product_id>
<quantity>500</quantity>
</os:request_for_bid>
</SOAP-ENV: Body>
</SOAP-ENV: Envelope>
Figure 1. A SOAP-messaage for a "request-for-bid"
operation.
Figure 1: A SOAP-message for a "request-for-bid"
operation.
USING UDDI REGISTRY AND WORKFLOW ENGINE FOR MANAGING E-PROCUREMENT PROCESSES
73