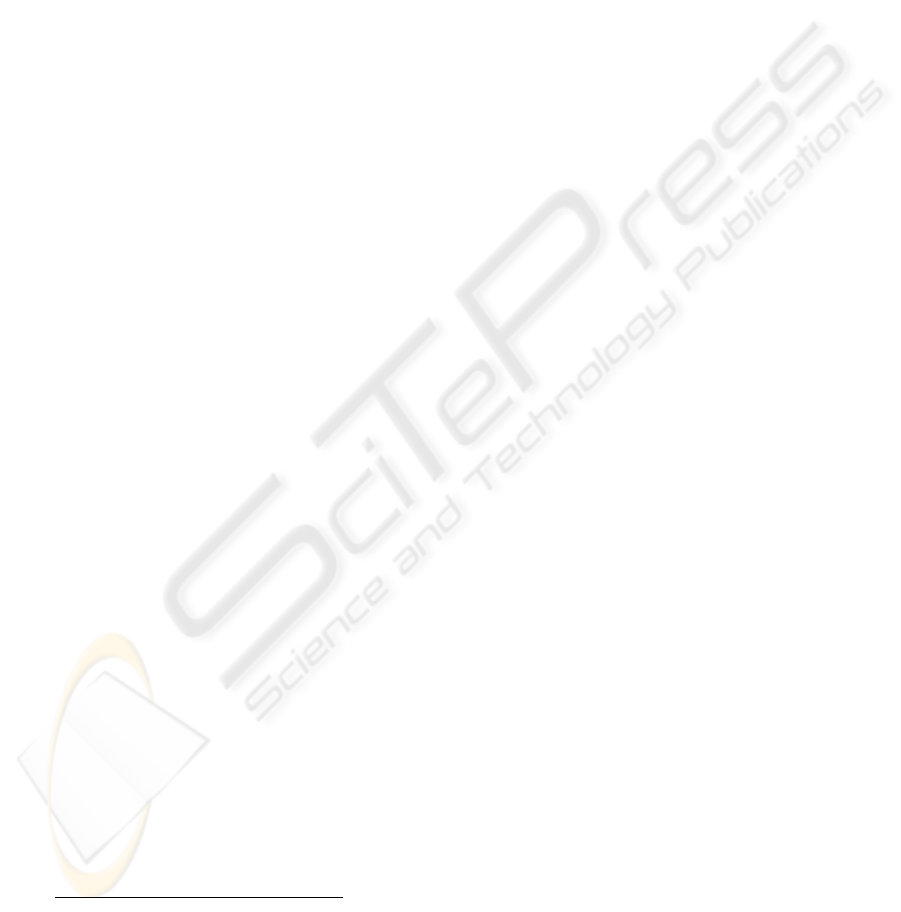 RST is used as a tool to verify coherence. If the
document narrative can be placed in a RST tree, it is
assumed to be coherent. The document narrative for
the fables was analysed using RST (see Figure 2
1
).
A fable structured according to this narrative should
satisfy all the RST relationships. For instance, the
famous story of the Ant and the Grasshopper (see
Appendix) fits this document narrative. This fable
can be divided into segments (see Appendix where
the fable is divided into three segments,
corresponding to sections 4,
5 and 6 of the narrative
above) and each segment creates the expected effect
on the reader. Section 4 introduces the Ant and the
Grasshopper and sectio
n 5 elaborates their
characteristics using dialogue
. Section 6 presents the
onset of winter when the hardworking Ant emerges
as the winner. These sectio
ns are placed in sequence
and convince the reader that
the Ant is the better role
model. The 'Motivation' and 'Justify' relations are
satisfied too.
This process can be applied to technical documents.
See (De-Silva and Henderson, 2005) for a document
narrative for a research proposal and section 3.3 of
this paper for a generic narrative for a scientific
conference presentation.
3 COLLABORATIVE WRITING
Collaborative writing (CW) is the process of
multiple authors producing one document, by
writing together and soliciting one another's
opinions about their writing.
Since the early 70's there ha
s been great interest to
provide computer support for this process (Noël and
Robert, 2004); a move made more concrete by the
formation of a specific field of research called
Computer-Supported Collaborative Working
(CSCW). The resulting groupware and the World
Wide Web have revolutionized the art of writing
together. In preparation for this paper, CW software
such as PREP (Neuwirth et
al., 1990) were studied
and newer technologies such as Wikis were
experimented with (JotSpot, 2004).
1
All RST trees in this paper

have been drawn using the
free software tool, RST Tool.
O'DONELL, M. (2000) RSTTool 2.4 – A markup tool for
Rhetorical Structure Theory. Proceedings, International
Natural Language Generation Conference (INLG'2000).
Mitzpe Ramon, Israel.
3.1
Collaborative Writing Strategies
A CW group usually has an agreed-upon strategy for
producing the document which defines how the co-
authors will coordinate. There are several strategies
to choose from. Two popular methods are discussed
below.
3.1.1
Sequential Writing Model
In this model, only one person writes at a given time
and once his/her task is complete, passes the
document along to the author next in line. This
model is easy to organise and improves coordination
between the authors.
However, there are several disadvantages (Lowry et
al., 2004) such as the lack of group consensus and
the difficulty in ensuring that all document sections
are addressed adequately. Also, the
order

of authors
greatly influences the final document. One author
can change previous cont
ributions or significantly
bias subsequent authors.
3.1.2
Parallel Writing Model
With this strategy, a team divides the CW task into
discrete units and works in parallel. This model has
several variants. In one, each team member is
assigned roles such as 'writer', 'reviewer', 'editor'
and so on, depending on their expertise. Members
then work on the document
according to their roles.
In another variation, the document is divided into
sections and each author is assigned a section that
he/she is responsible for. The completed sections are
submitted to the team leader who assembles them
together to form the final document. This approach
is sometimes called horizontal-division writing
(Lowry et al., 2004) and is the model that this paper
concentrates on. In (Alred
et al., 2003), this process
is described in more detail (reproduced below).
1.
Designate one person as

the team coordinator.
2.
Collectively identify the audience, purpose and project
scope.
3.
Create a working outline of the document.
4.
Assign segments or tasks to each team member.
5.
Establish a schedule: due dates for drafts, revisions,
and final documents.
6.
Agree on a standard reference guide for style and
format.
7.
Research and write drafts of document segments.
8.
Exchange segments for team member reviews.
9.
Revise segments as needed.
10.
Meet your established goals.
(Source: Alred et al., 2003)
ICEIS 2006 - SOFTWARE AGENTS AND INTERNET COMPUTING
168