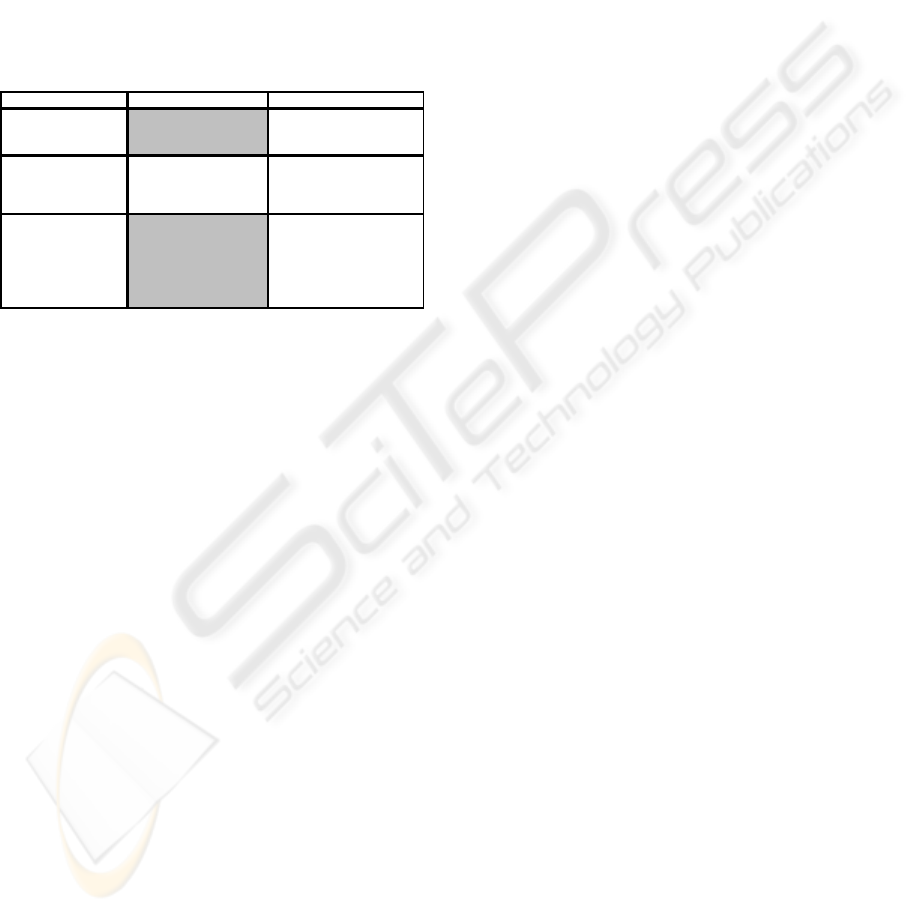 Before analysing the motives for this (lack of)
interest let us first explore its demographic
distribution. Pairwise X
2
tests for independence are
performed with sex, age and educational background
on the one hand and the interest in e-participation
and e-voting on the other. To facilitate the tests and
to avoind too small frequencies in some categories,
the variable age was summarized in 3 categories
(15-29, 30 - 49 and 50+), and the interest in e-
voting/e-participation was combined to three
categories (very interested/interested, moderately,
hardly/not interested). The results of the pair wise X
2
tests (95% significance level) for independence are
summarized in Figure 2.
Figure 2: The attitude towards e-participation/e-voting and
The positive attitude towards e-voting is largely
independent of demographic factors, only age
proved to be a significant factor: Respondents over
50 years of age were significantly less interested in
e-voting, however, even in this age group one third
of the respondents are inte
rested which runs against
the opinion that the older generation does not adopt
Internet services. With an increasing general Internet
penetration and over time this rate can be expected
to rise even higher. The picture is completely
different with e-participation. Not only is the general
attitude far less favourable, it is also strongly
fragmented: Summarizing, well educated, young
male citizens are interest
ed in e-participation.
Possible explanations may be the unawareness of the
means and areas of applica
tion of e-participation,
time constraints, a preference to participate in
decision making rather than discussion and
deliberation. Hence, hypothesis H1 has to be
rejected for e-participation, but can be maintained
insofar as the interest in e-voting is independent of
sex and educational background.
2.2 Perceived Advantages and
Disadvantages
Respondents were also asked about the perceived
advantages and disadvantages of e-democracy.
Starting from the hypothesis of independence, a
series of pairwise X
2
tests with sex, age and
education yielded the significant deviations, where
independence had to be rejected as depicted in
Figure 3 (95% significance level). None of the
perceived advantages/disadvantages showed any
significant dependence on the sex of the respondent.
The most important advantage as perceived by the
respondents is the independence of place and time,
where agreement is particul
arly high in the "middle"
age group and with a higher educational
background. A possible explanation could be the
increased professional (and also private) mobility of
the respondents which makes easier access to
democratic decision making interesting to them.
"Access to political information" scored second.
Interestingly only 17.3% are interested in obtaining
their information from politicians, 20% from other
citizens and 21.7% from experts (45.3% no
response). Neither this question nor "cost cuts in
public administration" showed any significant
deviations. The latter seems to indicate the high
awareness for public administrative expenditure in
general and for the cost-saving effects for e-
government in particular. It may also indicate that
little awareness exists for the costs of, for instance,
an e-voting system, which would cause additional
costs as the conventional paper-based election
system must remain in place. "Increased direct
democracy" scores 50% over all age groups but is
particularly strong in the age group of 15-29 (65%
(strong) agreement) thereby renouncing the
prejudice that this age group would not be interested
in politics. One may conclude that the interest may
be there, but the instrument to voice adequately this
interest is also needed.
Of all disadvantages a possible digital divide scores
highest; interestingly, the digital divide does not
seem to be automatically linked to a social divide
which scores much lower. The divide between
Internet "haves" and "have nots" as perceived by the
respondents does not seem to be uniquely defined by
income and social status. It is obvious that other
factors play a role as well
(possibly age). The fear of
a digital divide is pronounced in the age groups of
30-49 and 50+. Possible manipulations and the
corruption of anonymity also play an important role
and may serve as an indicator of the increasing
awareness of the inherent dangers of e-democracy,
here particularly e-voting, systems. It is interesting
to note, that none of the perceived advantages was
gender-specific or (except for independence of place
and time) education-specific, which fits in with the
result that the positive attitude towards e-voting is
independent of these factors as well.
Sex
Not significant
7.6 % of female and 21.1% of
male respondents (strongly)
interested
Age
52.5% and 52% (strongly)
interested in age groups 15-29
and 30-49, resp. 32%
interested in a
e
rou
>50
17.5% of 15-29 year old, 16.3%
of 30-49 year old and 9.8% of >
50 year old respondents are
stron
l
interested
Education
Not significant
12.7% (grammar and high
school), 7.5% (apprenticeship),
22.4% (college), 10.5% (high
school exit exam) and 23.3%
(university) are (strongly)
interested
ICEIS 2006 - SOFTWARE AGENTS AND INTERNET COMPUTING
202