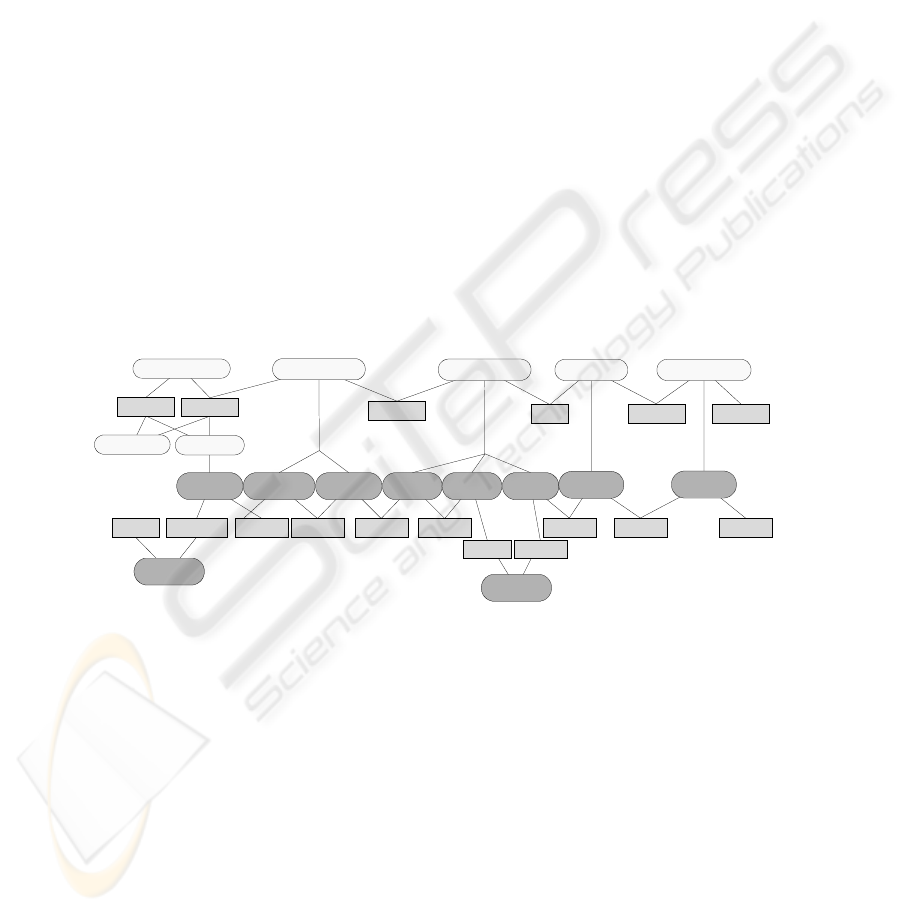 3 Responsibility-Steering Model Transformation
REST is a conceptual idea of model transformation that uses responsibilities of
different levels as contextual information to instruct machines to transform platform-
independent models into technology-specific code. Real-world responsibilities of
structural and behavioral constructs and constraints of a DSL are
generalized object responsibilities and the generalized object responsibilities are
realized by responsibilities
of technology-specific c

ode, such as classes or
components. In RESTDA, the realization of generalized object responsibilities is pre-
defined. Developers only have to define
(1) the responsibilitie

s of BM and (2) how
generalized object responsibilities realize th
ese responsibilities for each scenario.
First, developers have to define real-world responsibilities from BM. A
responsibility of any level always has a
holder
and a
receiver

. A holder represents a
structural role which assumes the responsibility. A receiver represents a structural role
that is affected by the consequence of th
e responsibility. Responsibilities of the same
level are connected by holders and receivers. We use
Collaborative Responsibility
Diagram
(CRD) to draw responsibilities, holders, and receiver as shown in Fig. 5. A
collaborative responsibility diagram shows the structural and behavioral aspect of
responsibility realization. To read the diagram, a rounded rectangle represents a
responsibility and a rectangle represents a role. The left-hand role of a responsibility
represents a holder and the right-hand role represents a receiver. A receiver of a
responsibility could be a holder of another responsibility. The responsibilities are
fulfilled from left to right one by one.
BW-1: Request for
searching book service
WebCustomer
TargetSystem
BW-2: Provide
request information
BW-3: Provide its
own information
BW-4: Process request
TargetSystem
BW-5: Execute
operations in turn
Book
BW-6: Provide its
own information
Structurer
Information
holder
Interfacer
Interfacer
Controller

Controller
Structurer
Service
provider
Information
holder
Interfacer
Information
holder
GO-1: Provide
WebCustomer's
information
GO-2: Decode
protocol-specific
request message
GO-3: Validate
WebCustomer's
security
GO-4: Decide
next executing
operation
GO-5: execute
next operation
GO-6: Search
book by
keywords
GO-7: Provide
Book's
information
GO-8: Render
resultant views
GO-9: Manage
life-cycle of
service provider
GO-10: Manage
life-cycle of
service provider
BW-7: Return executing
results to response target
Fig. 5.
A Sample of Collaborative Responsibility Diagram
Second, developers have to define how generalized object responsibilities realize
the real-world responsibilities. It is a process of refinement by decomposing a real-
world responsibility into smaller chunks. For example, the real-world responsibility
"Process request" is realized by two generalized object responsibilities: "Decode
protocol-specific message" and "Validate WebCustomer's security". Again, a holder
and a receiver are assigned to a generalized object responsibility. They come from
generalized objects. We borrow the concepts of role stereotypes from Responsibility-
Driven Design. It defines six types of role: information holder, structurer, service
provider, coordinator, controller, and inte
rfacer [5]. A generalized software object
represents a stereotype that assumes a set of generalized responsibilities. Developers
have to contemplate types of responsibility and types of generalized object
169